SaaS marketing is anyone's game—if the play is right. Your SaaS marketing playbook should include every hit, miss, and trickshot you've got up your sleeve. It should be your reference point when you're looking to hit growth goals and get some easy wins in the bag.
Of course, it's not up to us to be able to decide the best plays in SaaS marketing—although we'd certainly have a few epic shots when it comes to SaaS SEO. So, for this article, we called in the experts: The SaaS Marketing Collective. This is a small, hand-picked community of SaaS growth strategists and marketing wizards that have years of experience marketing SaaS products. 
We've combined all of their knowledge into this actionable guide for winning at SaaS marketing with a playbook. But first, let's answer one vital question:
What makes SaaS marketing important?
SaaS brands have to take their marketing extra-seriously for one simple reason: they aren't selling a physical product. With any type of software, users can quickly fall out of love and unsubscribe if they don't feel a strong enough attachment to your brand and product. Not only does your product have to stand out and solve problems for your users, but there should be an engaging story surrounding it.
Enter SaaS marketing- the story of your brand, your product, and the thing customers will take away from any interaction with your business. By creating a targeted marketing strategy based on what your ideal customers are looking for, you increase your chances of turning leads into brand loyalists.
The Ultimate SaaS Marketing Playbook for 2022
Time not on your side today? No stress, jump straight into the SaaS marketing strategy that tickles your pickle:
Operations: align your revenue teams
Content: let content support the entire business
Analytics: know your top threes
Marketing: invest in SEO
Analytics: use the Customer Voice
Marketing: build customer-led avatars
Marketing: take a holistic vision
7 SaaS Marketing Playbook Strategies to try in 2022
It's worth noting that these playbook strategies are not trends. Trends come as quickly as they go—much like the English weather, blink and you'll miss the sun. These playbook strategies are methods our experts rely on time and time again to grow their B2B SaaS companies, product awareness, and product sales.
1. Building a playbook means building alignment
"Building a playbook is more of an alignment exercise; specifically with your sales team, as well as with your customer. If you get those on track you're going to have an idea of what you need to do to build the right playbook to win."

—Baxter Denney, Chief Marketing Officer.
Work backwards 
You need to set benchmarks and goals within your marketing playbook, but also strategies on how to get there. Start with your sales team and work backwards. What metrics do your marketing efforts need to support, and what does that mean they need to do on their end to help sales hit their goals?
Next, take into account the customer. What does the customer need in order to help you hit your goals? What content do they need to see? What journeys do they need to go down? You should have an idea of these already, but if you don't, now's the time to create them.
Once you've got this information, you need to work out how many leads or signups you need to enter the top of the funnel, knowing your current drop-off rates, to hit sales goals at the end of the funnel.
Of course, you can always work on optimizing the journey. But, start with your current metrics and work with your averages.
—Idea provided by Baxter Denney, Chief Marketing Officer.
2. 10x your content to support other business areas
We all know that content is killer when it comes to quality SaaS marketing. We also know that content is a tough market to break into, especially in the SaaS world and especially when we're relying on organic growth.
No matter how fantastic our content is or how much quality it provides, if we don't have a stellar SEO keyword and link building strategy, then we're throwing our content into the wind and hoping it flies North. 🌟
However, Selman Gökçe, Inbound Marketing Specialist at UserGuiding, reminds us that content doesn't stop at winning clicks to site, or even winning product signups. 
"It's important that SaaS brands focus on quality content in every aspect of their business, whether that's for external or internal purposes.

Brands that do it best like Hubspot, Ahrefs, Intercom, Atlassian, they're creating content with a 360 viewpoint, to provide material to the entire business and its functions."

—Selman Gökçe, Inbound Marketing Specialist.
Take your content creation strategy and adapt it to provide other areas of the business with the same level of quality and same on-brand experience as your customers. A few business areas that content can enrich are:
Sales collateral
Finance department messaging and invoicing
Customer onboarding
Customer success
Customer support
Every stage of the marketing funnel (TOFU, MOFU, BOFU)
HR & employer branding
PPC teams
UX, UI, and product development
If you want to make it to one of the content greats, your entire SaaS content strategy needs to span company-wide, right down to internal processes.
This highlights the importance of good branding and it's so 👏 much 👏 more 👏 than a logo and lingo.
Think about how you can incorporate your content marketing strategy into other areas of your business and provide a complete experience both for your customer lifecycle as well as your employees, contractors, potential investors, and anyone else that comes into contact with your business. That's a winning playbook.
3. Know your playbook top threes
"Don't even start optimizing your website or product if you can't name your top threes."

—Pawel Banhegyi, Founder at Map My Growth. 
There are various tools and research methods you can use to find out your top threes if you don't know them already. A few of our favorites you can find in our SaaS marketing metrics article.
What are the top 3 reasons why people buy your product?
Why do people buy your product in the first place? The keyword here is buy. We're not talking about why people use your product, or why they use a free trial version of your product. Why are people willing to pay for your product?
Is it because your product solves a problem that no other product on the market can solve? In today's SaaS world that's highly unlikely. So, what's your secret sauce? Why are people paying for your product if there are others out there that can do the same?
The best way to find this is out is via qualitative-focussed research. Ask your current user base why they bought your product. Tools like Typeform are great for email marketing messages, or you can use a SaaS marketing tool like Chameleon to collect this data. 
If you've got quite a large user base and it will take too long to go through each answer, don't worry, there's a tool for that too! Use a tool like wordcloud. It will aggregate all of your answers and pull keywords into a word bubble for you so you'll have a quantitative way of measuring what's important to your users, and why they pay for your product. 
What are the top 3 reasons why people don't buy your product?
This is a tricky one that not too many like to hear the answer to, but everyone needs to hear the answer to in order to focus on product-led growth. To find out why people don't buy your product, exit-intent surveys are a great method to use. Hotjar is a useful tool for this.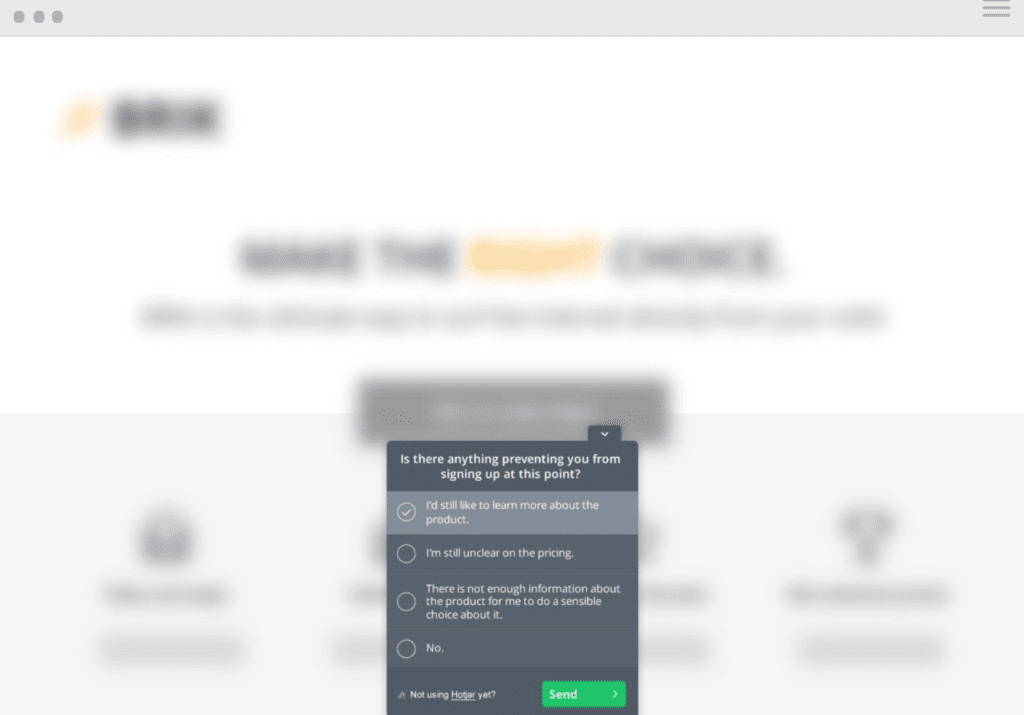 You can start by asking open-ended questions to get an overview of, let's say the top five reasons people say they're not "checking out." For example, these reasons could be:
too expensive
no payment plan that suits business operations
not what they originally expected
found another solution
no longer have the problem
Once you've got a top-five, you can bring a more quantitative measurement method to this and give multiple choice answers.
A few more top three to figure out are:
The top 3 reasons why someone becomes a lead
The top 3 reasons why someone doesn't purchase after a free trial
The top 3 most unclear paragraphs/features on your website
"You need to understand all this information by conducting user research. You can, of course, make progress and optimize your website without all this, but you won't know why you will have succeeded, and so you won't be able to reproduce and scale your success onto other pages, blog articles, or other content forms."

—Pawel Banhegyi, Founder at Map My Growth.
4. Invest in SEO
Search engine optimization is not anyone's game. It's a tough nut to crack, and if you're a small team, it's a huge amount of responsibility to put on any role or person that doesn't specialize in SEO. At the same time, the backbone of any marketing playbook needs to be on SEO because it's a growth channel that compounds over time, with high LTV:CAC ratios.
You'll be surprised by the number of strategies that fall back on basic SEO principles, everything from content creation to PR or website optimization; they're all incorporated to win SEO goals. With Google controlling over 90% of the global browser search market, you want to and need to be ranking on Google if you want your business to succeed at what it does. 
Over 65% of online experiences start with a search engine. For as great as paid search engine advertising is, it can only take your brand so far before you end up having to outbid yourself. 
SEO builds off of some PPC strategies but can get your website on that all-important first page of Google without the hefty spend. Besides, less than 1% of Google searchers click through to the second page of results. Second place simply won't do it. 🥈
SEO areas to include in your marketing playbook:
These five areas are the most important to include in your SaaS marketing playbook- skip one, and your whole strategy is weakened.
SaaS Link Building strategy 🔗
Focus on building relevant backlinks to your content and BOFU pages. You'll need to get featured on high-ranking websites, with anchor text that determines what you do or focuses on your brand name.
Link building is time-consuming, and it's definitely a long-term game. However, it comes with long-term goals and can help raise the topical authority of your website while driving serious ranking increases.
On-page optimization 📈
From small tweaks like meta descriptions and repeated titles to larger suggestions like content enhancements, on-page optimization is a must for SEO. Work on individual page optimizations to help your content outrank your competition. Look at what they're doing; now look at ways you can do it better.
Market keyword research & content modeling 🔑
There are a few great resources out there to help with your keyword research and content types. Here's a secret though, your biggest resource is probably sitting by your side—well, if you're working from home, then at the other end of a Slack conversation. Your PPC team has a wealth of keyword research and tools you can use to help shape your content modeling strategy and build content to answer what people are looking for.
Technical SEO auditing 🛠️
Technical SEO auditing dives into the architecture of your website; website load speed, broken links, site navigation, sitemaps, the works. Look at ways you can technically optimize your site to make it as Google-friendly as possible.
There's a lot to do when it comes to technical auditing and fixes. There's a high chance you'll need access to coding resources. However, if you can book the time in with developers, then this is well worth investing in.
Conversion rate optimization 🖱️
SEO is not a marketing campaign; it's a long-term strategy. This means you shouldn't be thinking about conversion rates the same way you do when you think of PPC campaigns. SEO is an ongoing beast—a good thing. It means you're not restricted to a timeframe—much like you are with a campaign—and can keep optimizing for conversions depending on the season, your competition, and your product development.
You may have seen this coming, you may not, but we're going to leave our application form right here. If you know the importance of incorporating SEO into your marketing playbook, you'll also know the value you can get from a SaaS SEO agency and when it's time to call for backup. We're right here for you!
5. Let your customers build your marketing playbook
The process of building a marketing playbook can be a lonely one. It can seem like it's just you and the data, against the world. Remember, you're not alone in this process. There are other people out there to help you build a fantastic marketing playbook and one of your biggest assets is your customer base.
Lift qualitative data alongside your quantitatively-made decisions.
"I love including raw snippets of Voice of the Customer (VoC) research, or from customer testimonials and case studies in marketing playbooks.

When a playbook consists of just guidelines and "rules" it can be easy to forget who's on the receiving end of the marketing.

The customer snippets not only serve as a strong reminder of who your audience is but can continually inspire you as you revisit the playbook from time to time."

—Eden Bidani, Conversion Strategist @ Greenlight Copy.
Find unique ways to incorporate the voice of the customer in your playbook. You can do this by building quote blocks or providing links to case studies. Or, if you have the ability to imbed video into the process then do so to break up the text and (as we discussed in point #2) provide an entire content experience.
Places you can find the customer voice (VoC):
Onsite surveys
Social media comments and DMs
Review platforms like G2, Trustpilot, Capterra
Customer service, success, and onboarding teams
—Idea by Eden Bidani, Conversion Strategist @ Greenlight Copy.  
The voice of the customer doesn't stop at practically helping to fill and support your marketing playbook, however. Your customers can do so much more when it comes to helping you build solid marketing strategies to include in your marketing playbook.
6. Build buyer personas from customer feedback
A buyer persona, also known as a marketing avatar, or even ICP, is a fantastic resource to have in your marketing playbook. Look at your playbook as the go-to hub for all marketing knowledge; it's essential that your team know who they're talking to and it starts with your playbook.
"Qualitative customer feedback is absolutely critical for developing and maintaining your marketing playbook. Your avatars should be built directly from customer feedback.

Your positioning should revolve around your customers' use cases. Your copy should be woven around customers' words. There's no end to how customer feedback can shape your marketing strategy. It's like a magical cheat sheet."

—Nikki Elbaz, Email Consultant.  
So take the customer's voice and run with it. Build out personas using quantitative data that you have access to, build a hypothesis on your personas and validate them with qualitative customer feedback. When it comes to a marketing playbook, you'll be surprised by how far it can take you.
7. Make your playbook holistic
Especially in SaaS and scale-up businesses, it can be a challenge to take a step back and take a holistic view when building a marketing playbook. You're constantly focused on the next piece of content to create to hit immediate goals, but a playbook is to help you reach long-term goals and attain consistent growth.
"Think about what is the campaign / the campaign goal, as opposed to what is the piece of content you need to create. A marketing playbook helps your entire marketing team avoid working in silos."

—Meagan Healey, Director, Marketing & Communications at Dig Insights.
Keep this in mind when it comes to building your playbook, but also when it comes to distributing your playbook. Who is the reader? Who are you writing for? There's a high chance it's not just your marketing team. Your advertising team, product development, sales, customer success, customer support, leadership, and even external (SaaS SEO 😉) stakeholders could be reading it too.
Remember the reader as you write and avoid lingo that's unique to your team—or provide a glossary to accompany the playbook. At the same time, make sure those that need access to it, have access to it.
Slite is a great tool for hosting your marketing playbook. Control permissions, introduce the playbook with a formal meeting or Loom video, so everyone knows how to use it, where to access it, or request access, and everyone can contribute towards it as well—if you want! 
Your SaaS marketing playbook: the final chapter
That's everything for now when building your SaaS marketing playbook. We'd like to extend a special thanks to our SaaS Collective Members who contributed to this article: Baxter Denney, Selman Gökçe, Pawel Banhegyi, Eden Bidani, Nikki Elbaz, and Meagan Healey. Thank you for your time, your knowledge, and your support for Skale. 
As for you, dear reader, we hope you go forward and prosper with your SaaS marketing playbook. We'd also love to hear from you, whether you're interested in our services, becoming a contributor of the SaaS collective, or have a play you think should be featured. Feel free to reach out!
SaaS Marketing Playbook FAQs