Level up your SEO strategy with Skale
See where Skale's B2B SEO experts can take your MRR. Get in touch today
Schedule a call
Search engine optimization (SEO) is today's number one go-to strategy for growth.
Why?
It works–it simply does.
Let's check some stats that show how effective and needed SEO is for businesses:
We can see proper SEO and being on top of search engines results pages is now a necessity if businesses want to achieve growth. However, how can you make a solid B2B SEO strategy? How can you make it to the top while everyone else is trying, too?
Here we'll analyze the top B2B SEO strategies to guarantee a place so high up the SERPs, the view is well worth the climb.
Plus, we'll look at some real-life examples and success stories for you to see what good B2B SEO can do for your SaaS, and how to do it.
What is a good B2B SEO strategy?
A good B2B SEO strategy is one that will help you:
Increase organic traffic to your website
Build brand authority through high-quality content–super important for B2B brands especially
Generate free sign-ups and demo requests for your product
Most importantly, it will bring in your target audience, not just curious passers-by.This is the greatness of a solid B2B SEO strategy, that you're not just ranking high, but you're ranking for the keywords that matter. You're meeting your ideal customer's search intent so accurately that every effort you make in your content will go on to help convert those high-quality leads.
Any good SEO strategy will take care of three key aspects:
On-page SEO
Off-page SEO
Technical SEO
Taking care of just one of these elements will only get you so far. To achieve the true growth, visibility, and conversion rates that you're looking for, you need to implement all of these elements in a combined effort. Separately they're strong, together they're a force not to be reckoned with.
3 Things to consider before you create your SEO strategy
Before we go through the steps you'll need to follow to create your winning SEO strategy, there are some key actions you'll need to perform before getting started. Those are:
Create buyer personas
Understand your sales funnel
Make a list of topics
Perform keyword research
Create user personas
User personas are the fictional profiles of your ideal customers. A good user persona represents the wants, needs, and pain points of each of the possible members of your target audience. There will be different user personas along the different stages of your sales funnel.
User personas are a great way to better understand your ideal customer's behavior patterns, goals, skills, attitudes, problems, and demographic information.
For example, if the service that you offer is an email automation tool, one user persona you might have is the founder of a start-up looking to automate its email customer acquisition strategy. Another user persona could be the marketing lead at a company that needs to manage email newsletters, and a third user persona you might have is the product adoption lead at a company that's looking to send product update emails to users. All these people will have slightly different pain points, goals, attitudes, and the way you'll target each of them will vary–so will the specific way they use your tool.
Additionally, just as there are user personas, there are also 'negative' user personas. These are a fictional rendition of those customers that you definitely don't want to have. Maybe because, although they have similar problems, their pain points will not be solved by your product. Or maybe they're at a stage in their business where your product is not designed to serve. For example, if your product provides marketing analysis but needs a specific large number of customers and data points, smaller businesses that don't yet have this number of customers will not benefit from your product.
These negative user personas are also important so you know how to craft your messaging and content in a way that will not attract these types of potential users.
Understand your sales funnel
Time to understand your sales funnel. Who is the user persona in each stage of your funnel? What do users need and how would they need to receive this information? Do they read long-format blog posts, attend a live webinar, read an email campaign, or what type of content are they consuming and using to make decisions?
This is super important, it will guide your keyword research, your content marketing efforts, your choice of marketing channels, language, and more.
Make a list of topics
Before we move on to keyword research, there's something you need to do first. That is: figure out the topics you want your content to focus on. These topics your content will address will be divided into content pillars for which then you'll do nitty-gritty keyword research to find the long-tail keywords you need to rank for.
But, how do you come up with the list of topics for your content? First, you compile a list of about a dozen words and terms associated with your service–also known as 'seed keywords.' Then, you use an SEO tool to look at these words and variations of them to find out their search volume. This will give you popular short-tail keywords that you'll use as content pillars. This means you won't be dedicating individual blog posts to each of these keywords, but you'll group your blog posts in each of these topics and have specific long-tail keywords for each blog.
An example of this would be if you are an SEO agency–like Skale–some relevant content pillars will be B2B SEO, SaaS SEO, SaaS marketing, and demand gen. These are all high-ranking niche-related short-tail keywords, and although they'll be used in your various blog posts, they won't be the main keyword for any of your blog posts. Instead, for the content pillar 'B2B SEO' you might have a blog focusing on a long-tail keyword like 'B2B SEO tools' or 'B2B SEO metrics,' for example.
Now that you've found your topics or content pillars, let's see how you'll find your related long-tail keywords.
Conduct keyword research
Keyword research sounds like a complicated task. It's a lot easier when you understand your ideal customer/company profile, your content pillars, and have crafted well-researched user personas.
To conduct effective keyword research, consider the following elements:
Develop your corner of the market
Make a list of seed keywords
Establish your content pillars
Find out what long-tail keywords your competitors are using
Identify the most relevant long-tail keywords
Group your keywords by search intent
Build a list of relevant topics
Connect the topics to the B2B buyer's journey
Want to know more? Read our B2B keyword research guide.
Let's now look at the six elements to consider to make your B2B SEO strategy an astounding success in 2023 and beyond.
6 B2B SEO strategies for 2023
To help you make the most out of your B2B SEO strategy, follow these six steps and you're guaranteed to attract and help convert the right users:
Establish a keyword strategy for each stage of your sales funnel
Create and optimize your landing pages
Make it work at scale
Seize link-building opportunities
Manage your marketing budget
Use SEO tools to automate your processes
1. Establish a keyword strategy for each stage of your sales funnel
Keywords are important, they're the match-makers between your users and you. However, keywords used randomly and without direction will not do you any good–and might even harm your efforts.
That's why a way to use all your expertise and your keywords in a targeted and effective way is by using topic clusters.
Topic clusters are also known as content hubs. They're all topically grouped pages covering a specific subject.
A topic cluster has three key elements:
A page focused on one specific and high-researched topic from your niche–called the pillar page
A set of "cluster" pages covering related subtopics more in-depth
Internal linking between all of these pages
By nailing these three elements, you have a topic cluster. This will allow you to create a whole web of content based on the results of your keyword and user research. Additionally, these cluster pages allow you to use those low-volume, long-tail keywords in a more natural way. After all, these keywords are much more relevant to your readers and their queries. And, the more relevant the content is for your readers, the higher your chances of converting them.
Want expert help? Let the clever minds at Skale, a B2B SEO agency, help you with your keyword and SEO strategy.
2. Optimize your landing page
By now you'll already have a landing page or two. However, you need to make sure your landing page–and any other pages–are optimized following SEO and content best practices. That includes:
Meta elements
Page loading time
Responsiveness
Schema markup
Keyword research
Content marketing strategy
Link-building strategies
Even if you're only using landing pages for paid ads, optimizing your LPs for search engines also gives it a chance at ranking organically too. Additionally, it ensures users won't abandon your page because it's not loading quickly enough–25% of visitors abandon a page if it takes more than four seconds to load.
3. Make it work to scale
B2B marketing is a long game. Understanding that a user that searches: what is [pain point that you target]? today might turn into a customer a year later is important to remember.
In order to scale your business, you need to make yourself visible to the people that matter, and when it comes to B2B that means not only one potential customer but an array of decision-makers. To be visible you need to be producing high-quality content for all the stages of your sales funnel. Don't only focus on convincing people about your product, that's too low on the funnel, you need to make content for the awareness and interest stages too.
The type of content you create will depend on your ICP, but here are some worth considering:
Blog posts
Research studies
Case studies
White papers and eBooks
Guides
Videos
Webinars
Podcasts
Templates
Tools
Newsletters
The more value you bring to the user the better–no one will trust someone that only gives hints about what they know but never really shares anything.
By making sure you're hitting all the stages of your sales funnel you'll be able to scale your business slowly, but surely.
4. Seize link-building opportunities
Link-building is important for B2B websites, for many reasons. Here are some of the most important:
Increase brand exposure
Wins referral traffic
Strategic relationship building
There are many ways in which you can scale link-building and make it more effective and efficient. However, here are some B2B link-building tactics experts use:
Vendors and partners
Brand mentions
Badges
Press releases
Funding & investor updates
B2B Podcast interviews
Roundup articles
Guest posts
Original research
Product reviews
Conferences
If you want to learn how each of these tactics can be used, check our link-building guide.
5. Manage your marketing budget
Another important aspect of an effective SEO strategy for growth is taking your marketing budget into consideration.
This might sound obvious, but many B2B companies struggle with it. Especially when ROI is not so easily reported as with B2C or pay-per-click campaigns. This can make some stakeholders feel uneasy about their investment or resource allocation within marketing.
The three basic steps you need to establish your marketing budget are:
Establish goals: define what it is that you want to do with your marketing and SEO strategy
Define marketing channels: focus on those that are really key for your ICPs
Check resources: define what resources and tools you have to use for this marketing strategy
By following this straightforward checklist you'll save yourself a few headaches down the road. But to help you out even more, here are two rules of thumb to follow depending on the stage your B2B business is at:
Product launch or go-to-market stage: follow the rule of 5, identify the Year 5 revenue goal, and multiple it by 5%, and that should be your marketing budget. However, if you're only just launching a B2B company, take that number and multiply it by .5.
Established B2B companies: as a rule of thumb for an established B2B company the marketing budget–for all marketing activities–should be around 2 – 5% of gross target revenues. However, this can vary depending on your current marketing situation, the industry you're in, and the size of your company.
These two rules should give you a better idea of what you should be aiming for in your marketing budget.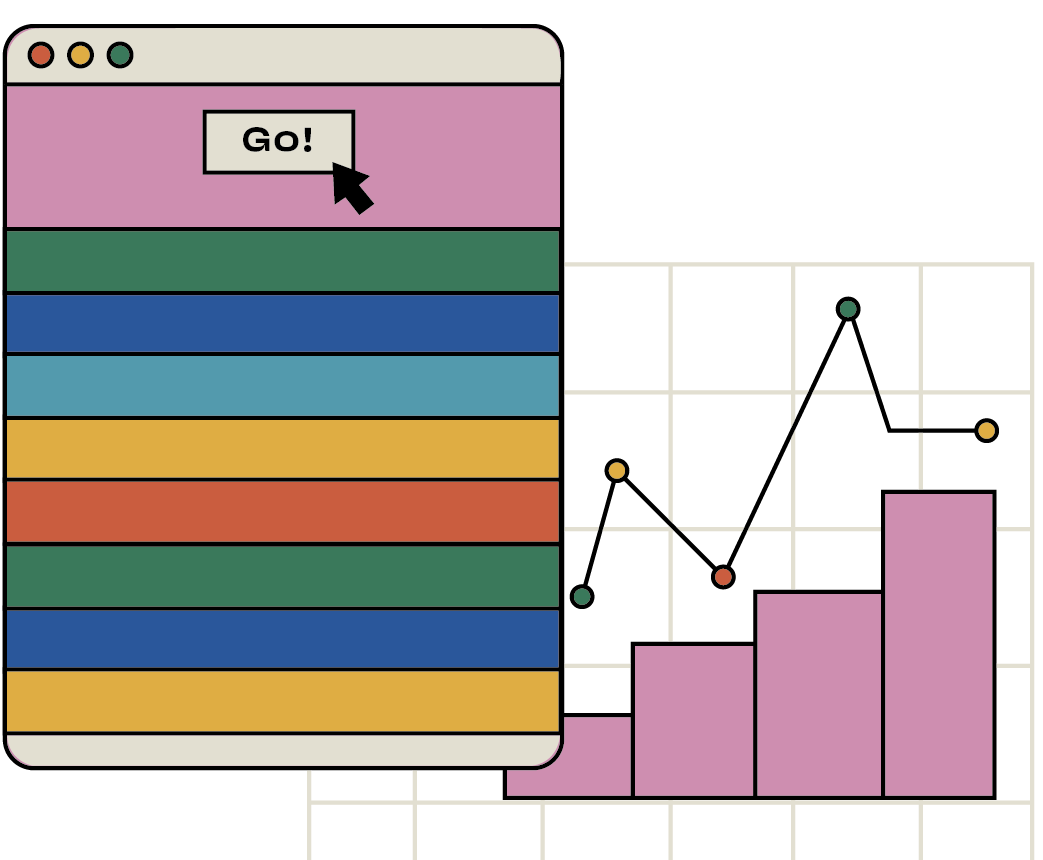 Set up an effective B2B marketing budget
Read our guide to creating a marketing budget that supports your B2B SEO strategy
Read the guide
6. Use SEO tools to your advantage
If you're using technology, let technology help you. There are hundreds of tools out there to help you with every aspect of your SEO strategy, seize them.
Google Search Console, for example, is not just a place to check vanity metrics, it actually is a very powerful SEO tool that can help you make the most out of your SEO.
Pro tip: Read this if you want to know the nine best B2B SEO tools to use right now.
Before we show you some real-life examples of successful B2B SEO strategies let's make sure we understand the difference between B2B and B2C.
B2B vs B2C SEO: what's the difference?
The difference between B2B and B2C SEO has to do with the different sales funnel and purchasing process that each type of business requires.
For example, B2B marketing has a longer and more complex sales cycle since it requires many heads to nod before a decision is reached.
Let's look at each of the differences between SEO for B2B and SEO for B2C, and how you can adapt your strategy to make the most out of your B2B business.
Different sales funnels
First things first, the B2B sales funnel is very different from the B2C one.
Why?
Although both funnels typically have the same six stages:
Awareness
Interest
Evaluation
Negotiation
Purchase
Loyalty/Renewal
In the B2B process, each stage takes longer since you're not trying to convince and prove your product to your final buyer but to all the people involved in the purchasing decision. For example, in companies of 100 to 500 employees there are an average of seven people involved in each purchase.
Additionally, each of these seven people will be looking at different things about the solution you provide. Some will care about the price, some more about the features, some about the way it works and scales for the company, some about the way it works with the tech suite that the business already works with, and so on.
This makes targeting each of these decision-makers throughout each stage of the funnel a challenge in and of itself, and as such the overall process takes much longer.
It also takes B2B companies much longer to reach the final decision–they'll be getting a solution for a whole company and their own outcomes and growth might depend on this new solution. This makes building trust and brand recognition an essential element of the process.
Other factors that make the B2B and B2C sales funnel different are:
B2B products usually affect the inner working of an entire organization, which means there is a bigger commitment and research need–many also work with subscription models
In B2C, you're targeting an ideal customer profile (ICP), in B2B you'll target an ideal company profile.
B2C products use more emotion to persuade a purchase, in B2B there's more of a rational purchase, due to the higher commitment involved
Lastly, another huge difference there is between B2B and B2C's sales funnels is the end. Sometimes for B2C once the customer makes the purchase, that's it. Mission accomplished.
Instead, for B2B, having to get to the point where the customer subscribes or makes a purchase is only the beginning of a–hopefully–long-lasting relationship. What defines this relationship? The content and support that the company can provide to its customers.
Although it might sound complex and scary, the B2B sales funnel is nothing else but a bigger opportunity for your SEO strategy. Now we'll see why that's the case.
Content for strategic purposes
Considering the different sales processes, it's expected that content marketing for each type will vary.
B2C content will always be addressed to your ideal customer. Although it will be changing through the different stages of the funnel, the target of your content will always be the same.
However, when it comes to B2B, each stage will have different content types, and your content will be made to reach each of the decision-makers.
For example, at the awareness stage, you can have free webinars, newsletters, and more general blog posts that your target audience can read. And for the later stages in the sales funnel, you'll benefit more from case studies, roundup articles, and online demos
Additionally, the 'virality' of your content could be good, but it's not necessary. Since B2B is not about reaching the masses in a short amount of time but reaching the specific niche to which your product can really work over a longer period of time; you're looking for more long-term, sustainable solutions with your content.
Keyword goals are different
B2B and B2C SEO also have different keyword research and search volume focus. While B2C aims to find the high volume keywords that are relevant to their products, B2B SEO wants to find and appear high on the search rankings of low-volume, long-tail keywords. These are the ones that will convert to product sign-ups, demos, etc.
For example, below we can see 'fleece jacket' with 40K monthly searches, and 'SEO management tool' with 150 monthly searches according to Ahrefs. If you're B2C, you will want to include the 'fleece jacket' keyword if your product suits it, while for B2B, a low-volume keyword like 'SEO management tool' is more desirable than the general 'SEO' with 111K monthly searches.
Search rankings are important because they bring you closer to your customers. At the end of the day, a product or a service is a solution to a customer's pain points. When people search on the internet for something, what they're trying to find is a solution to their problems.
If you appear at the top of search results, it's more probable that customers will see you, read you, and choose you first. Understanding which are the specific long-tail keywords that your ideal users are looking for is helpful in B2C, but crucial in B2B.
Channel focus varies
A company and its stakeholders will probably not buy something just because they saw an ad on Instagram–a B2C customer might. However, corporate decision-makers might gain a bit more trust–that will help to lead to a purchase–by:
well-crafted and educational content on Instagram
a good reputation and values shown on LinkedIn
knowledgeable content on YouTube
a podcast discussing customer's pain points at length with experts
valuable guides, know-how infographics and blogs on their website
a well-thought-out and relevant newsletter
weekly webinars and Q&As with industry leaders
and so on…
The use and choice of marketing channels will vary depending on the product or service and on whether it is B2B or B2C. After all, each channel will have a purpose and a dedicated type of audience.
Conversion rates and ROI differ
A final difference that's important to mention between B2B and B2C that make SEO efforts differ is the conversion rates and ease to determine ROI.
Click-to-sale conversion rates in B2C are much higher than in B2B. Additionally, determining ROI in B2C is easier. In B2B things are more complex and from all the efforts you make to have a well-thought-out and established blog and podcast, a weekly webinar, and so on, it's harder to pinpoint which effort was the one that turned an interested reader into a paying customer.
This difference makes understanding SEO and knowing which SEO tools to use for better reporting and analysis crucial in the B2B world.
To sum up, in order to have a successful B2B SEO strategy you'll need to:
really get to know your audience
go as niche as you can
prove to them that you're an industry expert
show how your solution is the best
provide constant value and support
Above all, something that you'll need to keep in mind for B2B SEO is: patience. Results will come but nothing will be immediate, just like its sales funnel takes time, your results will take time. Once you see the success, you'll see that all the effort was worth it.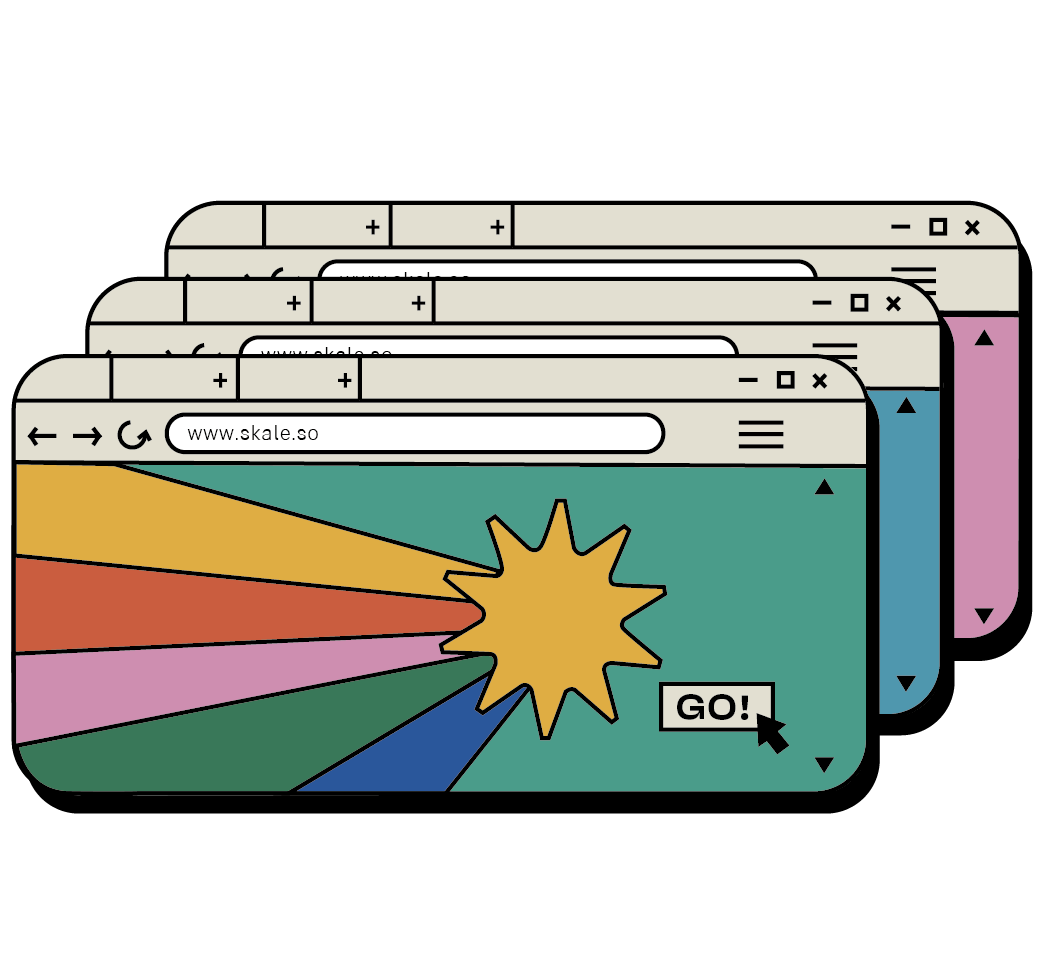 Effectively measure your B2B SEO ROI today
Download your free ROI tracker and better support your B2B SEO strategy
Download the Tracker
Now that you understand the difference between B2B and B2C SEO and know what you need to have a successful B2B SEO strategy for growth, let's look at some real-life examples:
B2B SEO examples to learn from
Now that we know what makes an SEO strategy work, let's see some real-life successful examples to inspire your next strategy:
Perkbox
Perkbox's products support employee wellbeing, employee recognition, company culture, and more–all to help with recruiting and retaining the best possible talent for your team.
Perkbox wanted an SEO strategy that would help them reduce the cost per opportunity, and to increase opportunities and non-brand organic MQLs.
Skale's strategy to grow Perkbox's organic SEO channel included:
Thorough keyword research
Meticulous content planning
Optimizing existing content
Creating new landing pages
Publishing new articles
Technical SEO analysis
High-quality link-building strategy
After only 10 months they manage to reach £110 cost per opp, proving that SEO is a strong path to success.
Maze
Maze is the leading rapid testing platform empowering agile teams to test, learn and act–rapidly. With Maze, product and marketing teams can easily test anything from prototypes to copy or round up user feedback all in one place—democratizing testing company-wide.
By using our SEO Management service, a thorough technical SEO audit, and focusing on building high-quality topic clusters, implementing a high backlinking strategy, repurposing old content to better match search intent, and providing CRO recommendations to improve CTAs, Maze managed to get the following results in just a few months:
Maze scaling their monthly organic signups by more than 283% in less than six months proves that topic clusters and backlinking–along with the right guidance–are an effective SEO strategy.
Moonpay
Moonpay is an extremely fast-growing cryptocurrency payment platform. Their goal is to make buying and selling cryptocurrency easy for everyone.
Thanks to a strong link-building plan as part of their SEO strategy Moonpay managed to go from 0 non-brand organic clicks to more than 7K per month to key transactional pages in less than 10 months. Additionally, they achieved several top positions for highly competitive keywords like 'Buy USDT', 'Buy USDC', and 'Buy Ethereum with credit card'.
Once again proving that SEO has an impact and although you'll see results in a longer period than in B2C, it is still not in a reasonable period of time.
Launch your B2B SEO strategy today
SEO is not rocket science, it is possible to use it to your advantage and see the growth rate and success you've been dreaming of. However, you'll need to have a holistic approach to SEO and focus on creating high-quality content that brings real value to your users.
If you would like some help to make the most out of your SEO and content marketing efforts, you can use expert help. Here at Skale, we are a B2B SEO agency that will direct your B2B SEO marketing channel to benefit conversions and overall growth, impacting real business metrics.
Create the SEO strategy of your dreams by following these steps described in this article and see your company reach new levels of growth and success. Who knows, you might be the next success case everyone will be talking about!
B2B SEO Strategies FAQs
1. What is B2B SEO?
B2B SEO is the digital marketing strategy of creating and optimizing content to increase organic traffic as well as rank the pages higher in search engines.
2. How can I improve my B2B SEO strategy?
The best way to improve your B2B SEO strategy is by following these steps:
1. Create buyer personas
2. Understand your sales funnel
3. Perform keyword research
4. Establish a keyword strategy for each stage of your sales funnel
5. Create and optimize your landing pages
6. Make it work to scale
7. Seize link-building opportunities
8. Manage your marketing budget
9. Use SEO tools to your advantage
This way you'll be able to get to know your audience in your niche better and provide exactly what they need, as well as seize SEO opportunities to increase your thought leadership.
3. Does SEO Work for B2B?
SEO works for B2B and B2C. However, SEO is one of the best channels of customer acquisition that B2B businesses have. It helps achieve organic visibility through each stage of the buying cycle and this is a guaranteed way for businesses to grow.