Level up your SEO strategy with Skale
See where Skale's SEO experts can take your MRR. Get in touch, today
Contact Us
B2B customer acquisition strategies essentially focus on increasing brand awareness and using lead generation tactics to attract, educate, and convert new customers–as well as retain existing ones.
By using different marketing channels and tools like inbound marketing, search engine optimization, email marketing, and more, SaaS businesses can ensure they're efficiently reaching potential customers and educating throughout the whole sales funnel.
However, it's important to understand that marketing is not customer acquisition–more on this later!
Whether you're a small startup or a 500+ employee enterprise, an effective B2B customer acquisition strategy will keep your business going and growing.
Here are the 15 B2B customer acquisition strategies that really work and can drive growth in your business. We'll also give you real-life B2B results using eight of these strategies as these are the most successful ones in the B2B space.
Let's get right into it.
15 B2B customer acquisition strategies that really work
1. Search engine optimization (SEO)
Search engine optimization is today's most in-demand marketing hotspot. It's no longer about finding the fanciest commercial center with the biggest footfall. No. Now, it's all about the ranking in the search engine result pages (SERPs)
You'll find that all SEO statistics point to the importance of SEO for marketing and visibility. Let's focus on one, a pretty juicy one:
This means that if you're not on the first SERP, your potential customers won't find you–and since Google only shows 10 results on that first SERP or even less if they show paid ads for that query, you'll be battling to get in there.
How can SEO help you rank higher in the SERPs and thus help you acquire more customers?
By applying SEO best practices to three key areas of SEO that will let Google and other search engines identify your content as worth showing. These elements are:
Technical SEO: site speed, structured data, canonicalization, XML sitemaps, and more
On-page SEO: content, title and meta tag optimization, internal linking, image optimization, and more
Off-page SEO: link-building, social signals, online reputation signals, and more
The best thing about SEO is that it helps leads find you organically. You're not pushing ads, people are already searching for what your SaaS is offering, they just didn't know about your SaaS.
How powerful can SEO really be? Let's take a look at a real-life example:
Piktochart: 995% increase in organic clicks
Piktochart is an online platform that allows users without intensive knowledge to create beautiful designs.
The challenge: By being in the same space as Unicorn Canva, Piktochart wanted to increase their SERPs ranking and in turn their product signups.
The solution: They came to Skale and we looked at some key elements like:
Quality
Quantity
SEO keywords and terms
Internal & external links
Technical aspects
We then worked with Piktochart to build a link building strategy and improve some technical on page and off page SEO matters.
The results: Piktochart beat Canva for the high traffic keyword 'presentation maker' and achieved 995% increase in organic clicks and 860% increase in signups in just three months.
Piktochart also managed to rank above billion-dollar SaaS Canva. And what's even more impressive is that it managed to do so with fewer referring domains–quality beating quantity once again: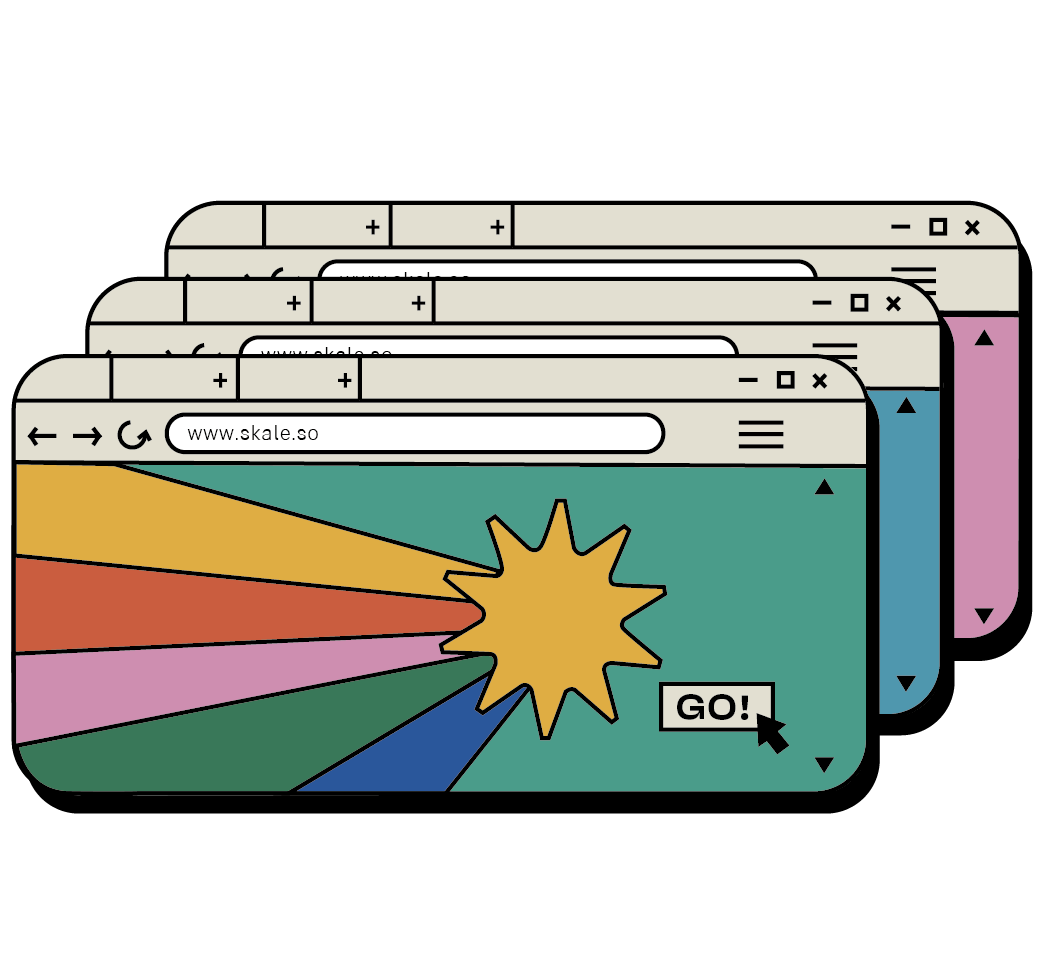 Start winning with link building
Apply to work with Skale and build MRR with a winning link building team
become an LB lead
2. Email marketing
B2B SaaS marketers are always asking for prospects' emails. Why? Because email marketing is a highly effective way to communicate with customers, to promote content, products, sales, and events.
Unlike other methods like search, content marketing, or social media, email marketing gets you directly into your consumer's inbox–and this can make an impact. After all, email marketing has an impressive ROI of $36 for every $1 invested.
Thankfully, there are various email marketing tools to help you segment, send behavior-triggered emails, draft better subject lines, and more.
Yaro Starak: $40,000 in sales without annoying subscribers
Yaro Starak is a serial entrepreneur, podcaster, blogger, and angel investor. Yaro sends a regular newsletter showcasing products, courses, and other offers.
The challenge: Yaro wanted to promote that Eben Pagan opened his GURU MasterClass program without annoying their audience with too many unwanted emails.
The solution: Yaro used AWeber, an email marketing and automation tool, that allowed him to only send emails to those users that showed interest by doing specific actions, such as:
Whether a person had opened the previous email Yaro sent them
Whether a person had NOT opened the previous email
Whether a person had clicked the link to watch the video
The results: Thanks to the automation tool the campaign generated $40,000 in sales.
3. Referral marketing
Sometimes the best way to promote your product and get new customers is through your existing customers. By adding a referral program you encourage your customers to incentivize others to use it too by providing special offers, discounts, or rewards.
Referral marketing benefits include:
It generates 3-5x higher conversion rates than any other marketing channel
Referred customers are 18% more loyal than customers acquired elsewhere
Referred customers are 4x more likely to refer more customers
Let's see what referral marketing could do for you:
G Suite: managed to go from zero to 5 million paying customers
G Suite by Google is a set of cloud-based productivity and collaboration tools.
The challenge:
G Suite was brand new in 2006 and needed to onboard new customers quickly.
The solution:
Google incentivized signups by paying program participants cash for every new user they brought. Additionally, referral links and coupons were given to program participants.
Referral links and coupon codes were provided to program participants
A participant receives $15 for every qualified new user that signs up through their link
The results:
By the end of 2018, 5 million paying businesses were using G Suite; today it's one of the most widely-used software products.
4. Social media marketing
Social media might not seem like the first place you would look for customer acquisition of B2B prospects. However, it can truly pay off if you know what you're doing.
A social media marketing strategy that works will help you build your brand's voice, engage users with the more 'human' side of your business, and position your brand at the top of the consumer's mind.
Seeing how 22.7% of internet users use social media for business-related networking and research, you might want to try it out and keep it in your customer acquisition playbook.
Cloudera: managed to get over 200K organic link clicks from social platforms
Cloudera is a cloud database management system that helps businesses obtain the data insights they need.
The challenge:
Cloudera wanted to get better engagement rates and organic clicks from social media.
The solution:
They used SproutSocial to get the most out of their social media marketing efforts. Specifically, they used three features that SproutSocial offers:
Optimal Send Times: automatically publishes content when social users are most active for engagement opportunities
Advanced Listening: helps identify the percentage of positive, neutral, and negative messages associated with the brand
Analytics and reporting tools: helps see with real data what's working and what needs to improve
The results:
Across LinkedIn, Twitter, and Facebook, Cloudera achieved a:
164.4% increase in total social followers
78.4% increase in total social engagements
78.6% increase in total social impressions
This social engagement helped them get 201,400 total organic link clicks from social platforms.
5. Influencer marketing
Although influencers are noticeable in B2C businesses, they're also important for B2B—they just work a little differently. In B2B marketing, unlike B2C marketing, you'll care much more about the quality (of your influencer's audience) rather than the quantity (the size of it).
Let me explain.
For B2C, macro influencers that reach more than 100,000 people can be a goldmine–think about the power of Kim Kardashian for clothes sales, for example. However, when it comes to B2B, you want to reach your niche effectively. To do this you'll be working more closely with micro (10.000-100,000) and nano influencers (<10,000). This is because the more relevant the impressions that you get, the higher the chances of actually converting leads.
Whilst for a B2C product you can have an influencer post a picture using or consuming your product, when you do B2B influencer marketing they'll do different types of content.
When asked what types of content are mostly being used by current B2B influencers, respondents said:
Social media (74%)
Blog posts (71%)
Recorded video (67%)
Interviews (62%)
Podcasts (52%)
Live video (48%)
Case studies (38%)
As an example, we can see above how ChartMogul's CEO, Nick Franklin, uses his social media account on Twitter to not only network with potential customers and the industry but also to share ChartMogul's content and spread brand awareness. People relate to people.
Influencer marketing will let you work with thought leaders in your industry that your prospects trust.
Sage: generated 200 million organic impressions from its influencer marketing campaign: #sageinspire.
Sage is a global accountancy software company.
The challenge:
They wanted to increase their social media reach and engagement through industry influencers.
The solution:
Sage's Global Influencer program involved over 120 small businesses and accountancy influencers in six countries in five languages.
The results:
Over 9 months the program generated over 200 million organic impressions for the brand.
6. Account-based marketing
Account-based marketing can be a true game changer for B2B companies because it allows them to perfectly target those high-quality and high-value leads.
When marketing and sales teams work together to create personalized buying experiences for specific leads they increase the chances of getting conversions.
Account-based marketing can:
SAP: AB M's initiative generates $27 million in new pipeline opportunities.
SAP is an enterprise software provider that offers solutions from CRM to planning to financial and supply chain management.
The challenge:
SAP wanted to cross-sell other solutions to its existing customers. The problem was that its current marketing activities were not personalized and its messaging did not reflect which products were favored by existing customers.
The solution:
SAP decided to take the following steps as part of their ABM program:
Acquired internal buy-in for the proposed ABM program
Tested first with only five companies
Did deep research on each target account and insights were used as a guide
The results:Within two years after the start of the ABM program, SAP was able to target 55 high-value target accounts, achieve new pipeline opportunities worth $27 million, and make $57 million in total revenue.
7. Content marketing
Content marketing focuses on creating and sharing relevant content that targets customers will value and look for.
To make the best out of your content marketing, you should follow the content marketing cycle:
Create buyer personas with the help of your marketing and sales team
Create content for different channels, personas, media, and stages of the marketing cycle
Plan content marketing campaigns
Continuously audit your content and make changes where it needs
Bungalow: went from zero to 500K+ unique page views in just 10 months
Bungalow provides long-term room and home rental services across the US.
The challenge:
Bungalow wanted to attract potential customers that would be visiting the areas where they offer their services.
The solution:
Thanks to DSLX, a SaaS content agency, Bungalow started publishing 'best neighborhood' guides for all of their most important cities/markets.
The results:
In less than 10 months Bungalow managed to go from zero to over 500,000 unique page views thanks to their city guides. Additionally, they now rank first for various local keywords like 'best neighborhoods New York,' best neighborhoods Los Angeles,' and 'best neighborhoods Chicago.'
8. Inbound marketing
Inbound marketing is a more holistic approach than content marketing and takes into account all content that drives an ICP from awareness to customers. For example, a pop-up modal window that targets a user that has been on the website multiple times is a small tactic within the greater inbound strategy that brought them to the website in the first place.
Businesses that apply inbound marketing tactics can get up to 126% more leads than those that don't.
Perkbox: increased MQLs by 102% in only 10 months
Perkbox supports employee well-being, employee recognition, company culture, and more–all to help with recruiting and retaining the best possible talent for your team.
The challenge:
Perkbox wanted to turn their non-branded organic traffic, which was low intent, with a low conversion rate into MQLs and opportunities. In order to scale cost-effectively, Perkbox needed to rank for higher intent keywords that indicate their ICP needs their solution imminently.
The solution:
Working with us we did a full SEO and content audit and realized there were some important changes that could give us the outcomes Perkbox was looking for. As part of the strategy we included:
Detailed keyword research and content planning
Optimizing existing content
Creating new landing pages and blog articles
A technical SEO analysis
High-quality link-building
We focused on creating content that could convert visitors into leads and customers–landing pages, blog articles, etc.
The results:
In just 10 months, Perkbox managed to:
Increase by 49.2% for non-brand organic clicks
Increase non-brand organic MQLs by 102%
Increased opportunities by 40%
Reached a cost per opp of just £110
9. Search engine marketing
Search engine marketing (SEM) is about using search engines to increase the visibility of your SaaS.
B2B Search marketing is the combination of Search Engine Optimization and Search Engine Marketing techniques to help your business gain visibility online, rank higher on search result pages and increase traffic through search engines.
Pay-per-click advertisements like Google Ads are easy to identify simply by looking at the little tag that says 'Ad' on the SERPs.
Seeing how the close rate of SEO B2B marketing is almost 8x higher than that of traditional marketing and 61% of marketers say they rely on PPC ads to distribute content and generate more leads, you know SEM is a key player in the B2B space.
10. LinkedIn marketing
96% of B2B content marketers use LinkedIn for content marketing. You can see why LinkedIn marketing is the right place to increase business awareness and connect with potential leads—right?
LinkedIn marketing is about making the most of what the platform offers to network, generate leads, improve brand awareness, foster partnerships, distribute content, and increase your website traffic.
Here are five best practices to seize your LinkedIn presence:
It's a social platform, so don't forget about hashtags
Know when to use a LinkedIn Profile vs. a LinkedIn Page
Share posts of various lengths
Share external blog posts or content on your profile or page
Keep your publishing schedule consistent
By following these practices you'll get the results you want from your LinkedIn campaign.
11. Affiliate marketing
Affiliate marketing it's related to referral marketing in the sense that through already-established connections you get new customers or leads. However, affiliate marketing involves paying a commission to an affiliate each time someone makes a purchase through a unique affiliate link.
For the time being, affiliate marketing is not as highly seized as it has the potential in B2B:
There are three best practices that can help you make the most out of affiliate marketing for your B2B business:
Focus on choosing the right affiliates: of course, you don't have to pay if your affiliate doesn't bring new leads, but if you're after real leads and revenue, you need to make sure your affiliate is the right one to bring new product-qualified leads.
Invest enough resources and time: create an affiliate landing page, keep constant communication with your affiliates, and recruitment never really stops. If you want your affiliate program to work, you need to put in the work.
Educate affiliates about the B2B sales cycle: the B2B sales cycle tends to be longer and requires more decision-makers, which is why you need to remind your affiliates of this so they don't get discouraged by the time it takes.
12. Outreach marketing
Another way to acquire new B2B customers is by reaching out directly to one of the decision-makers in the company you're trying to land. Maybe a CEO, maybe a director with high authority, or a manager that's in charge of purchases.
By reaching out directly to these decision-makers you'll be speeding up the process–however, you must be careful not to spam. You want to truly study and understand your potential customers before you reach out to them.
For outreach marketing the most important thing you'll need to do is study your potential customers and understand who you need to contact and which way is best: call, email, LinkedIn messaging, etc. Additionally, you also need to know how to best convey your message, both in the subject line or call opener, and in the body or during the rest of the call.
13. Multichannel marketing
Multichannel marketing is exactly what it says on the tin, marketing done across multiple channels. It's about being where your audience is: everywhere.
Today, people don't only consume content and ads through their desktop computers, nope. They use their smartphone, smartwatch, tablets, and even smart glasses to see and engage with new content. Soon, they'll likely be adding the Metaverse to this mix as well.
Companies that use multichannel marketing will be interacting with users directly and indirectly through different channels like:
Online catalogs
Websites
Push notifications
Text messages
Podcasts
Emails
Paid search
Social media
TV
Radio
Direct mail
You can see how this list of channels mixes traditional outbound marketing with digital and inbound marketing. Covering all possibilities is what's all about to obtain the desired outcome: engaging with all potential customers.
The challenge is getting your branding and messaging unified across all of these platforms, so that no matter where your audience finds you—keep in mind it's likely to be in more than one place—they get the same, continued brand experience every time.
14. Video marketing
Video marketing is using videos to show your brand and products in a way that will turn viewers into potential customers. A great example of video marketing is Dropbox's video explaining what its product can do for its clients.
Videos can be exactly what your customer acquisition strategy is missing because videos allow you to:
Showcase your brand's voice and culture
Create highly shareable campaigns
Thoroughly explain your product
Create an emotional bond with the viewers
Show the human side of the brand
Additionally, videos are a great way to showcase reviews. Seeing a written review of your product or services doesn't quite have the emotionally charged message that a video showing a person truly happy and satisfied with your product would do.
After all, 93% of emotional communication is done non-verbally, you'll give your testimonials a better chance on video!
When creating video content for your brand and product remember to use storytelling elements to really engage users from the first few seconds, ensure the video has various playback quality options for an optimal load and viewing experience, and that it's got subtitles–psst. you can easily add subtitles to videos with Happy Scribe.
Lastly, videos can really help your inbound marketing campaigns by letting leads educate themselves on your product and answer as many questions as they might have with visual tutorials—they cut out the need for manual webinars. The webinar is dead!—for some. This helps potential customers feel better about the decision they're going to make.
15. Customer retention
B2B SaaS brands typically offer their services on a subscription model, so customers spend only a small percentage of their customer lifetime value upfront. This makes customer retention crucial for the growth and success of your business—especially if you're billing monthly over annually.
Since acquiring a new customer can cost up to 5x more than retaining an existing one, it's better to focus on those customers you already have. Additionally, studies have shown that an increase of 5% in customer retention rates can increase overall revenue by 25-95%.
Although it might not seem obvious, the more happy customers you have and keep, the more new customers will come to you. This rapidly spreading product-led growth model relies on a product growth flywheel that feeds itself. When you look after your customers, you look after your product, and mediocre customers quickly become happy, engaged users that bring in cohorts more.
How can you improve customer retention? By following these best practices:
Implement net promoter score surveys: they help you know what your customers think of your product and understand the 'why' behind their thinking
Segment your feedback: depending on which pricing your different customers are paying, they'll have different things to say about your product–segment them to know what to take from each and how you can deliver tailored product experiences to different customer segments.
Act quickly: don't just take feedback and let it pile up, you need to respond and act quickly on it. From there, let your customers know you've listened and put in the work.
Constantly measure product usage: notice when product adoption rates increase, or drop, highlight friction points, and combat churn
If customers churn, understand why: don't let customers churn without understanding exactly what made them churn, this will help you avoid it in the future
Show that you care: at the end of the day customers want a product that works, but they also want to work with a company that listens. Showcase you're listening, and offer customer support methods that match every type of customer: from frontline support reps to functional, self-serve knowledge bases.
Now that we've seen these 15 customer acquisition strategies and real-life examples, we can dig a little deeper into how are marketing and customer acquisition different:
The acquisition framework: how are marketing and customer acquisition different?
Marketing will create recognition and attract potential customers. Customer acquisition is when the marketing campaign is actually fruitful and drives revenue.
Marketing is the method, customer acquisition is the result.
How exactly do we get the results in a customer acquisition strategy? By understanding the customer acquisition framework.
The customer acquisition framework's goal is to create a systematic approach to attaining new customers. By understanding how the content strategy, the customer lifecycle, and the sales funnel of your business interact with each other you'll be able to create a strategy that brings results.
In the image above we can see how the content you create will have an impact on the different stages of the customer lifecycle. In turn, this impact lets you better understand the outcomes in the sales funnel and the role of your marketing and sales teams, as well as your customer success team.
You might be more used to the five stages of the marketing funnel, which are:
Awareness: an unexpected internet user lands on your page, finds your social media content, or simply gets invited to one of your webinars
Interest: after coming in contact with your brand there's a pique in interest and the user starts engaging more with your content
Consideration: the prospect starts to consider your product or service as a solution to their problem
Conversion: they make the decision to pay for your product
Loyalty: they renew their subscription with you
Advocacy: after being a customer and seeing their results with your product they become advocates of your brand
Combining the marketing funnel with the customer acquisition framework will give you everything you need to create a truly powerful customer acquisition strategy.
Knowing that customer acquisition needs to see real conversion results is why you'll want to leave customer acquisition in expert hands.
Make SEO part of your customer acquisition strategy
Organic search generates 53.3% of all website traffic–this means more than half the people that land on your website are there thanks to SEO. As we've seen, SEO depends on many variables that deal with:
Technical
On-page
Off-page
We at Skale are an experienced B2B SEO agency that can help you hit your customer acquisition goals. Let's chat and see what we can build together.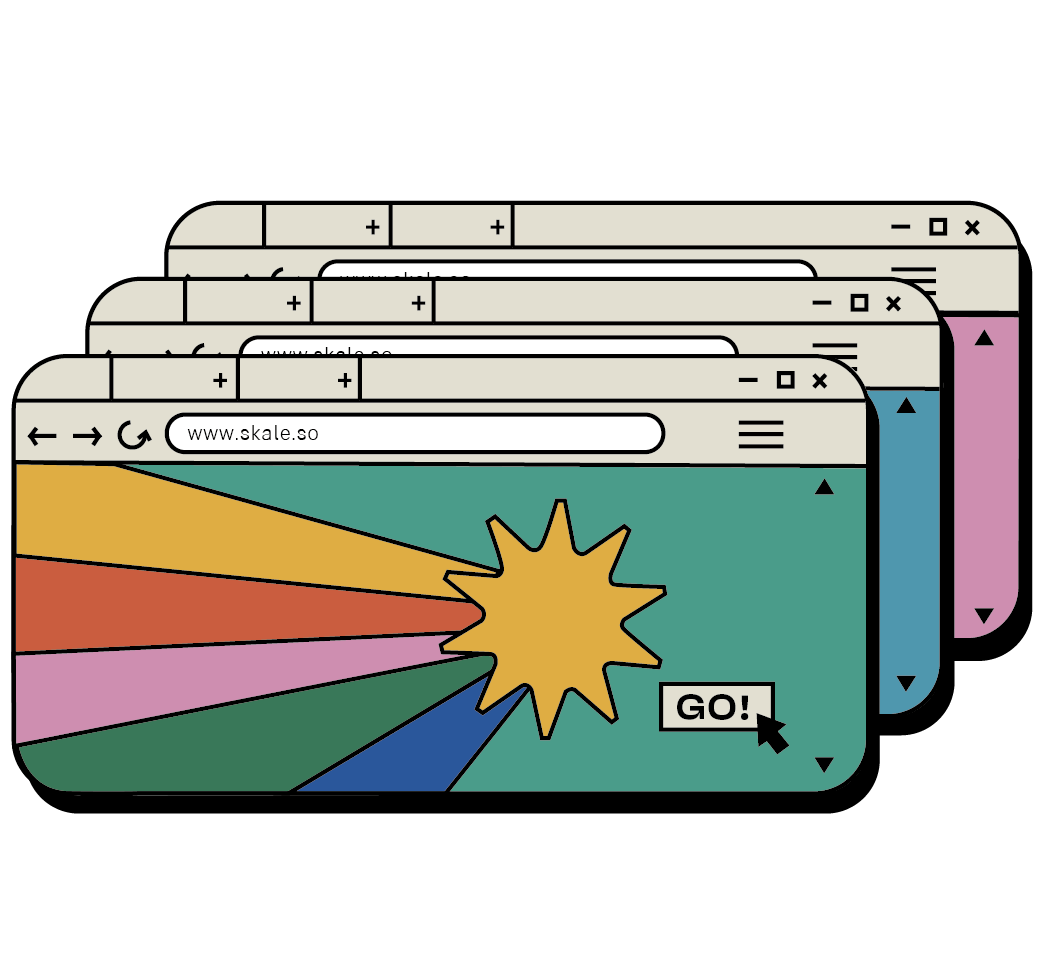 Level up your SEO strategy with Skale
See where Skale's SEO experts can take your customer acquisition strategy.
Schedule a call
B2B Customer Acquisition FAQ
1. What is B2B customer acquisition?
B2B customer acquisition is about building a strategy to obtain new B2B customers for your business. By producing the right content, and following customer acquisition strategies that suit your brand, your ICP, and your product or services you'll be able to win–and retain–customers.
2. What is an example of customer acquisition?
An example of a B2B customer acquisition SEO. SEO is using technical, on-page, and off-page elements to help you rank higher on search engines, helping win more organic traffic from potential customers.
3. How does SEO help customer acquisition?
Search engine optimization (SEO) helps customer acquisition by increasing brand visibility and guiding new visitors to a business website. It uses technical, on-page, and off-page elements to make your website be crawled, indexed, and better ranked by search engines.