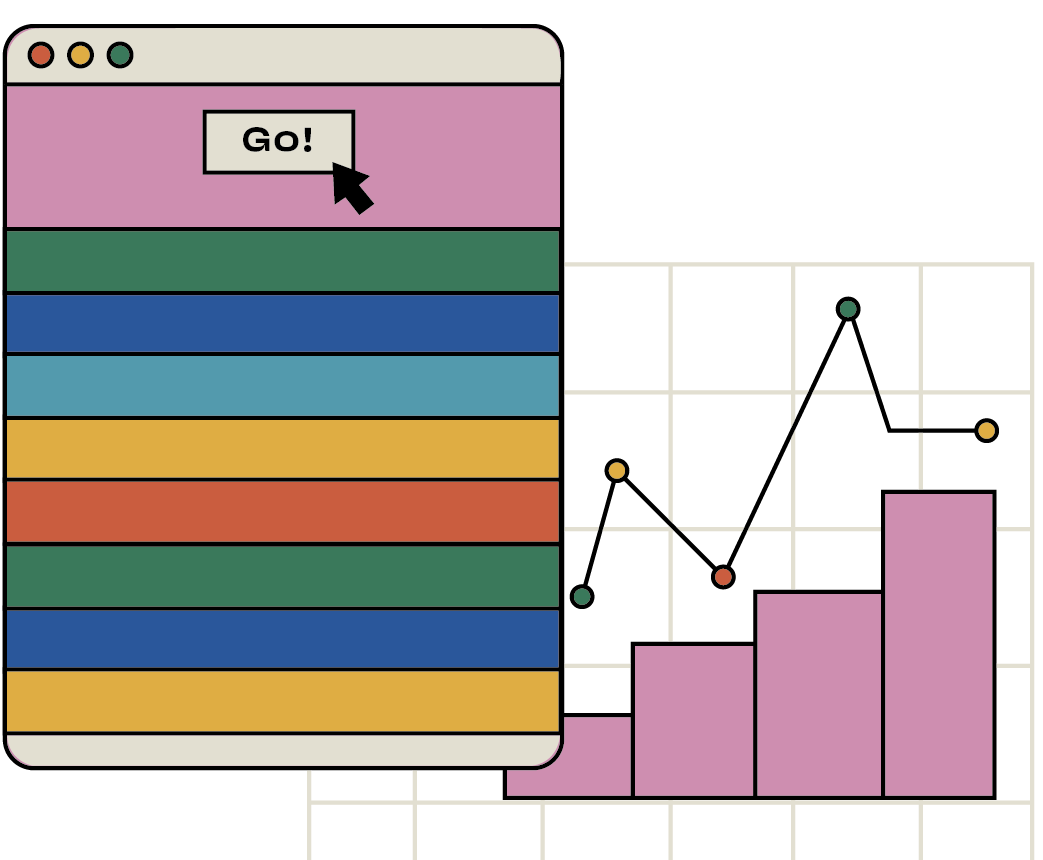 Level up your SEO strategy with Skale
See where Skale's SEO experts can take your MRR. Get in touch, today
Contact Us
Did you know that B2B sales reps only take up to 5% of the customer's journey? What are customers doing with the other 95%? Well, there's a long list, but at least 27% is reserved for independently searching for a product.
Seeing how 77% of B2B customers say they research a product thoroughly before making a purchase, and 71% say the first place they look at is search engines, you'll need to be putting your best foot forward to improve search engine visibility.
B2B Search marketing is the strategy of increasing your chances of getting to your customers. It does this by increasing your search engine visibility–easier said than done, that's for sure. This means B2B search marketing should be a large slice of your marketing playbook pizza pie.
Get your brand on top of search engine results pages by having a great B2B search marketing strategy. Here, you'll learn everything you need to know to go from novice to expert in just a few minutes.
What we'll cover:
What is B2B search engine marketing?
Three B2B search marketing channels to consider
How to create a B2B search engine marketing strategy that works
The benefits of B2B search marketing
Drive real business results from search engines
B2B search marketing FAQs
What is B2B search engine marketing?
B2B search marketing in a nutshell is increasing search engine visibility of your brand or product. However, there is much more to it than you can think of.
There are two main ways to increase your visibility. These are Search Engine Optimization (SEO) and Search Engine Marketing (SEM).
SEO is basically improving your website for better performance on search engines. As you know, search engines work by analyzing and understanding how useful the content on the page is and how easy it is to use and get around the website (user experience). It does this by taking into account things like:
Keywords
Title tags
Meta descriptions
Page loading speed
Images, and more
The SEO part of the equation focuses on obtaining higher rankings through organic search–this means paying just a cent for it.
For searchers, websites that rank high on their result pages through organic efforts are seen as more genuine and trustworthy. In fact, 70% of traffic that B2B marketers get is organic traffic from search—clearly a sign users care more about organically positioned websites than some may think.SEM, on the other hand, is a collection of internet advertising techniques that focus on paid advertising. Pay-per-click, or PPC advertising, is the go-to way of paid search advertising on search engines. It allows you to pay a set fee to have your ads appear in search results–at the top of them, in fact. Best of all, you only pay if your link is clicked on by the user, so it's good for budgeting too.
A quick way to recognize PPC ads is by looking at the little tag that says 'Ad' next to the result.
Inbound marketing success comes when you understand and leverage SEO and SEM to position yourself higher on the SERPs. This automatically means more traffic to your website, and–if everything is done correctly there–higher leads, and higher conversion rates.
3 B2B Search marketing channels to consider
Let's now look at the three B2B search marketing channels that can have a huge impact on your marketing results: Google ads, content marketing, and social media marketing. Nailing these channels will help you appear at the top of the SERPs, and really understand what search marketing is all about.
1. Google Ads
There are two main search engines that people use, those are Google and Bing, and each has its own version of pay-per-click or paid advertising services called Google Ads and Microsoft Advertising, previously known as Bing Ads.
Since Google is the biggest search engine–as of January 2022, 91.9 % of the search engine market share belongs to it–we will focus on Google Ads.
There's a variety of Google Ads types that fit each type of business, from regular text ads to shopping ads, and local services ads. Below is an example of what a shopping ad looks like.
However, Google knows that their shopping ads are mostly targeted to individuals instead of business-to-business customers. We'll focus on text-based advertisements since for this type there are a few things that are important to keep in mind–and can also be used in the other types of Google ads available.
Write great ad copy
When you're writing ads, especially those for PPC, you want to make sure you're as attractive to your searcher as possible. How to do this? Mirror the user's objectives.
No one clicks on an ad just because it looks or sounds good, nope! They click on it because they see a possible solution to their questions or problem in it. Think about the user's search intent for the keywords that you've researched–and included in your PPC campaign–and you'll get closer to PPC glory.
Additionally, focus on adding as much information as you can. This helps to create credibility which is a huge factor in trust and consideration. Things like statistics or important numbers such as prices and deals, as well as preemptively responding to common objections, will help increase the chances of your ad being clicked.
Making your headline as useful as possible will help you get that much-wanted click. After all, traffic could vary up to 500% because of your headline. Here are some B2B SEO tools and resources that can help you get the headlines that attract the right clicks:
Google's autocomplete suggestions
Below is a great example of a PPC campaign that has all the important information to encourage the user to click–including starting price, customer support information, discount deals, and relevant integrations.
Know the bidding system
Although we've spoken about pay-per-click it's important to know how the paying actually works, and what per-click means or if there are any other options–psst, there are!
The way that Google Ads works is that you only pay when the action you bid for happens. That way, if you've done your homework properly and have structured your account and website well, you'll only be paying for prime traffic to your website.
The way that Google determines how much you pay per click is based on a bidding or "auction model", called the Ad Rank. The Ad Rank algorithm focuses on two key factors: maximum cost-per-click as indicated by you, and Quality Score–we'll explain in a sec. This algorithm allows Google to provide quality search results while still protecting its reputation and making a profit–by trying to only get qualified leads to your results.
The Quality Score that we mentioned is a diagnostic tool that you can use to make sure the content you're providing is still valuable and relevant in order to actually increase actions–views, clicks, etc–and does this by comparing it to other advertisers. It works by assigning a score on a scale from 1 to 10 points that represent Google's measure of the ads' effectiveness for each keyword. Some of the factors that Quality Score takes into account are:
Ad relevance
Landing page experience
Expected click-through rate
Remember when we mentioned that clicks are not the only action that you can pay for? Well, there are a few more that might suit some SaaS businesses better than others.
Pay-per-click: you pay for each click on your ad.
Pay-per-impression: if your target is to only impact the search network and increase brand recognition you can pay per impression to have your ad shown as much as possible.
Pay-per-conversion: this advanced bidding method will be where you only pay if they go to your page and do a certain action, like hit the buy button on your website. For this type, you must have the conversion tracker option activated on your Google Ads.
Pay-per-view: this is for video ads only and you'll only pay when they watch 30s of your video ad. You can also bid to pay for when the user clicks on the CTAs found on the video.
Beware of ad blindness
Although paid advertisement sounds great, it's also important to mention a little phenomenon that happens a lot called ad blindness. Otherwise known as banner blindness, this term has been used for a few years as users have developed a selective or non-intentional blindness to ads shown to them via banners.
It's been found that up to 54% of users don't click the ads even though they've seen them because they don't trust them. Instead, 33% of users find banner ads completely intolerable. Although these are statistics about banners, the same is beginning to happen with search engine ads.
What can you do to stop this? Improve your content, improve the value you're offering, and improve your ad's copy to really reflect how much you can bring to your user.
2. Content marketing
If you don't have great content, you might as well not be on the internet. Google SERPs are not filled with domains that pay the most or those with the most amount of keywords in their articles, no. They are filled with those relevant pages that have proven to give the user what they're looking for.
How do you give your user what they're looking for? You create great valuable content on a consistent basis that attracts users so much that they see you as an industry leader, and the natural best choice to solve their particular needs.
A great content marketing strategy is one that provides engaging content, that develops trust, and positions you as an expert in your niche. Your content should include well-researched keywords, optimized title tags, and meta descriptions, as well as be the appropriate length and have the right amount of relevant images–things you'll find out by doing competitive research.
Content marketing is growing more and more important since users are the ones looking up their pain points, the possible solutions, and the products and services out there on their own. In fact, 58.4% of marketers say they'll increase their content marketing budget in 2023 compared to that of 2022.
How do you make a great content marketing strategy? You start with a thorough research of your competition, your industry, your potential customers and current users. Understanding what they like, what they don't, and what they need is key for creating the kind of content your users will click on, read, and share–giving you that organic traffic you cherish.
Moz, a SaaS company that sells SEO software is a great example of content marketing done right. Despite not being an SEO marketing company per se, they still understand the importance of high-quality content. One example of this is their Whiteboard Friday which has marketing pros showing actionable marketing advice every single Friday for more than a decade now. This content is so well regarded that it still gets 1K organic searches every month, even when its original host, ex-Moz cofounder Rand Fishkin, is no longer hosting.
To have great content you also need to have your SEO game on point. That's why a B2B SEO agency that knows how to take the guesswork out of SEO and gives you results quicker than you can say SEO should be at arm's reach.
Learn more if you want to make your SEO the best ally to your content marketing strategy.
3. Social media marketing
Social media is becoming our second home. More than half of the world, 58%, use social media, and the average spending time on these platforms is 2h 27min a day. This means that even if you're a business-to-business company, you still want to be "liked" from time to time.
After all, social media is not just about having loads of followers and likes, it's also about your brand's voice–with your interactions with users–and visibility, as well as increasing your Google search rankings.
Google includes social signals in their rankings' algorithms so the more social media accounts, interactions, and valuable content that you share, the more chances you'll have of being on the first few pages of Google. This is crucial since the first position on Google SERPs gets 33% of all the traffic, the following position gets only 18% and the second page is estimated to receive only 5% of the traffic.
MailChimp is a brand that takes its social media marketing to the next level with engaging content that illustrates to its users, and potential customers, what they can do with their products. It also helps users better understand them as a brand–what they care about, how they impact the community, and more.
How to create a B2B search engine marketing strategy that works
Now that you know key channels and techniques that you can use to build a search engine marketing strategy, let's look at the other elements you should be considering to make it really work.
Run a thorough customer research
Without understanding your potential and existing customers it's hard to know what you should do to appeal to them. The research you do should cover everything from brand awareness and perception, service fit, customer service requirements, sales and marketing strategies, and much more.
Leverage your SEO and SEM
Using only one method will decrease your overall chances of making real lead generation gains. The best thing you can do is use both approaches, SEO and SEM, in your strategy in a balanced way. You don't want to only get organic traffic as it may take too long, but you also don't want to be always paying for clicks as it will end up being too expensive.
Create valuable content
As we mentioned before, no SEM or SEO strategy is complete without valuable content that appeals to the target audience. Focusing on content is the foundation of a great search marketing strategy.
Develop user engagement
Engaging with your users wherever they are is key, this means that it's not just about technical SEO, paid SEM, or having great quality content. You also need to engage with your users, especially during the search.
To do this, you'll need to provide two-way communications. Things like chatbots, social messaging, emails, and more will allow you to engage better with your users. This also helps them feel more heard and engaged with your company.
Additionally, paying attention to the way technology advances can help you better engage with your users. For example, seeing how 20% of searches on Google come from voice search, it's a good idea to add voice search optimization and capabilities to your strategy.
Don't forget about social media
Social media might never be the main channel for SaaS B2B businesses. However, it's still a valuable platform to keep your brand engaged and top of people's minds. Plus, it's great for PPC advertising!
Additionally, with new platforms on the horizon–think about the Meta world–being where your users are, and where they might actually digitally-physically be, is key for the future of search marketing.
Define your budget
Now that you know all the nooks and crannies of your search marketing campaign, you'll need to define your budget.
Learn everything you need to know about marketing budgets for B2B companies here.
Measure your success
Any great strategy will need to be kept on its toes to keep being successful. Measuring your search engine efforts and results should be a constant part of your strategy to see where things are going well and when they need some immediate tweaks to avoid havoc or wasting resources.
Here are the crucial SaaS marketing metrics that you definitely need to be tracking!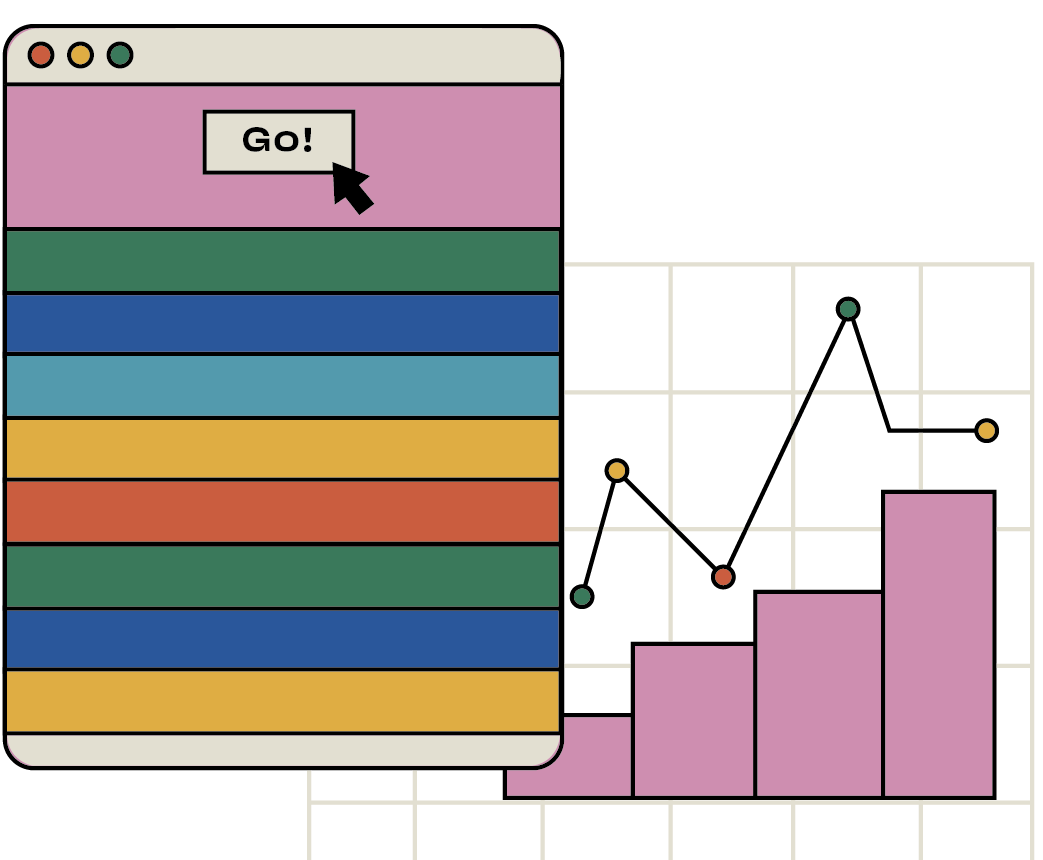 Effectively measure your SEO ROI today
Download your free ROI tracker and better support your SaaS SEO strategy
Download our Asset
The benefits of B2B search marketing
Still, wondering what the advantages of B2B search marketing are? Let's take a look:
Improved visibility: search marketing focuses on improving your overall visibility on search engines.
Fast ROI: if you use paid advertising like PPC you'll see traffic increase quickly.
Greater control of exposure: with paid advertising you'll have more control over the way search engines are presenting your marketing messages and services.
Improved brand awareness: being able to pop up on your target audience's screen more often, as well as providing valuable content will improve your brand reputation and make it appear as an authority in the field, and a brand that can be trusted.
Better use of budget: if you're properly balancing SEO and SEM you're making sure to spend the money where it really needs without wasting resources and time on marketing campaigns that bring no results.
Drive real business results from search engines
As we've seen, B2B search engine marketing is a fundamental part of any business's digital marketing strategy, especially if they want to capitalize on search engines' full potential.
By following the techniques explained in this article, you'll be able to create a B2B search marketing strategy that suits your needs and attracts the potential customers your business truly deserves.
See some of Skale's biggest SEO wins
Read SEO success stories, and see what Skale can do for your SaaS
Read our Success Stories
B2B Search Marketing FAQs
What is B2B search marketing?
B2B Search marketing is the combination of Search Engine Optimization and Search Engine Marketing techniques to help your business gain visibility online, rank higher on search result pages and increase traffic through search engines.
What is the role of search engine marketing in the B2B sales funnel?
Nowadays, customers prefer to search for their product and understand it on their own time rather than speak to a sales rep. This means that for the B2B industry, search engine marketing can be the make-or-break deal of getting new leads and turning interested, curious internet users into actual customers.
What are the characteristics of B2B marketing?
B2B marketing can be a bit trickier than B2C marketing since it has some special characteristics that include:
More complicated purchasing process: there needs to be approvals and internal reviewing processes before a company decides to purchase a service or product.
Logical purchasing: in B2B purchases, all the different variables of costs and benefits are being thoroughly analyzed by the company's team. This means B2B marketers need to prove their service or product is better based on the buyers extensive study of advantages and drawbacks.
More complex and technical products: in B2B the deep technical aspects of the product or service are hugely important, unlike in the B2C industries.
Much fewer buyers than sellers: since the B2B industry is so specialized, there tends to be less buyers than sellers which makes the competition for customers even more fierce.