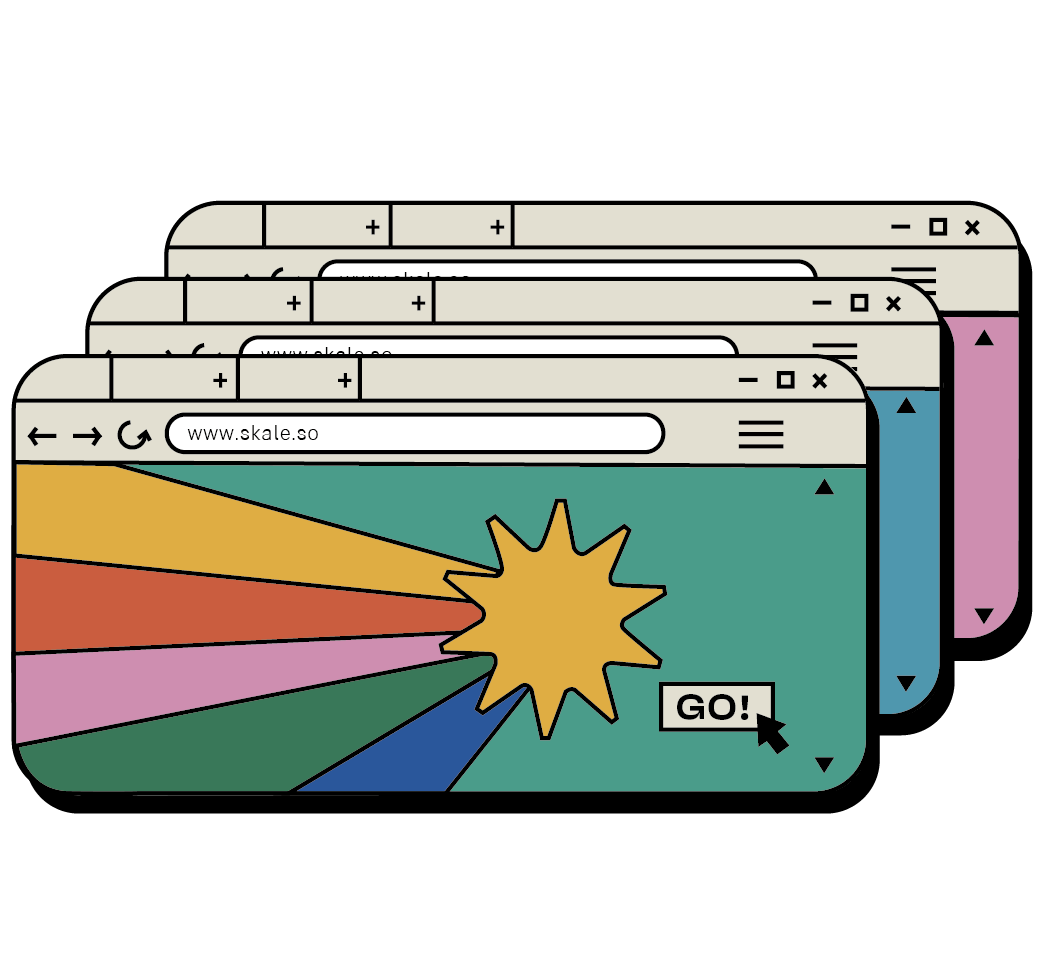 Level up your SEO strategy with Skale
See where Skale's SEO experts can take your MRR. Get in touch today.
Schedule a call
Software as a Service companies seem to be growing from trees these days–in fact, the industry is expected to grow 12% per year. This brings a lot of great companies into the arena, and a huge need for competitor analysis.
With this high number of competitors, if you want to survive you'll need to know what your competition is doing, and use this information to stay on top. However, what kind of competitive analysis is crucial in the SaaS world? The quick answer, it's a search engine optimization competitive analysis— an SEO competitive analysis.
SEO and SaaS: these two acronyms join forces because they are the best thing that can happen to any SaaS company.
SEO is what enables your possible customers and users to find you. In the digital world, the product or service prime location is achieved through SEO and will be a location on the SERPs, or Search Engine Results Pages.
Many SaaS businesses make the mistake of starting their SEO strategy from zero, without even looking at what the competition is doing–this is a big mistake. When performing a SaaS SEO competitor analysis you'll discover:
what you can do to outrank on SERPs
the keywords you should be aiming to be ranking for
where you can look for backlinks and off-page opportunities
Overall: an SEO competitor analysis highlights your own SEO strengths, weaknesses, opportunities, and threats (SWOT) as well as your competitors'.
Ready to dive in deep and learn everything you can about running a SaaS SEO competitor analysis? Let's go!
Why should you do a SaaS Competitor Analysis?
In 2022, the SaaS market has over 17,000 companies in the US and it's expected to bring $141 billion per year, globally. An impressive number when you think that only two years ago there were just 400 SaaS companies with a total revenue of $500 million.
Not only is the number of companies something to consider, but what's even more important is to understand that SEO is crucial for today's success. Here are two important facts for you:
With this large number of competitors lurking around and the competition for that online prime location being so wild, an SEO strategy is very much a 'keep your friends close, but keep your enemies closer' kind of situation.
When you perform a SaaS SEO competitor analysis, you're not trying to copy your competitors, or steal their content and SEO strategy. What you're trying to do is have a clearer picture of what they're doing, what's working for them and what isn't. This will save you loads of time – and resources – and get you a step ahead of them.
You're trying to answer these three key questions:
Who is doing what?
How are they doing it?
Can it be done better?
"The goal of an SEO Competitor Research is to dive into organic competitors to discover tactics and opportunities that you may be missing in your SEO strategy. The competitor research process should allow you to fill up a backlog with ideas, tactics and experiments you can implement with your website over the course of 6-12 months."

—Arianna Lupi, SEO Manager & Consultant at Skale
Not only will a thorough SEO competitive analysis let you know more about your competition, but most importantly, it'll shine light on your potential users and how your SEO strategy can better target their needs.
How to Conduct a SaaS SEO Competitor Analysis
Maybe you're looking for a new way to tweak your already robust SEO strategy. Maybe you've been relying on traditional marketing methods and haven't put much of an effort on organic research. Or, maybe you just want to beat your competition and stay on top (of Google).
Wherever you're starting, these eight steps will help you run a successful SaaS SEO competitive analysis and get you where you deserve to be.
1. Identify multiple competitors
The first thing to do in order to analyze your competitors is to find out who they are. Of course, you might already know of some of your competitors, but a good way to find who they are is by using search engines.
From your own SEO strategy, there will be a few keywords that you know your business should be ranking for. Do as any user would do: type them on the Google search bar and see what you get.
On most occasions you probably won't be paying attention to the top of page PPC ads, however on this occasion take a look! It's good to know where your competitors are choosing to spend their dollars.
Another way that you can find your competitors is by using SaaS review websites like Crunchbase, G2, Capterra, and TrustRadius. There you can find what companies do, what keywords they are using to describe their products and services, and how users describe their product in reviews.
Whether these are companies that are direct or indirect competitors won't matter much because either way they are direct keyword competitors.
If you're unsure of your keywords or would like a stronger SEO strategy, check out Skale. We're here to help as a specialized B2B SEO agency.
Below is a quick example of a Google search for 'SEO SaaS Tools'. As an SEO agency, many of our ideal clients will be looking for this key phrase. We can see there's Skale as the first result after the paid ads — go us! — and what follows are other websites that, depending on their offerings, could be competition for us. Time to investigate!
Make sure you're keeping all of the information you're finding about your competitors in a safe and organized place like a spreadsheet so you can better do your analysis.
Skale top tip: Find at least five competitors to run your analysis. This will give you more robust data to make actionable changes to your SEO strategy.
2. Analyze competitors' target keywords
Once you have figured out your direct and indirect competitors, both for your solution and your keywords, you're going to start analyzing all their keywords.
Thankfully, you won't be alone on this step. There are many keyword research tools that will help you figure out and perform a keyword gap analysis. A keyword gap analysis, or competitive keyword analysis, is simply a process to identify those valuable keywords that your competitors are ranking highly for, and you don't.
Remember that these keywords should be the valuable ones, this means those that have a high search volume, high search traffic, that are related to your business or those that are likely to convert. Prioritize!
Here are some of the best SEO tools to use when it comes to keyword gap analysis:
This tool is great to gather in-depth knowledge about search traffic and keywords for any website you want. All you have to do is go on the Site Explorer tool and enter the competitor's name on the search bar. The results will show you the organic keywords the competitor ranks for. There's also the possibility to use filters to exclude any non-relevant keyword, and only see those high-value ones.
However, this tool comes at a price. Its lite version starts at $99 per month.
This tool allows you to search per domain or keyword and it gives you results like the keyword traffic, content ideas, search volume, and more. It gives your three daily free searches, and the paid version for entrepreneurs or small businesses starts at a more affordable $12 per month.
You'll need to be logged in for its free version or have a subscription, but its tool will do much of the analysis for you. It will compare your keywords with those of your competitors and tell you all the search engine rankings your competitors are getting.
This is a free tool by Ubersuggest that allows you to see topical information people are searching for when they use a particular keyword. It helps you better understand the user's search intent–which is valuable data for your SEO inbound content strategy.
In the SaaS world, keyword research will help you better understand the real needs of your customers, and how they're looking for you or your solution on the internet.
3. Analyze competitors' backlinking achievements
Now that you've got your competitors and their ranking keywords, you'll want to run a backlink analysis. We know SEO is not only about keywords, backlinks are also a critical part to your SEO competitor analysis and overall SaaS SEO strategy.. Backlinks are what tells search engines that the website is an authority source.
The websites that link to your competitors, but have not linked to you are those you need to pay attention to. However, this is almost impossible to do manually, so again, you'll need to use some of the many SaaS SEO tools that are out there.
Thankfully, there are quite a few to pick from, here are some of the top tools used:
Once you've identified what websites are linking to your competitors and what types of content they're linking to, you can get to work on your own strategy knowing the types of sites that align with your content output. Additionally, you'll know the top sites linking your top competitors and you'll be able to reach out to these sites for a link as well.
If you want a stronger backlinking strategy, here are nine reasons why you should outsource your SaaS link building.
4. Take a look at your competitors' content marketing
SEO can sound very technical, keywords, backlinks, tech audits, off-page factors. However, at the end of the day, high-quality, valuable, and relevant content is the key to great organic traffic.
This step of the SEO competitor analysis will take a bit more hard work that the ones we've seen previously. Mainly because there's not a shiny new tool that can gauge how your competitor's content is compared to yours–sure you can see things like web traffic, but in terms of quality and relevance you'll have to do some of the heavy lifting manually.
Check the posts that your competitors have with more organic search volume and understand how and why they got that successful. Then, compare your results with your own content marketing strategy to understand your weaknesses, strengths, and differences.
Remember, the purpose of a competitive analysis is not to then go and copy what the other one is doing, nope! You want to understand why users are visiting their content and not yours, and use your strengths to drive those search rankings through the roof and to your website instead.
5. Study the user experience
Another important part to understand about your competitors is the user experience they are providing on their web pages. Google not only cares about SEO efforts like keywords, length of content, and backlinks. It'll favorably rank websites that are easy to navigate, accessible for different devices, and so on.
Google really cares about ranking those websites that will bring a lot of value, and comfort, to the users visiting them. By paying attention to how your competitors are structuring their sites, what accessibility levels they take into account, and how navigation works throughout the page, you'll be getting closer at achieving a user experience that your users will love.
6. Pay attention to social media channels and customer interactions
Brands can no longer hide behind their marketing and SEO efforts. They have to be on social media–and interact with their users 1-1. Not only does this serve the brand by creating a stronger brand voice, but it also helps them rank higher on Google's search results.
Every repost, share, comment, and like, will create certain backlinks and social signals that Google will pick up. Understanding which channels your competitors are, how often they post, what kind of content they share, and how they interact with other social media users will give you a great insight into what you can do in those areas.
Here are some tools worth checking out when it comes to analyzing your competitors' social media signals:
This tool helps you discover your competitors' high-performing posts across social media channels. It gives you all the data you need on engagement, allows you to identify key influencers in your niche, and helps you monitor trends to be on top of your competitors.
BuzzSumo offers 10 free searches per month, or a Pro subscription for $99 per month.
This is another powerful tool that allows you to track keywords, competitors, and hashtags across every social network. Additionally, it has a very intuitive design and dashboard that shows you everything you need to know, all in one place.
HootSuite offers a 30-day free trial and a Professional plan for $49 per month.
7. Adapt your SEO strategy
Now that you have all your competitor insights, you'll want to analyze your own SEO strategy and see where it can be improved or tweaked.
SEO success comes from a thorough understanding of SEO strategies and an understanding of your SEO competitors.
After all, an analysis not only guides your SEO campaigns in the right direction but helps lessen marketing expenses. Your competitors will already have done part of the job! You don't need to run SEO research from zero and every dollar you spend on your marketing will go to a more or less bulletproof strategy.
Done right, your SEO competitive analysis will pay for itself in as little as three months!
8. Measure, rinse and repeat
Now that you have adapted and improved your SEO strategy, there's one final step that any good marketing strategist knows: measure, rinse and repeat.
You have to constantly measure how your campaign is doing. But, keep an eye on your competition too—perhaps they've figured out a new strategy that you're yet to discover.
It's not unheard of for companies that were on the top to fall down the ranks if they're not being proactive with their SEO efforts.
Read more about the most valuable SaaS SEO KPIs according to SEO experts.
What Should Your Competitive SEO Analysis Include?
Identify competitors: once you have the websites of at least five competitors, check their domain authority and visibility.
Conduct keyword research: find your competitor's keywords and write down these numbers: min and max volume, difficulty, ranking, and URL.
Run a backlinking gap analysis: which authority sites are linking to your competitors and not you?
Analyze the top content of your competition: check the titles used, links included, length, images used, topics addressed, content gaps, the works!
Take note of domain UX: how are competitor site designs for users?
Check social media signals and CX interactions: understand if your niche requires you to have a social media presence and on which channels you need to be
Adapt, rinse and repeat: only by tracking, adapting, and repeating this process will you be able to stay in the lead.
These are the basic things any SEO competitive analysis should include. However, feel free to include some more key analysis that are important for your particular niche and industry.
Build a Successful SaaS SEO Strategy with Competitor Insights
A well-conducted SEO competitive analysis will give you the necessary insights to improve your own strategy by understanding where important gaps need to be filled. The analysis will also help you understand the gaps in your competitors' strategy and aid improving your competitive advantage. Last but not least, a competitor analysis will allow you to foresee any threats that your competitor might be cooking.
Get competitor insights with Skale
Be on top of the game by keeping your competition closer than ever before- our team will handle the analysis for you.
Contact Us
SaaS SEO Competitor Analysis FAQ
How do I find SaaS competitors?
Find the keywords that are most important for your SaaS business, niche and product, and take a look at Google—you'll be finding your SEO SaaS competitors in no time.
How do you analyze an SEO competitor?
There are six key steps when it comes to analyzing your SEO competitors:
1. Analyze their keywords
2. Analyze their backlinks
3. Analyze their content
4. Analyze their user experience
5. Analyze their social media and customer interactions
6. Adapt your SEO strategy
What should a competitor analysis include?
A general competitive analysis should include an examination of your competitors' features, SEO, market share, pricing options, marketing, branding, differentiators, strengths, weaknesses, and customer reviews.