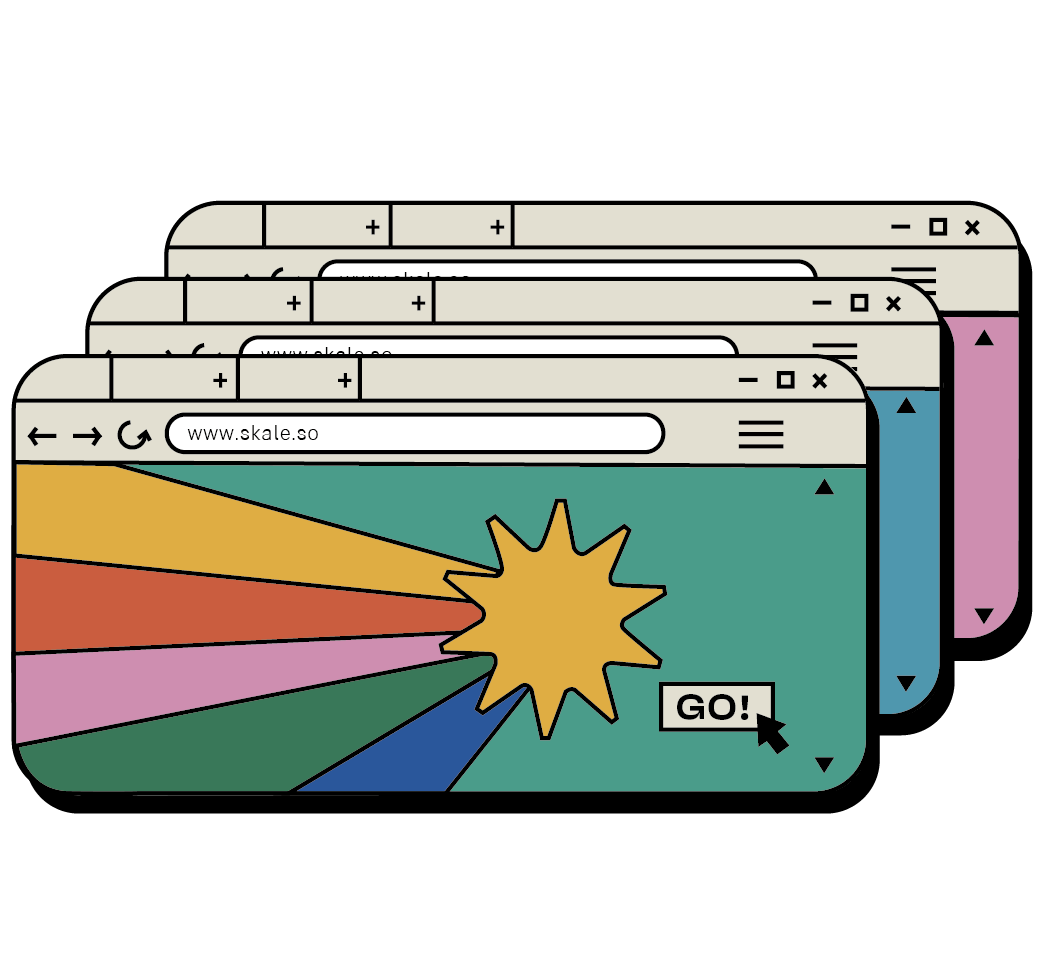 Let the experts lead your Saas SEO strategy
Generate more demand and hit your SQL goals with guidance from the industry experts
Schedule a call
Marketing comes down to two core strategies, outbound marketing, and inbound marketing—push and pull. Outbound marketing focuses on pushing your product to people, and inbound marketing focussing on pulling people towards your product.
This article is going to look at successful SaaS strategies to help pull more people towards your product.
Why? When someone makes the conscious decision to come to your product, they feel they're in control of their buyer journey. They chose to be here, after all, so they can choose to leave or invest in what you have on the table.
Psst. They're psychologically more inclined to invest!
We've called in the SaaS experts for this article to share their insights on what inbound marketing strategies have been successful for their SaaS businesses in the past—and still are today.
What is inbound marketing?
Inbound marketing is a business tactic to pull customers towards your product by attracting, engaging, and delighting them. Inbound marketing is a content-driven marketing strategy that brings value to a potential customer. It leans heavily on Cialdini's 7 Principles of Persuasion.
What is inbound marketing for B2B SaaS?
Inbound SaaS marketing leans on the core funnel and principles of inbound marketing; however, it relies on SaaS-specific methodologies, KPIs, and marketing methods.
SaaS inbound marketing not only focuses on conversions, but it focuses on customer retention, feature upselling, and feeding business growth loops with valuable consumer data.
As you can see from the image above, there are three key stages of the buyer journey that inbound marketing strategies support.
Awareness: top of the funnel, building awareness around a job to be done, a problem, and a solution that's available via your product.
Consideration: Product or service-oriented content that gives insights on USPs, product capabilities, and how your product lines up against the competition.
Decision: Affirming content that comes in the form of flexible pricing, customer testimonials, and hyper-tailored product tours or demos.
How do you implement inbound marketing for Saas?
You implement SaaS inbound marketing in three steps
content promotion
content optimization
Each of these stages has a further breakdown of the things you need to do to ensure your inbound marketing gives you the best results. So, let's dive into the meat of this SaaS sandwich.
Content Creation
First up for your inbound content marketing strategy is creating that all-important content. However, it's crucial to avoid creating content around what "feels" right and create content around what is right.
You can do this with detailed research to ensure you're creating content people actually need, are searching for, and give it the best chance possible of falling in front of the right eyes.
User Research
First up on your list is to conduct your user research. Who is using your product at the moment? Who is consuming your content at the moment? You'll need to figure out demographic types—more than geographical landscapes. Build personas around your users depending on their roles, jobs to be done, needs, pain points, missions, values, and past experiences.
Once you truly understand your user, you can start to align all aspects of your content around them. This includes content topics, types, language, medium, distribution channel, length, the list goes on.
"It's simple. Provide real value on something your potential customers are really looking for."

–Adelina Peltea.
Keyword Research
Next up, keyword research. This is so useful for giving your content the best chance possible at being searched for, ranking, and clicked on—especially if you're blogging or building landing pages.
Keyword research is a topic in itself, but don't worry, we've covered a lot around the topic. Here are some useful resources for you to conduct SaaS SEO keyword research and build better content.
Competitor Research
Take things back to basics with your competitor research and fall back on an old-school marketing method: A SWOT analysis. Look at what your competitors are doing well with their content, what they're not, opportunities you have to overcome them, and threats that may come about should you do so.
Take into account your competitor doesn't know it all. They're humans just like us, they too are just doing their best. Who knows, maybe they conducted their own competitor analysis and used your content as an inspiration?
A few things to focus on when conducting competitor analysis are:
Content topics
Content formats and mediums
3rd party reviews
Social media presence
Sales funnels
Nurture journeys
Chatbots
Keywords
Channel trend research
We're nearly there on research, promise! This one is really important for your industry niche. What channels are emerging that could be a potential viral opportunity for your content? Your competitor analysis and user research will give you an idea of potential channels you need to focus on; however, that's not to say you can't find opportunities in emerging channels.
These could be new social media channels, new features to current social channels, or new technology that's being adopted by many in their homes and offices. Things like TikTok, Whatsapp for business, and Alexa all changed the game in how businesses reach customers.
Medium research
What type of content is a best fit for your potential users? This largely depends on their demographics which you'll have aligned on earlier in your user research. This one will massively guide the type of content you create and could change your of your entire marketing team structure.
For example, if you're marketing to execs, leadership roles and decision-makers, they may not have time to consume entire guides. If you're marketing to creatives, maybe they'll prefer to consume more visual content over copy? If you're marketing to non-desk employees constantly on the go, maybe audio content is your best bet?
Take a moment to figure out what content type suits your customer best.
Content Development 
Once you've conducted all of your research, then–and only then–are you ready to start creating that content.
It's important not to let all of this research go to waste. In doing your research, you've already done around 60-70% of the work. You should have a crystal clear strategy on every aspect of content creation and enter this process with a defined end goal.
If you're working in a large team, make sure your research is readable and accessible. Display it in bite-sized pieces and where everyone can see it: think Sushi buffet.
Check out some of our favorite SaaS marketing tools.
That's it, your research and content creation are complete; congratulations! That's level one in the bag. Ready to level up?
Content Promotion
If you've done your research well, you should already have a good idea of where your content is best promoted. Instead of talking about the benefits of these promotion channels, we'll share ways to maximize your content reach using them. Apply these tactics to your content promotion strategy and reach more people than you ever have before.
"Content is a 50:50 split between creation and distribution."—Kirsty quote
SEO
Unsurprisingly, SEO is right at the top of our content promotion list. In all fairness, we're a little bias to it. But, let's share a few nuggets of wisdom.
"Focus on building out topics and content hubs versus only focussing on keywords. See how Maze is creating guides and collections? It's the way to go. Remember, you want to attract people with a need for your SaaS product—so don't only build TOFU content; build out BOFU content as well. 
Lastly, don't forget that link building is a key ranking factor—don't overlook it and invest in an 'always-on' link-building strategy." — Jake
Social media 
Social media can be a fantastic B2B content distribution strategy. Capitalize on the demographic data you can get from each social media channel and make sure your social copy and post-type speaks to those demographics.
Want to push things further? Implement a social promotion strategy with your internal team. This is an easy hack for smaller SaaS businesses and startups where every pair of eyes counts. Set up a Slack channel or monthly email reminder to push your teammates to share top-performing posts on their social channels.
Email marketing
The secret of email as a distribution strategy is hyper-segmentation. There's absolutely no use having one generic email list and sending the same 1000+ people the exact same content. They're humans, they have likes, dislikes, and experience that shape what they want and need in their inbox.
Don't send that generic newsletter, don't you dare! Segment your audience based on their JTBD, role, location, involvement with your brand or product, and make sure you deliver content in a cadence that suits them.
Some will want to hear from you daily, some once a month, some never again—it's all okay! Give the people what they want. It's their inbox, after all, not yours.
Referral Marketing
Who are your biggest ambassadors? Your current users! Well, those that answer seven and up in your NPS survey.
These are the people that are ready to rave about your business and product. So, don't let them go at it alone. Instead, create content that's unique and tailored for people to send to their friends. Think about email templates or even snippets of text they can copy and paste into Whatsapp conversations.
If you can, enable easy share options so those that want to refer you to friends can do so via any piece of your content—with ease. TikTok is a great example of allowing (private) easy sharing. It's enabling word-of-mouth marketing, and we all know how powerful that is for business and influence.
Influencers 
Talking of influence. Influencers are up next. Every niche has someone or a group of people with influence. No matter how specific you think your product is, there are a group of people out there utilizing social media that have an audience you can benefit from. Find out who they are. You can do this by searching for people under keywords or hashtags, but if you're doing social right, there's a high chance you already know who these people are.
Note: If you're distributing content via influencers, there are a few dos and dont's to remember.
Influencers are people too. They value relationships, trust and transparency. Build a rapor with these influencers. Get them on the phone if you can and give them a point of contact within your company.
Stay clear. Llay out in writing exactly what you want the influencer to deliver and when. Now we're talking inbound marketing strategy, you'll most likely have the content ready or a good idea of the content you want the influencer to create and share. Make sure this is all in writing, and the influencer is totally clear on the deliverables.
Never offer an influencer a free trial or part of your product that's valued at XYZ. Never say, "hopefully, you can do some stories." Stay specific, and give value outside of your product world.
Respect their work. Lastly, if they are an influencer with a large following, there's a high chance they've worked on getting to where they are. Perhaps it's their full-time job, or perhaps it's a side hustle. Either way, respect the effort they've put into building their audience and pay the influencer what they're charging for coverage.
Don't try to haggle with them, or they'll do the same with the quality of their work.
Events 
Online or offline events are the perfect opportunity for your inbound digital marketing content. These events shouldn't be built solely around your product, but they should be built around your target customer's job to be done.
Find out those jobs and build an event that's insightful, with a low barrier of entry, and one that you can collaborate on with another relevant brand.
Partnerships
Partnerships can come in any shape and size, from agreed newsletter placement swaps to events like we just mentioned or product integrations and supporting content. Figure out those businesses that are a match for new customers and find innovative ways to unite forces and go-to market together.
Content Optimization
Your content is great, but it can always be better. The last area you need to focus on for your inbound marketing playbook is optimization. Always be striving to improve your content via every method we've mentioned so far in this article. This will attract more leads and lower churn rates in the sales process.
What does a content optimization strategy look like? Pleased you asked.
KPIs
Set KPIs that showcase you're on track to hit your monthly, quarterly and yearly goals. Benchmark these KPIs against previous data set to ensure you're setting your content strategy high enough goals to make you work, but not so high that they're unachievable.
Your KPIs should be specific to inbound content goals. This means you're not always looking at MQLs as a showcase of success. KPIs to consider for your inbound marketing strategy are:
| | |
| --- | --- |
| Primary | Secondary |
| MQLs or product activations | Qualified Lead generation or signups |
| New MRR / Pipeline generated | CTR |
| | Newsletter Signups |
| | Impressions |
| | Social Media Growth |
| | Brand searches |
| | Time on page |
| | Exit rate |
| | New visits |
| | Visits by source |
| | Blog subscribers & views |
| | Inbound links |
| | Email opens and click-throughs |
| | Keyword rankings |
| | SaaS SEO KPIs |
Among others.
Red flags 
Content optimization doesn't always come via measuring success. Instead, remember to look at the red flags along the way.
Set up tools and processes to alert you if a particular piece of content is not working. This can be anything from a technical fault that's stopping your valuable content from being delivered, to content not being received as intended by its target audience. There are lots of SaaS tools you can use to raise red flags; we'll share a few of them shortly.
NPS & Polls 
If you're ever unsure of how your audience perceives your brand and content, ask them!
Net Promoter Score surveys are the perfect resource to measure how your brand is perceived and to see if you're lifting your results. If you need a more in-depth dive into your brand perception and content, send out a survey to your subscribers, ask them what they like, what they don't like, and what they feel like they need more of.
Is your growth strategy on track?
Tracking the right Saas metrics helps you defend your marketing budget
Read our guide
6 SaaS inbound marketing methodology tips from the experts
As a SaaS inbound marketing agency, it's our business to know who the experts in inbound marketing are- that's why we're handing the reigns over to the SaaS Collective. Here are five of their tried and tested methods to building better inbound marketing strategies.
1. Not every visitor has to buy your product or service
Your product doesn't have to be the solution to every piece of content you publish. Every journey doesn't have to end with someone signing up for your product. However, every buyer's journey can and should end with that person converting to a lead, no matter how cold.
This is because your SaaS product shouldn't be the only value you offer, it's important to create additional resources to nurture your audience. A few things to consider, outside of signups, with your inbound marketing strategy are:
Capture MQLs for your newsletter with ebooks, whitepapers, guides.
Capture SQLs with free discovery/demo calls, templates, checklists.
Capture PQLs with free trials and freemium plans.
Solve people's problems today, and they will gladly become a lead. Rely on your content funnels to take that further in the future.
—Selman Gökçe, Inbound Marketing Specialist at UserGuiding.
2. Quiz your current users
An interesting technique is to interview your current clients and ask them: what are the features that you think are missing in our solution? We're interested here in both "hard features" (like specific software functionality) and "soft features" (ease of use, collaboration, etc.).
Then, look at that list of "missing" features and highlight the ones that your product actually offers already. If there are such items on your list, it means that the content describing them on your website or in your articles is not comprehensive enough or perhaps doesn't exist yet.
For example, let's say you have an accounting SaaS solution and some of your clients might say that they'd like to be able to easily translate pictures of their invoices into data records in your tool. What if you already offer this feature?
Once you've figured these feature requests out, make them more visible on your website or user test them to understand why your customers miss that feature in the first place.
Next, create a comprehensive article on that topic. There's a high chance your future ideal customers will likely need that feature too and will be actively looking for it. Provide current customers with content they need to succeed better with your product and provide future customers with information that will encourage them to purchase your product over the competition. Let's get those customer acquisition rates up.
—Pawel Banhegyi, Founder at Map My Growth
3. Let users segment themselves
Specifically, around email marketing–proper segmentation is critical for an effective email strategy. Knowing why people opt-in to your list gives you intel on what you can continue to give them.
Often you can theorize based on a subscribers opt-in location–but asking your subscribers what they're interested in adds another layer of segmentation data. Plus, it promotes engagement!
—Nikki Elbaz, Head of Email at CopyHackers. 
4. Give away your secret sauce
One of my favorite ways to provide people with the content they want is to focus on the questions your prospective customer has. Think about how you search for things or consume content.
Let's say you want to learn about inbound marketing. You won't go to Google and simply search for "inbound marketing". Instead, you'll search for "How do you create an inbound marketing strategy."
So think about what people are searching for and the problems they're looking to solve, and answer that in your content. Give away the secret sauce. Tell people exactly how to do the thing they need help with on their own, and offer your SaaS as the easy, faster, cheaper way of doing it!
—Sid Bharath, Co-Founder of Broca
5. Get informed by search intent
When it comes to inbound marketing efforts through search engine optimization & content, providing people with what they want is all about search intent.
Figure out what a person is actually looking for based on their Google search, and creating content to satisfy it.
Sometimes that means a 'how to' article, sometimes it's a list of products or tools available, other times it's a recipe. If you're ever unsure, simply take a look at the current SERPs. Google is pretty good at figuring out what people are looking for, and top-ranking results will reveal the dominant search intent for that query.
It's a simple step to take, but if you get it wrong, you can invest all the time & money you want into your content, and it still won't rank.
—Ryan Prior, SEO Growth Strategy, Skale. 
6. Continue to optimize and define your content
On deciding which content to produce, it can be a combination of looking at quantitative and qualitative insights. For example
SEMrush: for looking at the most relevant keyword traffic volume and keywords our competitors are paying and ranking for.
Google Search Console: for which pages are currently growing/declining in traffic Google Trends: for finding topics that are popular right now
Google Analytics: for seeing which keywords convert well on your website
With our partner, Skale, we can then estimate potential MQLs and, ideally, opportunities that can be generated from specific keywords and segment them by funnel position. This then helps to prioritize which content we should produce.
It's also about listening to our customers, getting feedback from Sales, and seeing what content our industry-specific communities/publications are producing. It's about making sure we are bringing in different opinions and experts when we put together the content, too.
We also found it important to understand our different buyer personas and the variety of different topics that interest them. We then use different tools to make our interaction with them personalized. We analyze keywords in job titles, job descriptions, and more, allowing us to do a broad and more granular segmentation in our CRM that we can then use for better inbound targeting.
For example, by using tools like LinkedIn Sales Navigator & Campaigns we can use specific keywords that relate to our buyer personas and the content we're producing. This ensures we're sharing content with people that already have an interest in that area to have a higher conversion rate.
We also implement mini funnels in order to retarget people with content based on other content they have engaged with and how far along the sales cycle they might be.
—Amy Woodward, Purpose I Employee Engagement I CSR I Social Impact @ Alaya.
5 Tools to build and measure your inbound marketing strategy
Sprout Social: for all things social media management and reporting
Piktochart: for creating infographics, case studies, presentations, and reports
HappyScribe: for video transcriptions and subtitles
Chameleon: for in-app user surveys
Hotjar: For raising red flags
Typeform: for survey send-outs via email
Maze: for user testing when you don't have a user base
Flodesk: for sending beautifully personalized email marketing campaigns
What to Expect From Your SaaS Inbound Marketing Strategy
Using inbound marketing allows your SaaS brand to build a strong voice that makes you stand out from competitors. More than this, it builds awareness and trust in your product. Content is all about building a relationship with your users (even if they haven't signed up just yet.) When users feel assured your SaaS is the best choice to solve their problems, they're more inclined to seal the deal by signing up, sharing your content, or even asking for a demo.
The best way to inspire this kind of confidence in your brand is to begin your inbound marketing journey today. If you're still not sure where to start, it may be worth contacting an inbound marketing company- or better yet, a specialised SaaS SEO agency.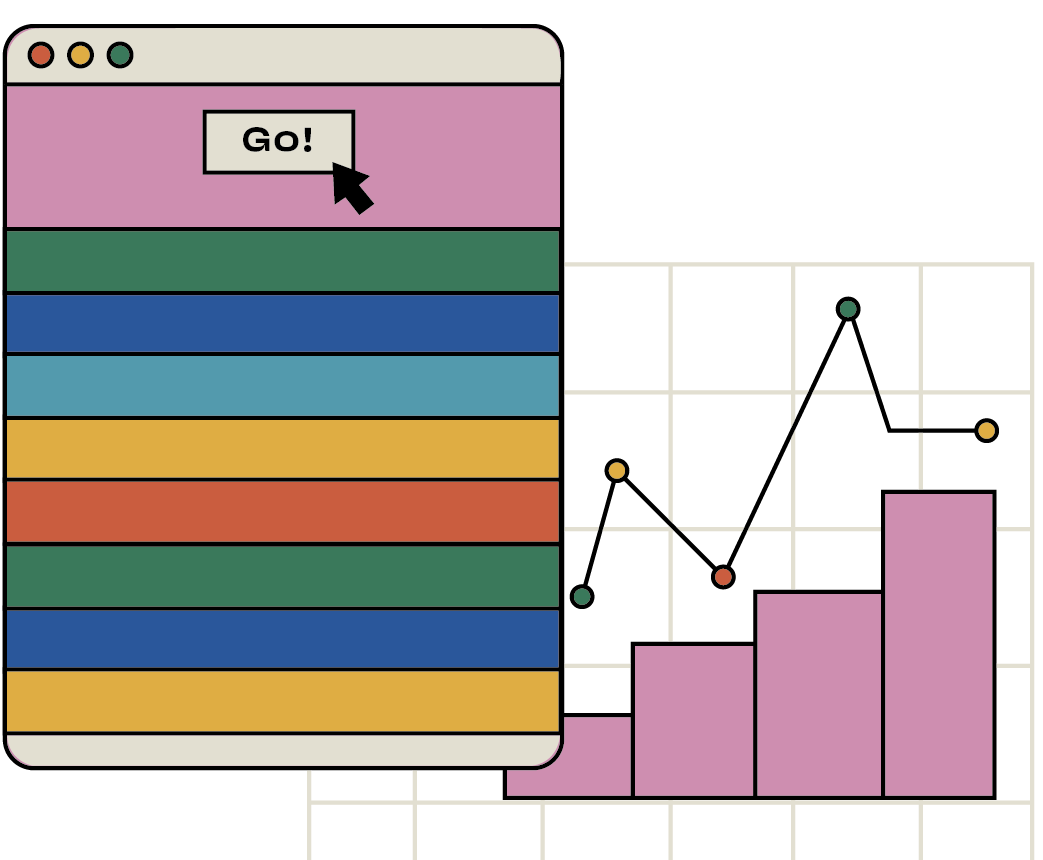 Learn from our clients' SEO wins
Discover how Skale has helped successful Saas businesses keep ahead of the competition
Take a look here
What is SaaS inbound marketing?
Inbound marketing for SaaS sounds simple enough: create content that shows users how they can solve common issues and problems, and make sure to position your product as the best solution. Provide valuable information through your content to guide users to the next step of the funnel while also helping them out.
What are examples of SaaS inbound marketing?
There are endless options when it comes to SaaS inbound marketing examples- most brands use blogs, SEO, social media, video content, and lead magnets like e-books and guides related to their product.
What are the three stages of inbound marketing?
There are three stages of inbound marketing:
1. Awareness – When the user isn't looking for a product, but is looking for information on how to solve a problem.
2. Consideration – The user is aware of their problem and is actively looking for information about solutions, trying to decide which is best for them.
3. Decision – The user has decided on a solution to their problem and is actively looking for someone to provide it- they may have already created a shortlist of possibilities.