Meet your SaaS marketing goals faster
Let the SEO experts build you a winning demand generation strategy
Schedule a call
This article will dive straight into proven demand gen strategies to try for your SaaS product. This is not your run-of-the-mill, overview, fluff that you'll skim over and never use. This article gets deep into the nitty-gritty of three demand generation strategies you'll actually use.
These three strategies have been tried and tested with successful SaaS brands and can be tweaked to fit your demand generation goals and metrics.
The three demand generation strategies we'll cover are:
Create a stellar content marketing strategy
Implement a smart SEO strategy
Work on collaborations
You'll walk away from this article with a better idea of how you can generate high-quality leads for your next demand gen campaign or ongoing strategy.
Right, before we get into our three proven demand generation strategies, let's bust a few demand generation marketing myths. We're about to answer how to create a demand generation strategy and how not to create one.
What makes a demand generation strategy effective?
A demand generation strategy is targeted content marketing designed to create awareness and interest in a product or service, ultimately generating customer demand and driving sales up.
An effective demand generation strategy will fulfill three aims:
Help your company reach new markets
Promote your product or service
Build brand trust and credibility among your target audience
Demand generation focuses on creating and nurturing long-term relationships with potential customers. This is usually achieved by providing education and advice—content that mentions your product without explicitly trying to sell it.
Typically, demand generation content will include how-to guides, informative listicles, expert advice, case studies, and new research. By offering valuable information without asking for anything in return, potential customers are incentivized to return to your website, boosting organic traffic.
The effectiveness of a demand generation strategy is measured by its lead quality. Quality leads create more conversions. Put simply, quality in this context means users who are more likely to move through the sales funnel toward conversion.
The ultimate goal of a SaaS demand generation strategy is to become a trusted brand name that will remain top of mind for target customers, even when they're not in a buying cycle. This will ensure that when those potential customers are seeking a solution, your product will seem like the obvious choice.

How to create a demand generation strategy: 3 key tactics
A demand generation strategy is not one marketing method. There is no one thing you can do to create demand for your business. There's no secret hack hidden behind the words demand gen. Instead, the best demand generation strategies are a collection of sales and marketing micro-strategies that have notoriously helped businesses to generate demand.
To create a successful demand generation strategy you'll need to unite your sales and marketing teams. Plus, combine various sales strategies and marketing efforts to formulate the many moving parts to the larger demand gen strategy. Eventually, winning demand from those high-quality leads every SaaS brand is looking for.
Bust a myth? Demand Gen and Lead Generation are the same things, right? Wrong. There's been a lot of "uhming" and "ahhing" around demand generation vs. lead generation, so let's put these two to bed—separately.
When a business focuses on building demand, they focus on generating interest and awareness for their product. This can focus on numerous touchpoints within the customer lifecycle.
On the other hand, lead generation focuses on building a list of people interested in buying your product. Lead generation can literally mean the act of collecting an email—you generate leads. However, their demand was already there. Asking for an email on its own wouldn't suffice.
The largest difference between the two strategies? The user intent. Demand generation aims to keep a user thirsty for more, whether they're a lead, a website visitor, or even a customer. With lead gen, they have a genuine interest in paying for your product and are ready to talk to sales reps.
With that now covered, let's get into the thick of it, with our three demand gen strategies to try.
1. Create a stellar content marketing strategy
Content marketing is a fickle beast. It comes with a sharp tongue and works in many ways. The point being, content works differently for different niches. It depends on your audience, your ICP, your product, your tech, your resources, and so much more.
However, when it comes to your demand generation efforts, there are a few content types that repeatedly prove useful.
Videos
Video efforts often lead demand generation campaigns. A study from Wyzowl found that 86% of video marketers say video has increased traffic to their product website, and 94% of businesses that use video say it's helped to increase understanding of their product or service. These are two KPIs of a successful demand gen strategy.
White Papers
Whitepapers are a tried and tested form of content that generate demand for your product or service. A good whitepaper should be backed up with an array of content like webinars and questionnaires. A white paper is shareable, gives your brand topical authority, and can potentially be gated, which means you can win an email signup if you play your cards right—lead gen.
Calculators & free tools
We love free things. Correction. We love free, useful, things. If you know what your target audience needs, then a calculator or free tool is a fantastic piece of content that can build brand awareness, aid your inbound marketing strategy, and prove you're a valuable resource for ICPs.
Want to start effectively measuring your SaaS SEO ROI? Download our free ROI tracker.
Email marketing
Email marketing campaigns are often used in demand generation campaigns as they're a great way to reach those decision-makers and employees who may be interested in your product or service. A solid email marketing strategy reaches target leads, communicates directly with potential customers, and ultimately builds your customer base.
Content hubs
Of all of the demand generation ideas out there, content hubs are rarely utilized to their fullest potential. However, they're a useful resource for your sales team and can prove to be an extremely useful demand generation marketing method.
With the help of the Skale team, Maze, the remote testing platform for SaaS products, does a fantastic job of utilizing a content hub to generate demand.
As well as hosting topical guides relevant to their users; for example, https://maze.co/guides/usability-testing/,
Maze has also built an entire collection: https://maze.co/collections/ux-ui-design/.
This compiles guides and blogs into one useful resource content hub. They provide relevant content in a way that's equal parts usable and searchable.
Webinars
75% of marketers say webinars extend their brand reach, while 91% of professionals say their next step after watching a webinar is to visit the brand website to learn more.
Webinars are a key player in increasing your brand reputation, reach, and product demand. They should be seriously considered for a successful demand generation campaign.
Podcasts
Although a podcast may not be a key player in your sales funnel or sales cycle, let's remember our demand generation is also there to increase product awareness, our lead gen efforts come in other forms.
Podcasts are fantastic tools for brand awareness. In a world where content is often battling for the pride of place at the top of news feeds and inboxes, the right podcast can guarantee 30 minutes to an hour of your listener's time and is a great inbound marketing tool.
Courses
If you really want to level up your demand generation content and inbound marketing success, then work with your marketing and sales teams to create a mini-course for your niche.
What is your brand in a unique position to teach? LinkedIn has done this incredibly well with LinkedIn learning. What started as a demand generation marketing tactic quickly pivoted into a new business model for the platform and has helped LinkedIn garner authority as the go-to resource to improve your career opportunities.
Case studies
Case studies can be a fantastic content type to generate highly relevant demand. Why? They don't just answer potential users' needs, they demonstrate how to solve them while placing your product front and center in the process.
Take a look at a case study we built here at Skale for Piktochart, for example. By securing backlinks on high-quality & topically relevant domains, as well as improving Piktochart's on-page SEO, we increased organic link clicks by 995% and signups by 860%.
This case study answers our ICPs' problem or "job-to-be-done," showcases the solution, and places our SEO services as the must-have answer to achieve the goal.
Interested in finding out more about Piktochart's transformation? Read the full case study here.
EBooks
EBooks are a tricky piece of content to master, but if you find the hack that resonates with your buyers and their pain points, then you're on to a winning recipe.
EBooks are essentially hyper-long pieces of content. Usually, they're a combination of research, case studies, content hubs, and courses that tie together succinctly into one piece of content that users can walk away with.
Like a podcast, users make the time to read an Ebook. Plus, with it typically being a piece of content that someone can access offline, you're more likely to hold someone's attention than if they were to stumble across your blog post on their social media feeds.
Remember, quality content takes quality resources. Utilize the quantitative and qualitative data you have available to build content that you know people need. Ask your sales team for their input; there's a high chance every sales team has a wealth of content they'd love to see supporting their sales cycle. All you need to do is tweak those angles to greet people at the top of the funnel instead.
Marketing, product, and customer success teams can also provide valuable input for content ideas. They can all help you source potential customers and up conversion rates.
Don't forget to ask your current users the content they would like to see, or content they wish they had seen when they were considering your product. Perhaps there's even some user-generated content out there to inspire your own.
Lastly, use a combination of keyword research, competitor analysis, and user research to build out content pillars that will serve your brand and demand generation process.
2. Implement a smart SEO website strategy
We'll say it louder for the people at the back: SEO is so much more than keywords! Google got smart(er), and you'll need a 360 SEO strategy today if you want to generate demand on the popular search engine.
To give you a better idea of how far Google has come, the platform has over 200 ranking factors to help its algorithm. There's a high chance we'll barely graze the surface in this chapter. However, we'll do what we can with the word count and highly recommend you check out our SaaS SEO hub for more methods.
Let's break SEO down a little with our Head of Tech & Content SEO, Ben Major:
Brand Signals: Search engines consider high-quality external brand signals when deciding whether or not you are seen as a trusted (or authoritative) source in your niche. Some examples of brand signals are:
Owned social media -> Verified and active social media accounts
Consistent contact info + org schema on home/about pages + having a physical presence
Owned GMB or Google Brand account
Your brand name receives search volume (if not generic)
Branded anchor text (news, articles)
Non-linked brand mentions (news, articles)
Those are a few brand signals to consider, and here are some top methods to improve them:
High-quality, authoritative content assets (guides, studies, whitepapers)
Press coverage (Digital PR, Media Ads)
Display/remarketing ads
Building a strong social presence
Ensuring your directory listings (G2 etc.) contain the correct information, including your service offerings
Ensuring your directory listings contain positive reviews that describe the nature of your service offerings
Ivana Drakulevska, Search Engine Optimization Specialist at Sales.Rocks, expands on how they use brand signals to inform their SEO strategy.
"At Sales.Rocks, we follow closely B2B SaaS industry trends and statistics, like:
75% of customers use more sources to examine and assess their B2B purchases
77% of B2B clients perform a comprehensive ROI analysis before buying
80% of users ignore paid ads and go for organic search results.
We act on these findings. Therefore, our demand gen strategy relies heavily on SEO and building meaningful backlinks.
You won't find Youtube nor Display Ads with the Sales.Rocks logo on it. We use paid advertising only to inform our ICP if we have a promotion.
We know that those who are looking for a solution to their business pains – will find the right solution by themselves. The stats prove that. That's why we chose NOT to invest a large sum of money in targeted Ads and invite people to buy from us, but instead, we transfer that same amount of money into offering our customers a fair price for the quality of our product.
In short: The money invested into paid Ads enters into Customer Acquisition Cost.
CAC then aims to balance the ROI (Return on Investment) = "I invested this much money on attracting customers, now I need to get that money back and to make a profit."
How? By increasing the price of the SaaS subscription.
Fair? I don't think so.
That's why we reduce the monthly price of our SaaS platform for that same amount of money that would be otherwise spent on Ads. This keeps our CAC at a minimum
Our DG strategy has proved to be a huge success for us.
Thanks to this demand gen strategy, Sales.Rocks have been officially recognized as having the best ROI of any Sales Intelligence software in the market by the most trusted peer-to-peer review community in the world of SaaS-based on user ratings and social data – G2.
Our customers are getting their money back from what they are paying to be subscribed and use our software. This builds brand awareness, increases our traffic, and brings new quality leads straight to us."
Generating demand for your SaaS using SEO doesn't need to be done alone. There are some fantastic SEO marketing automation tools to help guide your processes, and of all things, you're going to outsource for your SaaS marketing a SaaS SEO agency should be top of your list.
Demand generation strategy in action: Nathan Latka
Want to see some real-life results? Well, let's look at Skale's SEO website strategy with Nathan Latka.
Nathan Latka is a very familiar face in the world of SaaS founders and investors: he's a serial entrepreneur, podcast host, and author, and now his website Getlatka is a go-to source of helpful tips and practical advice related to SaaS.
When he came to Skale, his aims were clear:
To attract a SaaS audience to his website
To outperform competitors such as Owler and Crunchbase
Given that SaaS-related keywords are pretty competitive, this was a big ask. Here's what Skale did:
All-round analysis to determine the SEO strategy
Full technical audit of Nathan's website
Built a developer-friendly plan to optimize Getlatka, prioritizing organic search growth
Extensive keyword research to build a 12-month SaaS content marketing strategy
Ranking campaign to build SaaS-specific links back to his domain
Custom outreach to tech brands to build further links
The results?
Increased qualified organic clicks by 568% in 12 months
Outperformed primary competitors such as Owler and Crunchbase
Goals reached? We think so.
<<CTA BLOG TO ADD>> Get serious about tracking your ROI
Take hold of your demand generation budget with our free ROI tracker
Download now <<CTA BLOG TO ADD>>
3. Work on collaborations and partnership marketing
Our last demand gen strategy is collaborations. These come in many different forms but can truly help to put your brand in front of new eyes in a way that feels natural for viewers. It's also a great way to align your brand with influential leaders and rock-solid technology.
If you can find a way to collaborate with other brands, it can technically and sentimentally help to lift your brand, build demand, and win more qualified leads.
Katheriin Liibert, Head of Marketing at OutFunnel, talked us through how they use co-marketing partnerships to reach more prospective customers and increase demand for the tool.
"For Outfunnel, it's been all about App marketplaces and co-marketing with partners.
From day one, Outfunnel has been most relevant to users of specific sales and marketing tools (as we build integrations between them), so acing our presence in App marketplaces and building good relationships with the partners has proved the best way to build demand.
The number one metric we have to show for it? Outfunnel is the #1 top rated app in Pipedrive's app marketplace (and has been for quite some time now)."
Chameleon is also a great example of using co-marketing efforts in creating demand for their tool. The demand gen team at Chameleon frequently aligns with brands that have similar audiences to their buyer personas and create valuable webinar and blog content that promotes both tools as a must-have for any SaaS business.
What to do before starting demand generation?
Before you start implementing your inbound demand generation strategy, there are a few things you'll need to do. Well, three to be exact. Here they are.
Research the user's ICP 
Knowing your target audience is the first step to creating a strong, effective demand generation strategy. Being familiar with your ideal customer profile (ICP) is a must. This is about knowing the characteristics of your perfect client who benefits from your product or service the most.
What pain points do they have? How can our product address that? What valuable tips and expert advice can we offer them? A strong ICP is crucial to identifying the most qualified leads, creating focused marketing campaigns, and distributing your content to the right audience.
Build brand image
In your demand generation strategy, you'll need to be putting across a very strong brand image to ensure your organization stays top of mind for potential customers. This involves identifying your goals and purposes, differentiating your company from its competition, and creating a brand character your audience will recognize.
Having this clear image in mind will positively influence your marketing efforts and strengthen your brand reputation. Aim for clear, professional, and approachable.
Set realistic goals 
When it comes to measuring demand generation, the bottom line is lead quality. Before you start, you'll need to come up with a realistic set of goals that you can use to track the effectiveness of your demand generation strategy.
You'll need to have a strong understanding of SEO metrics and industry benchmarks to come up with accurate, reachable figures. Once you have reliable data, you can focus on meeting these goals with your content creation and marketing efforts.
Why is demand generation important?
An effective demand generation strategy can yield impressive results, not just in the number of leads and subsequent conversions, but in other ways.
Here's what benefits demand generation can offer your organization:
Build brand credibility and trust, nurturing a loyal customer base
Identify the most relevant customers, which are valuable to your marketing efforts
Increase organic traffic to your website, which in turn increases conversions
Help a business reach new customers by creating useful, accessible content
Boost brand awareness, particularly useful in a saturated market
Give insight into the needs, wants, and behaviors of your target market, helping you optimize your product or service
"Many SaaS businesses start out founder- or sales-led, and that works to an extent, but to really scale growth, a demand strategy can take the mystery out of marketing. With a good growth strategy coupled with account-based marketing strategies, B2B companies can take their revenue to another level and penetrate the market at a much higher rate."
Christoph Trappe, director of content strategy, Growgetter.io
How do I measure the success of demand gen tactics?
You can measure the success of your demand gen strategy by using a bundle of marketing automation tools, and manual tracking methods. Set KPIs, benchmark goals, and check in with your efforts regularly to see if you're on track.
A few marketing and demand generation tools to consider to help you measure your DG efforts are:
Hotjar
Mayple
Chameleon
Wishpond
Sprout Social
Criteo
Google Analytics
Gauges
3 Elements of a successful demand generation strategy
There are a few recurring elements of a successful demand generation program that you'll want to keep in mind as you flesh out your own strategy.
Highly quality content leads the pack, no matter what your strategy. There's a massive chance you're going to need some form of content, be it photos, videos, copy, VR, or something else. So, you must have the right talent on board or are sourcing it out-of-house. Don't put in all of the work in strategizing only to fall short on the delivery.
Another successful element recurring in a DG strategy is automation. DG is complicated in its nature. It's prone to human error if you're conducting and reporting on it manually, and introduce smart tools can help to combat this. Plus, if you're hoping to scale your DG efforts you'll need a tool to scale with you.
Third on our list is optimization. Optimizing your strategy cannot be stressed enough. For as much research and thought as you put into your DG build, sometimes things don't go as planned, and we don't see the results we'd previously bet on.
That's okay; it's all a learning curve. So, remain transparent in your reports, let management know if you hit under goal, and find ways to do better next time around.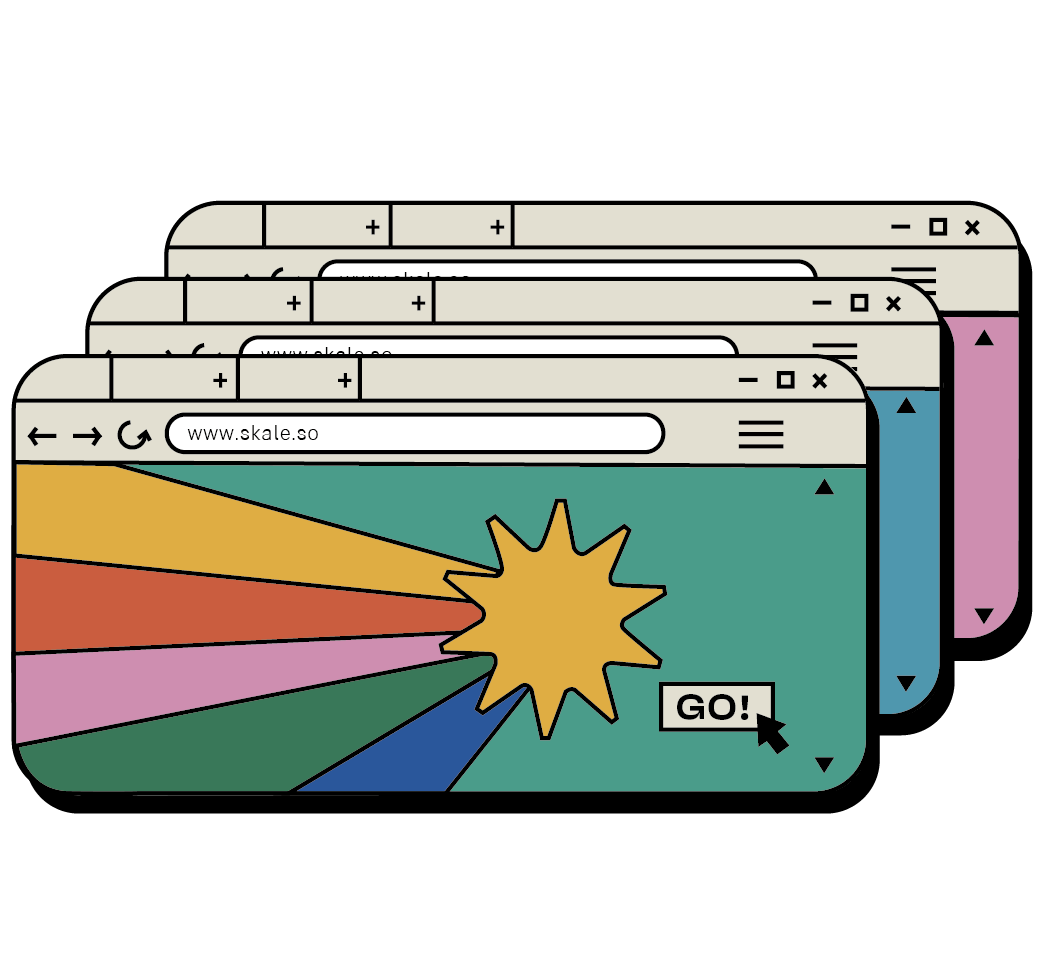 Increase business demand for your business with Skale's help
Free up your time and let the experts generate interest and awareness for your brand
Schedule a call
Demand Gen FAQs
What should a demand generation strategy include?
A demand generation strategy should include your entire plan on how you intend to build interest, awareness, and desire for your brand, product, or service. It should include some core methods you'll use, along with some benchmark goals and KPIs to showcase you're on the right track. 
What are some demand generation best practices?
A few demand generation best practices include creating a strong demand and scarcity funnel for your product or service, integrating a CRM and campaign automation tool, and maximizing your social media efforts. Looking for more on-demand gen best practices? Read this article.
How are demand generation results measured?
Demand generation results are measured via DG tools and apps. These can include Google Analytics, Mayple, and other notable reporting tools. Benchmark your results against previous quarters or the public results of your competitors. 
What is the difference between demand generation and lead generation?
Demand generation creates general awareness and interest in a product or service, while lead generation specifically identifies and captures potential customers who have shown interest and are likely to take further action or make a purchase.