We're in the world of SaaS, there's a tool for almost any problem you have and in this article, we're sharing the secret tools experts use for Demand Generation.
You won't find Mailchimp, or Hubspot on this list—uh, uh—here we're sharing those lesser-known tools. Perhaps they're new on the market, perhaps people just don't want to share, or perhaps you've never considered them for your demand gen efforts before?
No matter what, we've got your back and we're breaking the tools down into four areas:
Lead nurturing demand generation tools
Demand generation strategizing tools
Demand gen team operational tools
Reporting demand gen tools
You should walk away from this article with an arsenal of powerful tools to consider to help lift your demand generation strategy to new heights.
What demand generation tools can do for you?
In short, demand generation tools can save you time, money, and resources. Demand gen tools can aid your inbound marketing strategy, support lead generation, help you keep track of important demand generation metrics, and can be a vital resource for marketing and sales teams looking to work more agile.
Done well, demand generation process can help fill a pipeline with qualified leads, and ultimately increase business revenue.
Demand generation marketing can be something that, done manually, is exhausting. However, implementing the right tools in the right places can help streamline your processes, minimize human error incurred risk, and rapidly optimize your marketing efforts.
Leave your SEO to the experts
Up your game. Apply for full SEO Management with the Skale team
Contact Us
9 Secret Demand Generation Tools The Experts Use (& You Should Too)
In order to create this list, we hustled our way into the heads of demand generation experts currently creating demand for some of the fastest-growing SaaS brands around.
We also spoke to our own team of Skalers, who together have decades of experience working in SaaS, SEO, and demand generation plan.
🏁 Ready? 🏁
Let's start this list off with a lead nurturing favorite. When lead nurturing is done right you make the work of your sales team that much easier.
In a perfect world, the sales team may not need to do anything at all! So, what tools are the experts using that can help get your business moving leads through your sales funnel as smoothly as possible?
Lead nurturing demand generation tools
1. LeadFeeder
First on our list is a recommendation from the Head of Marketing at Outfunnel, Katheriin Liibert. Katheriin said:
"There are many different web tracking tools available (at very different price points) that help you collect data about prospects, so choose yours based on your specific business case (and budget).
I think for B2B demand generation, something like Leadfeeder is the bomb. It shows you first-party information from prospective customers, but also firmographics about your anonymous site visitors."
Leadfeeder is a visitor identification software that can help you make the most out of your website traffic. It has a 4.3-star review on G2 and comes with two pricing plans. The 'Lite' plan is free and showcases the last seven days' worth of leads. The premium plan starts with a free trial and has a €139 price tag with unlimited data retention and leads.
Demand generation strategizing tools
2. Answer the Public
Next up on our demand gen list is a strategizing tool. If you're ever at a loss for how to structure an article, or how to deliver nurture content that potential customers are actually looking for, then this SaaS SEO tool is for you.
Here at Skale, the team uses it regularly within their tool stack to help with the research stage of SEO for clients. Martin, our Growth Strategy Team Lead said:
"It's helpful to save time when doing keyword research, understanding user intent, and finding interesting opportunities around topics we could create content for (landing pages, blog posts, etc). Plus, by using Answer the Public we have more certainty that there's demand.
It's especially useful when you can't find enough search volume data on Ahrefs, so I use it as a compliment to that."
This is a great tool to help inspire your demand generation strategy. Generating demand with SEO has many moving parts.
However, we highly recommend that this be one of them. Answer the Public has a 4.6-star rating on G2, and is available for free for a limited amount of searches. After that, AtP comes in monthly, annual, or expert plans, starting from $99 to $199 per month.
These more advanced plans grant you unlimited search data, unlimited users, educational packages, and up to 20 search listening alerts.
3. Reddit
Now, we know what you're thinking, Reddit is no secret… And, you know what? You're right. However, in the context of demand generation and SaaS SEO, it's one of the biggest secrets (not) out there.
Until now. Reddit, the social news aggregation platform, is a fantastic tool for understanding customer voice, SEO topics, and gauging interest in keywords, phrases, or queries.
It's another favorite of Martin's for strategizing DG efforts; he said:
"I use Reddit with the same purpose I use Answer the Public. I use it to search what users say around a topic or a product and see if there's enough demand. It also helps me to find ideas on how I can capture demand for a particular topic."
Sign-up and the use of Reddit is totally free, and it has a solid 4.2-star rating on G2. However, the catch, or at least the noticeable downfall, is the UX. You need to be a Reddit fan to be a Reddit user, and introducing it to your demand generation team structure may not go down as smoothly as your hope.
Secondly, take everything you're reading with a pinch of salt. You're reading peoples' opinions, and believe us, people have them on Reddit! Most people aren't speaking as a brand they're speaking as themselves or an alias.
So, although it can be a useful demand generation tool to inspire your content, there are other sources out there that are probably more reliable for you. Like your sales team, current customers, and marketing teams.
4. Ahrefs
As an SEO agency, we shouldn't really be promoting the automation of SEO. However, as a SaaS SEO agency, we understand and appreciate the value of great strategy tools. The right amount of automation, paired with the right talent (and following the best demand gen practices), can go a long way when it comes to your demand generation strategy and inbound marketing efforts.
Ahrefs is a fantastic tool to support any SEO-related demand generation campaigns and can help you craft content to generate leads.
Ivana Drakulevska, a search engine optimization specialist at Sales.rocks, talks us through how Ahrefs is a key player in helping the business build a successful demand generation strategy.
"We build meaningful backlinks to our articles from authoritative websites in the same niche. These backlinks must be placed among relevant content and on specific anchors. For this, we use Ahrefs and expert knowledge and experience in link building."
Ahrefs has got a dazzling 4.6-star average review on G2. Their price plans vary massively, the Lite plan starts at a modest $99 per month, and it can go all the way up to $999 per month if you're an SEO agency using the platform.
5. Facebook's Ad Library
Facebook is well known, will give you that. It's also common knowledge that most brands out there have or still do run social media marketing ads on the platform. It's a great place to reach your target audience and is generally the foundation of any social media strategy.
However, Facebook's Ads library is where you can really excel with your strategy and operations, as Colin James Belyea, a Growth & Performance Marketing Consultant & Head of Growth @outsiteco, tells us more.
"I use Facebook'sAds Library a lot to help streamline my audits and client work. I use it to audit a client's competition, to learn about their funnel, and take inspiration for future ad creative. It's a fantastic free resource that I don't think people are using enough."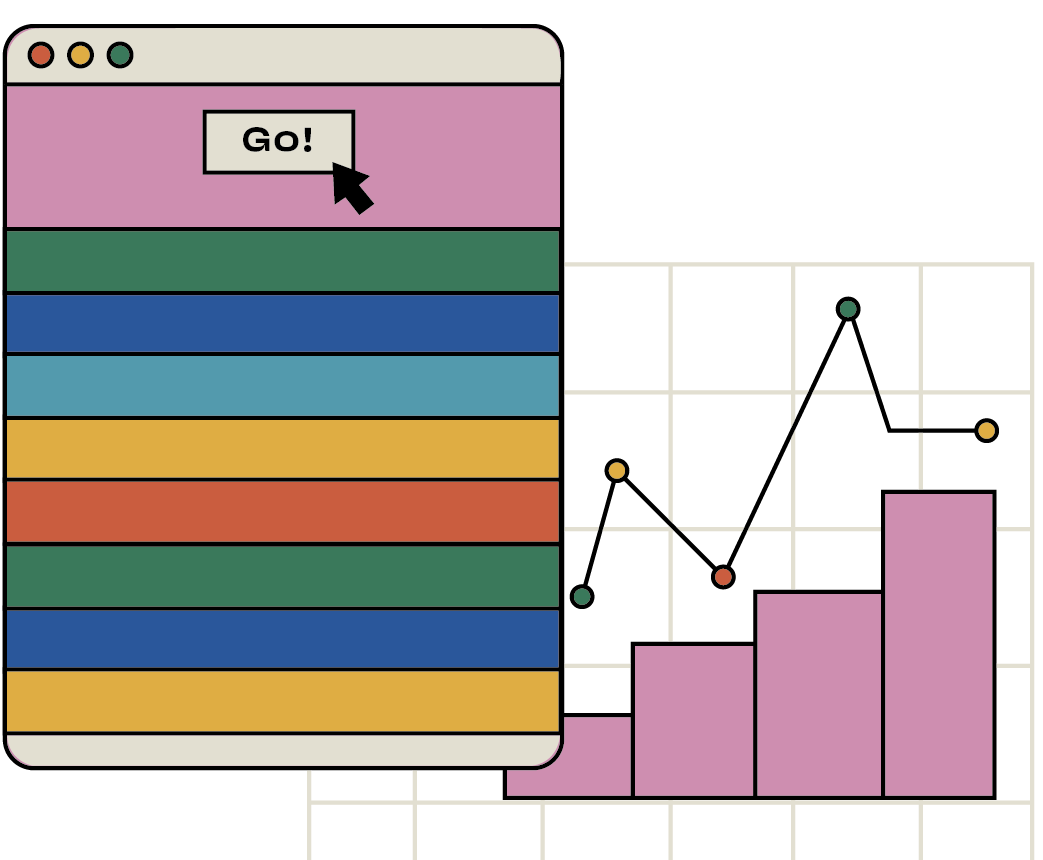 Level up your SEO strategy with Skale
See where Skale's SEO experts can take your MRR. Get in touch, today
Contact Us
Demand generation operational tools
6. ZipMessage
A successful demand generation program and team require great communication. Which, in today's remote world, can be tricky. We're working across states, countries, and time zones. This tool is more of an operational tool to help you connect with your colleagues or your customers.
Rather than going back and forth over lengthy email chains, trying to find a time in everyone's calendar for a Zoom call, or flooding each other with Slack threads and emojis, ZipMessage is a healthy and personal alternative for communication.
Brian Casel, the Founder of ZipMessage, shares a little more with us:
"I've been using ZipMessage to conduct asynchronous video interviews, which can be shared publicly and turned into podcast content. It's a great way to promote interactive content like public "AMAs" (ask me anything) with influencers in the space, that's highly shareable as well.
Here's a batch of those async interviews I've been publishing using ZipMessage."
ZipMessage is so secret it's not even on G2, yet. However, it's being utilized by the likes of Liquid Web, NutureKit.co, and some up-and-coming CRM platforms too. The basic plan starts at $19 per month, and the premium plan goes up to $39 per month.
Reporting demand generation tools
Last on our hitlist for demand generation tools you need to add to your tech stack is reporting tools. For as great as your demand generation marketing efforts are, if you're not reporting and optimizing them, you don't stand a chance of doing better next time.
7. SEO Testing
SEO testing is a tool we use in-house here at Skale. Ben, Head of Tech & Content SEO, explains that with SEO testing you're able to run top-level SEO split tests to validate experiments such as title tweaks, internal link changes, architecture modifications, and much more.
There are a ton of features to this platform, all of which are useful for testing, and reporting on your demand generation SEO efforts. SEO Testing is a bit of a hidden gem as far as marketing automation and SEO demand gen efforts go, so we can't share a G2 review with you—you'll just have to take Ben's word for it.
As far as pricing goes, there's a free trial for each of their plans, which look a little like this:
$40/per month: one website
$100/per month: five websites
$300/per month: 20 websites
8. Panguin
Panguin is another one of Ben's favorites. This free tool will overlay your Google Analytics data to help you identify if traffic drop-offs on your website are a cause of Google algorithm updates. It helps your business to report on the perhaps not so positive side of SEO, but one necessary nonetheless. It will build a proactive attitude toward SEO as you'll be able to act that much quicker as soon as you see something out of place.
Again, because Panguin is small (but mighty) tool, we can't share a G2 score with you. What we can do, however, is let you know it's totally free. It's actually operating as a fantastic demand and lead generation magnet for the digital marketing agency, Barracuda. Forget the free calculators, here's a tool that you'll actually use!
9. Google tools
Yes, yes, Google is no secret, we know, we know. However, it is an absolute must for demand gen reporting. So, what should your weapons of choice be from Google's tech stack? Ivana, from Sales.rocks has got you covered:
"We write articles filled with transparency and valuable information. We share knowledge from our personal experience and that of the other industry experts. And most importantly – we don't follow the crowd but we exercise critical thinking.
We use Google Trends, Google Analytics, Google search itself to figure out the search intent of our ideal customers and write content that ranks."
Anything Google-related doesn't need much more of a write-up than this, it's just something for you to consider!
Setting up the perfect demand generation system
Whether you're focusing on demand or lead generation, you'll need these tools to work harmoniously to see success.
Zapier is a fantastic resource for you to tie everything together. However, setting up your demand generation strategies doesn't stop there. Onboarding is so crucial if you want your team to understand, use, and make the most of some of these (quite hefty) price tags that come with the tools.
Consider a knowledge base or group onboarding sessions, so your entire team fully understands the demand and lead generation tools in your tech stack and everyone can go from strength to strength in using them.
Tools to drive demand generation FAQs
What are the best demand generation tools out there?
The best are not necessarily the most well-known demand generation tools! A few favorites from our end are: Panguin, ZipMessage, and Answer the Public. Read the full article to get a breakdown of each of these tools and more.
How can I create a demand generation strategy?
Experts say the three core demand generation strategies are:
– Create a stellar Content Marketing strategy
– Implement a smart SEO strategy
– Work on collaborations
Lucky for you, we know the experts. Read the full article on creating a demand generation strategy here.