Demand generation campaigns are something every SaaS product marketing team is familiar with. There comes a moment when your ongoing demand gen strategy is not quite cutting it and your product and brand need that extra boost.
In this article, we'll talk you through how to build a stellar demand gen campaign that champions your product, brand mission and rapidly builds the reach of your brand.
A demand gen campaign is a specified period of time when you combine marketing methods to generate demand for your business and product. Demand generation strategies usually come with a campaign or two that businesses use as their trump card when they need it most.
What's the difference between a Demand Generation Campaign vs. a Demand Generation Strategy?
The two complement each other but are not the same. Demand generation campaigns focus on sprint marketing over a typically rather short time span. They push for demand and look at short-term goals. A demand generation strategy will involve campaigns and looks at the long-term goals for the demand generation process.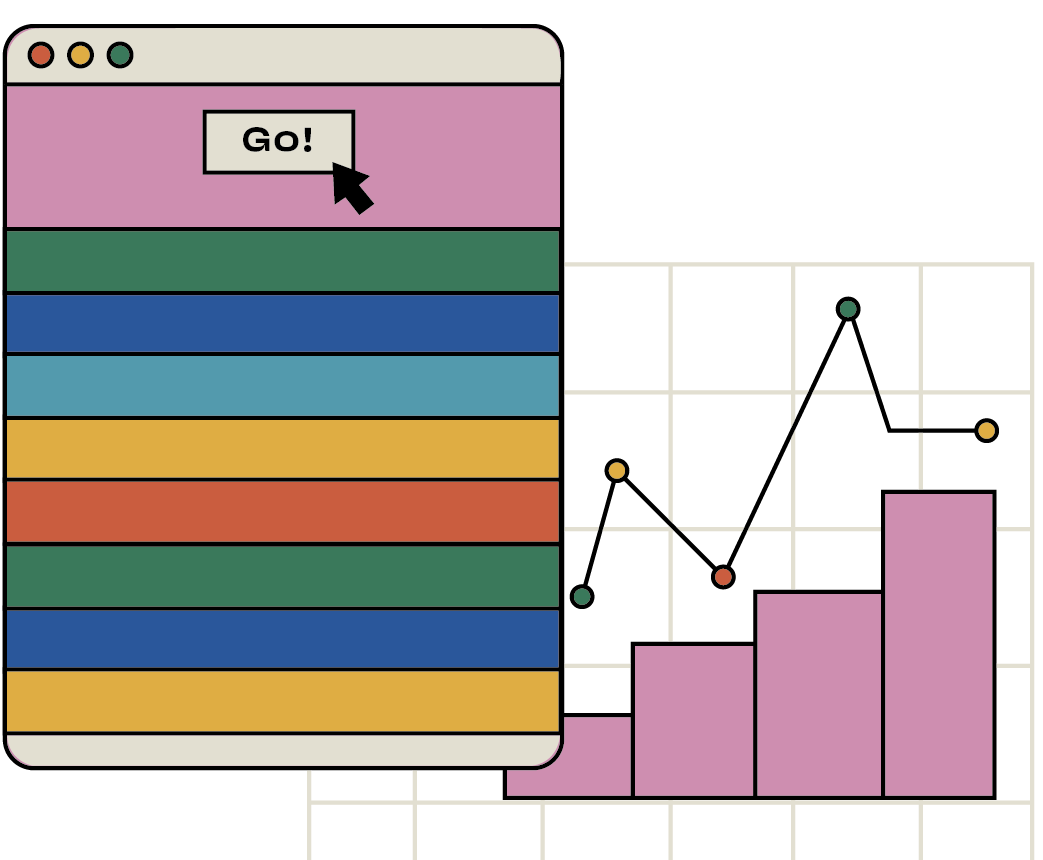 Level up your SEO strategy with Skale
See where Skale's SEO experts can take your MRR. Get in touch, today
Contact Us
How to plan a demand generation campaign?
Before you start building your demand generation campaign, there are a few things you should consider.
1. Align on your goals
A successful demand generation strategy will come with goals. What KPIs and micro-goals do you need to set for the campaign to ensure you're on track to meet those larger demand generation goals?
2. Utilize your human resources
If you have access to your sales and marketing teams, use them! Quiz the people with their ears to the ground and ask them what they think your campaign should focus on in order to generate greater demand. Use this qualitative feedback alongside quantitative, on-site data you have.
3. Think about the campaign's next steps
A successful demand generation campaign is forward-thinking:
What do you want those that experience your campaign to do next?
Is your goal for it to evolve into lead generation?
Is it to build positive brand awareness?
When you think about the entire customer lifecycle and where this campaign is coming in that lifecycle, you'll be able to create relevant content for everyone's stage in the flow.
4. Find a campaign management tool
There are some fantastic demand generation tools out there that will help ensure your demand generation efforts are that much smoother. 
However, you'll need to onboard these tools before you start generating demand. They need a certain amount of data input to prove successful. For maximum impact, there's a high chance you'll need them running before you release anything.
How do I create a winning demand gen campaign?
Here we are, a winning demand generation plan in the works. Successful demand generation campaigns aren't made overnight. However, they are made in eight steps. So let's get climbing.
1. Lay the groundwork
To kick things off on the right foot for your demand generation efforts, you need to put in the groundwork and your research. This means:
Identifying your ideal customer profiles (ICPs)
Fleshing out customer personas
Understanding painpoints
Defining customer language
Understanding buying behaviors
Mapping current solutions
Once you've done this, you should have a clearer idea of how you can approach potential customers with demand generation tactics that speak to them and where they're at.
2. Outline your solution
Strategies informed by the best demand generation practices come from a well-rounded understanding of your solution. This is not your product. When we say solution here, we mean how your product addresses the problem that your customers have. When you refer to your product as a solution, you bring a more customer-centric approach to your efforts.
Outline your solution in a way that talks to your target audience going on what you've learned in the previous step. It's a good idea to talk to your sales team here to understand better how they're already presenting your product to qualified leads.
3. Align on the specifics
Next up, align on the specifics of your demand generation marketing campaign. What does this include? Pleased you asked:
Publishing channels: inbound marketing
Campaign length
Content types
Budget
Goals & KPIs: brand awareness, lead generation, sales team, sales funnel, qualified leads
Now you've planned as thoroughly as possible. It's time to move on to the creative part of your campaign.
4. Create content
When it comes to demand or lead generation, teams often tend to jump straight into content and then wonder why their campaigns failed. "That video was killer; it just never took off." Why? Because they hadn't done three steps of research first.
Yes, your content is King. However, if it's not informed, then it will undoubtedly fall flat. Only now is truly the moment to put your marketing efforts into content creation. Do this wisely. The best demand generation strategies invest in quality content and you should be doing the same for your campaign. This is where the largest part of your budget should go. No matter how much money you put into distribution and reaching potential leads, there's no point if you're not giving them an experience that resonates.
5. Launch internally
Demand generation leads to lead generation. It will massively aid your inbound marketing strategies and your sales team should start to see their sales funnel flooded with qualified leads. So, let's prepare them for it.
Launch your DG campaign internally so your sales process and the sales cycle are prepared as can be for the influx.
This means you'll need to inform your teams of the type of lead magnets you're putting out there, the pain points you're addressing, and where you're reaching these prospective customers.
Ensure there's no repeat content in your sales cycle and that any team that comes into contact with incoming leads knows exactly what they should know about your product, the content they've seen, and any direct mail they have received.
6. Launch to potential users  
Once you're operationally ready to handle the lead influx, it's time to launch your demand gen campaign and start to generate leads for your business. A lot of brands tend to do this—thinking they get one shot at launching a campaign.
Firstly, this is a myth. If you don't get it right the first time around, that's okay.
Secondly, if you're unsure if everything is running smoothly, either run internal tests with a few select members of staff or release them to a smaller group of people with targeted ads.
This method will enable you to check everything's going to plan before you release your campaign to the masses.
7. Boost, test, and tweak
The best demand gen strategies and their campaigns keep you on your toes. If you want to increase your conversion rates and stand the best chance of reaching high-quality leads, you'll need to remain proactive, not reactive, throughout your campaign.
How? Boost that content that's doing well. Test new variants of content you're unsure about, and tweak campaign copy, visuals, and more until you get optimal results: BTT.
In doing so, you give your campaign the best opportunity to create demand without having to release an entirely new campaign.
8. Review and repeat
As you'd do with any content marketing strategy regularly, once your campaign draws to a close, it's time to review, rinse and repeat—if it worked! Did you hit the initial goals you'd set? If you didn't, then why didn't you?
Gather feedback from your campaign's qualitative results and quantitative feedback from your sales and marketing team if they came into contact with leads resulting from the campaign.
Once you've understood the campaign's success and failures, it's time to optimize for round two, three, four…
See some of Skale's biggest SEO wins
Read SEO success stories, and see what Skale can do for your SaaS
Read our Success Stories
8 KPIs of a demand generation campaign
Here are our eight tell-tale KPIs for a successful campaign:
1. CPA
Cost per acquisition = how much does each lead acquisition cost you (on average).
2. Increase in free trials
By what percent have your free trial sign-ups increased because of your campaign.
3. CLTV
Customer lifetime value = What is the lifetime value of a customer that's come through your campaign.
4. Contribution to net revenue
How much % of your campaign efforts contribute to the overall company profit.
5. Funnel conversion rate
What percentage of leads acquired through your campaign are converting throughout your sales funnel. Is it more than average or less?
6. Sales velocity
What is the increase in sales your business is making because of your campaign?
7. Channel close rate
What is the close rate of each channel the campaign is on? Are there certain channels that are performing exceptionally well? What are the best demand gen channels?
8. Increase in signups
Is your campaign leading to an increase in product or newsletter sign-ups? Can you directly attribute those sign-ups to your efforts?
How to tell if a demand generation campaign is successful?
A demand generation is successful if it's hitting your previously accounted for goals. It means that success looks different for every SaaS running a campaign.
Katheriin Liibert, Head of Marketing @ Outfunnel, explains what success looked like for Outfunnel's demand generation campaigns.
"Our demand generation campaigns have mostly been inbound. But, a little less than a year ago, we ran our first cold email outreach campaign.
The goal was to find HubSpot partner agencies that would be affiliates of Outfunnel. We put in the hours to make sure every step of the campaign prep was down to a T, and we attribute the success to making sure the target lists were well-targeted and cleaned.
The results? Email engagement levels are comparable to warm lists and a decent number of demos booked. We documented and shared the playbook publicly on our blog as well."
Demand Generation Campaign FAQs
What tools can help you with demand generation?
A few tools that can help with demand generation are: Panguin, SEOtesting, ZipMessage, Google Trends, Frase.io. To see a complete breakdown of how these tools can help demand and lead generation, read our article on the 9 secret tools to help generate demand.
What is the difference between demand generation and lead generation?
Lead generation is a section of demand generation. Lead gen focuses on making someone a lead—often by collecting an email. Whereas demand gen focuses on ensuring someone is interested in your solution enough to become a lead and eventually buy your product.