Leave your SaaS SEO to the experts
Why settle for a tool when you could have a whole team taking care of your SEO strategy?
Schedule a call
Companies like Canva have proven that strategic and sustained investment in organic is a powerful and cost-effective method to grow a SaaS (Software as a Service) company.
This has led to a massive demand for SEO professionals and an explosion of SEO tools, but with so much choice out there, it can be a little daunting picking the right ones.
So, I've put together this list of the tools I see most SaaS SEOs use and the ones I like myself. In my experience, most SEO experts use at least one of these tools from each category but everyone has their own particular tech stack they like.
There is no right or wrong, a lot of it comes down to your needs and experience, and sometimes just what you feel most comfortable with. Either way, let's explore some of the best SEO tools the pros are using.
Barebones Google tools
You will not get far without using the nifty tools that Google themselves provides. Sure, they have some limitations but you get solid data right from the source.
While the rest of the tools are up for debate, Google Webmaster tools are absolute essentials for SEO in a SaaS or otherwise.
1. Google Analytics
Believe it or not, this keystone of web analytics was not originally developed by Google, they acquired the foundation technology when they bought web analytics company Urchin way back in 2005. History aside, this tool is a must for all SaaS SEOs, it will let you measure traffic, conversions, downloads, and pretty much everything else to do with your site.
Why it's useful for SaaS SEO:
Track traffic-generating pages
Analyze quality SaaS metrics like bounce rate and time on page
Track which pages produce the most conversions
And so much more
Price:
There is a paid version, but most companies (apart from enterprises) don't need to upgrade.
Is there a free version?
2. Google Search Console (GSC)
If you were to give me only one tool to use to advise companies on their SEO, I think this would be it. GSC lets you monitor how your website appears on Google search results; you can see what queries your web pages appear for and how often people click through to your site. This info, combined with search volume data, makes it the backbone of most SEOs toolkits.
Why it's useful for SaaS SEO:
Discover what queries your web pages rank for
Find out the monthly search volume of queries
Check that your site is indexing correctly, fix problems or request re-indexing
Get alerts when Google has problems with your site, like spam or backlinking issues
Price:
Is there a free version?
Yes, if you have a website you qualify for an account.
Essential all-in-one SEO tools
There are so many dedicated marketing tools out there, it is sometimes easier just to go for the full-stack SEO software. I'd say almost every SEO professional I meet uses one of these tools or a competitor of theirs. Like most SEOs, I have my personal preference, but these tools are in close competition with each other and there's usually not much in the way of functionality.
3. Ahrefs
Originally a link analysis tool but now very much a complete SEO toolkit, Ahrefs is one of the most popular platforms in the SaaS SEO community. Ahrefs will let you do everything from keyword (KW) research, spotting backlink opportunities, and checking on your competitors' organic profiles.
It has a pretty good site analysis tool as well, which is only outdone by some of the more technical software I'll address later. Its content discovery tool is quite unique as well.
Why it's useful for SaaS SEO:
Monitor your ranking for important KW across the different countries
Analyze your competitors' organic position and how you compare
Check your backlink profile and identify broken link opportunities
Analyze entire sites or individual pages
Get email updates on changes in your ranking and backlinks
Is there a Whitelabel option?
Nope, not even on reports.
Does it have an API?
Yes, both a free version that comes with a standard subscription and a more powerful paid version.
Price:
Subscription rates start at $99 per month
Ahrefs has several good alternatives depending on your need & use case. For example, some platforms have more than just SEO features, others are more accurate with smaller keyword volumes, and some have fewer features for a lower price. Take some time to explore the options. One of which is next on our list…
Is there a free version?
Nope, there used to be a 7-day trial for $7, but now the cheapest plan is the lite plan which costs $89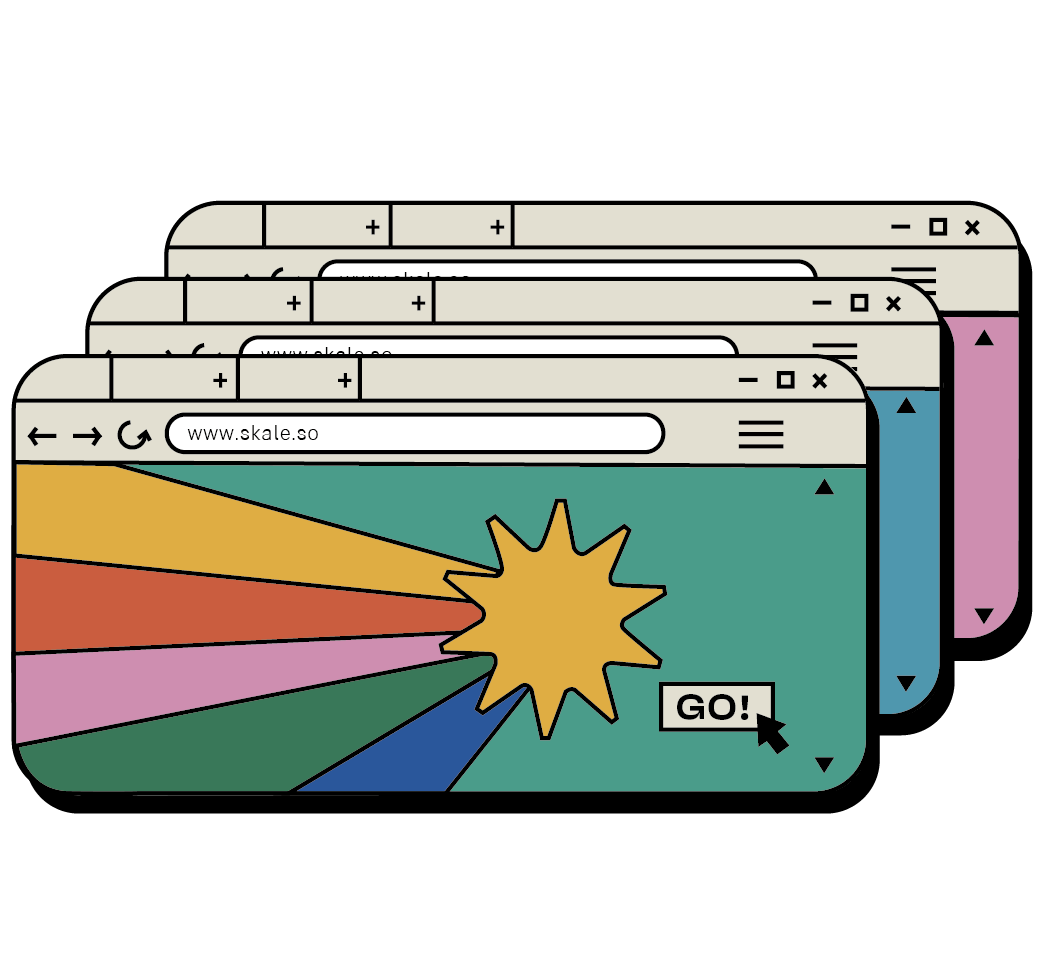 Download the free link building guide
You don't need Ahrefs to build great links, but you do need the right guidance, direct from Skale's founders.
Download the guide
4. Semrush
Semrush is also one of the most common SEO platforms in the industry. It has pretty much the same functionality as Ahrefs, but where Ahrefs is more powerful in backlink analysis, Semrush takes the lead in keyword analysis. Also, Semrush has some powerful PPC analysis tools.
Why it's useful for SaaS SEO:
Monitor your ranking for keywords
Analyze your competitors' organic position and how you compare
Audit your entire site or an individual page
Get email updates on changes in your ranking and backlinks
Analyze your competitors' PPC activity and how you compare
Is there a Whitelabel option?
With an agency account, you can get white-label PDF reports.
Does it have an API?
Yes, but you will need to purchase a business plan.
Price:
Subscription rates start at $119.95 per month
Is there a free version?
There is a free version with limited features or also you can have a 7-day free trial of the full platform.
5. Moz
This software has really developed with the market over the years and is still a tool I see used in SaaS marketing teams. Moz boasts the biggest link index in the industry and It is very much the complete SEO package, with a few quirks. It's arguably the most user-friendly of the all-in-one tools, so perfect for those just starting their SEO careers.
Why it's useful for SaaS SEO:
Use the site optimizations tool to improve your site
Conduct in-depth keyword research
Monitor what sites are linking to you
Find backlinking opportunities
Track your keyword rankings over time
Is there a Whitelabel option?
There is a white-label reporting option, but not the full software.
Does it have an API?
Yes, there's a paid option called Mozscape.
Price:
Subscription rates start at $99 per month
Is there a free version?
There is a free toolbar but also you can have a 30-day free trial of the complete software.
6. SEranking
This SEO software is a relative newcomer compared to the other three, but I'm starting to see it used by SEOs across the SaaS industry and in agencies. It has a solid backlink analyzer and a feature to monitor the PPC of competitors. It is a great full-stack SEO tool, and it is a little more attractive on the price side.
Why it's useful for SaaS SEO:
Check what PPC keywords your competitors are bidding on
Track how you rank for important keywords
Analyze your site health through the web crawl feature
Conduct a backlink audit
Is there a Whitelabel option?
Yes, SEranking offers a full white-label option for you to brand as your own.
Does it have an API?
Yes, but only available through their enterprise package.
Price:
Subscription rates start at $69 per month
Is there a free version?
Yes, a no credit card required 14-day free trial.
Email finder tools
It's an important tool to find the right email contact information on each website. This will help with off-page SEO outreach campaigns or link-building efforts for SaaS brands.
7. Hunter.io
Hunter is probably the best and most accurate tool when it comes to finding and verifying email addresses of potential prospects. It supports your outreach efforts by ensuring high deliverability and low email bounces.
In addition to Email Finder and Email Verifier tools, there are more handy tools including Hunter Campaigns, Chrome extension, and API that you can use to automate your email lookup and verification processes.
Why it's useful for SaaS SEO
Support finding and verifying email addresses from your email lists
Automate the whole cold outreach sequence
Helps you with lead generation and link building, especially if you focus on getting high authority and relevant backlinks through guest posts.
Price
The Starter plan starts at $49 per month
Is there a free version?
Yes. A free version comes with 25 searches and 50 verification requests per month.
Keyword research tools
It's the most fundamental thing an SEO can do and although all the tools above have keyword research features, most SEOs I know use at least one of the following, complementary tools to make their jobs easier and their research more rigorous.
8. Keywords Everywhere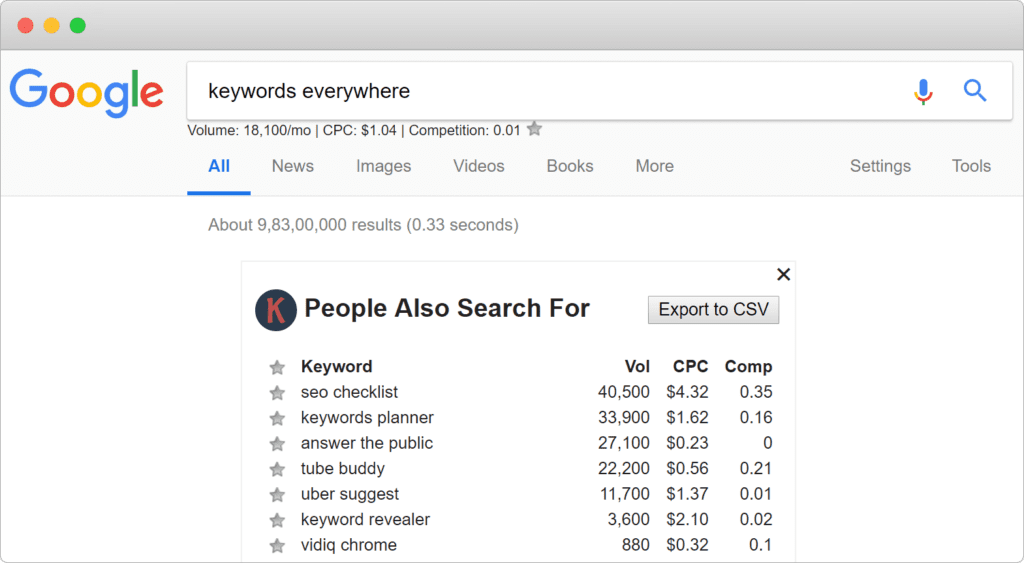 This browser extension is extremely convenient when conducting Google searches. Although it is no longer free, it is still a very affordable tool. It basically shows you data about the volume, cost per click (CPC), and Adwords competition of a keyword. This conveniently all happens while you are on the Google search results page.
Why it's useful for SaaS SEO:
It cuts out a lot of "screen hopping" and lets you see very quickly the volume and competition attached to a KW
Find related searches quickly with its keyword suggestion bar
Price:
You buy set amounts of search credits. For average SEO, it would work out to about $5 a month.
Is there a free version?
Nope, but there is a pretty good free alternative called keyword surfer.
9. Answer The Public
This is a great way to gather all the possible queries and related keywords about a topic. Answer the public is a keyword research tool that gives you lots of search variations based on Google's auto-complete searches and different question modifiers (e.g. How to, what is, etc.) I like this tool for thinking creatively about all the different ways people are searching for a topic.
Why it's useful for SaaS SEO:
It's great for understanding not only what people are looking for but also how they are asking questions
It will help you build complete topic clusters addressing all the different query types
Price:
Subscription starts at $99 but this includes a lot of additional educational material as well.
Is there a free version?
Yes, but your searches have a daily limit.
10. Ubersuggest
Acquired by Neil Patel, Ubersuggest is a free keyword idea-generating tool. Its features have been expanded and even though it is a free tool, I still find some SEOs using it to do their research. The tool will give you suggested content, search volume, and top pages that rank for that KW.
Why it's useful for SaaS SEO:
Track the search volume of a KW over time
Find helpful content suggestions
Discover related keywords
Price:
Is there a free version?
Yes, but there are search limitations on the free version.
Content writing and LSI tools
One of the things most SEOs struggle with is finding good writers who can write for SEO, if they don't have this, they have to write long detailed briefs.
Content writing tools address this by automating the task of writing detailed briefs and guiding non-SEO writers. In short, the SEO automation tool prompts writers to include related keywords and tells them how often they should mention certain terms.
They do this by analyzing the type of phrases that appear in the top 5 or 20 results and how often they appear.
These tools are relatively new to the market but I have seen big returns on using them and they are becoming the secret weapon of expert SEOs and SaaS content marketing experts.
11. Clearscope
Clearscope is one of my favorite tools to boost organic performance. It's a simple but powerful tool to optimize content. It provides users with a google docs style format where they can write (or paste in) their content and the software will guide them on word count, related terms, and even what H2s to include.
Why it's useful for SaaS SEO:
Optimize content by making sure your pages have all the terms Google expects to find for that keyword
Get accurate with word count, and find out the optimal word count for your articles based on the top results
Make your content as relevant to Google as possible by harnessing Google's own Natural Language Processing (NLP) technology.
Price:
Normal subscription is $170 per month
Is there a free version?
No, but after your demo, you can request a trial period.
12. SurferSEO
SurferSEO is probably best known for its free keyword browser extension (Keyword Surfer). Recently, they've entered the market to compete with Clearscope in the SEO content writing space. It has some subtle differences to Clearscope but you would buy it for the same purpose. In addition to the content editor tool, SurferSEO has a slightly more in-depth search result analyzing feature and you can select the results you want it to analyze for the content writing guide.
Why it's useful for SaaS SEO:
Analyze the results page for your keyword to find the optimal word count
Send your writers relevancy guides to ensure they are using the correct terms and mentioning keywords in just the right amount
Price:
The basic plan starts at $49
Is there a free version?
There used to be a 7-day trial for $1, but since December 2022 they don't offer it anymore.
Website crawlers and audit tools
These are another essential tool, particularly for the more experienced and technical SEOs. These tools crawl your website and conduct full SEO audits. They will automate the task of finding issues like missing meta descriptions, broken links, monitoring robots directives, and much more. When I'm conducting a full SEO audit, these kinds of tools are usually my starting point.
13. Screaming Frog
Screaming Frog is probably the best-known company in this space, specifically, its SEO Spider. It's a powerful SEO software you download to your computer and use to run deep crawls of websites. It's got a great visual display of the site architecture and can integrate with Google Analytics, Google Search Console and page speed APIs.
Why it's useful for SaaS SEO:
Make your site as Google-friendly as possible, check things like page titles, meta descriptions, and robots tags on mass
Find broken links and manage redirects
Detect cases of duplicate content
Price:
Subscription is pretty cheap at around $209 per year
Is there a free version?
Yes, the crawls on the free version are limited to 500 URLs. In addition, the paid subscription gives you access to many other features.
14. Sitebulb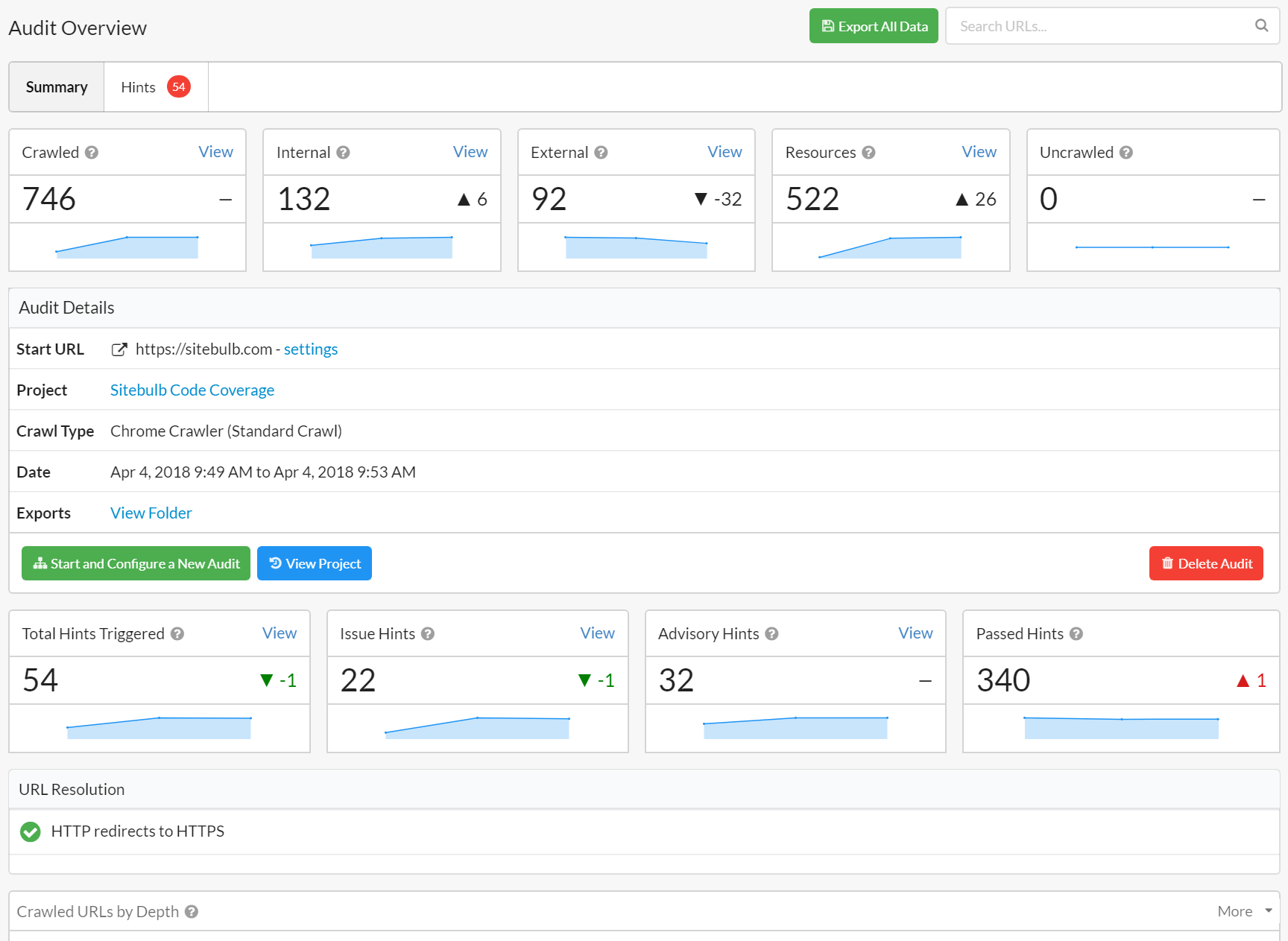 Much like Screaming Frog, Sitebulb is a desktop, website crawling software. However, Sitebulb positions itself as more than a website crawler, it is a full website auditing tool. It also aims to avoid massive CVS exports by already manipulating data for you and showing elements about your site in visual graphs. I personally really like this tool, it's powerful, easy-to-use and you get a lot of bang for your buck.
Why it's useful for SaaS SEO:
Get quick overviews with site scores and SEO scores that are easy to communicate with other stakeholders and track over time
Prioritize fixes with Sitebulbs priority tags on found issues
See your website as Google does with both HTML crawls and JavaScript rendering.
Show your progress and changes by comparing new audits to previous ones.
Price:
A basic subscription is very cheap at $13.50 per month
Is there a free version?
Yes, you can get a 14-day free trial.
SEO testing and optimization tools
These tools can be used to ensure the technical SEO of your website is in working order.
15. Clickflow
Clickflow is a great SEO testing tool that lets you constantly track the effectiveness of optimizations to pages or even groups of pages. It integrates with Google Search Console and focuses on pages with lots of impressions but a low click-through rate (CTR). The software lets you test different meta descriptions and titles, to see which help or hinder your CTR.
I think this tool is really useful for sites that already have a good amount of traffic which are looking to maximize their returns without creating new pages.
Why it's useful for SaaS SEO:
Set CTR goals and easily see how much revenue that will mean for your company by inputting the lifetime value (LTV) of a client into the software.
Gather useful data on what phrases and titles appeal best to your target personas.
Generate more traffic without creating more content or building backlinks.
Price:
A basic subscription starts at $109 per month
Is there a free version?
Yes, you can request one after having a demo of the product
16. Botify
Botify is simply one of the most powerful SEO tools out there. This isn't for most companies, you are buying an enterprise-level solution. I've added it here simply because of the span of what it does and the tech behind it.
On the surface, it appears to be another crawler, but when you see it contains not just the analysis elements, but also a prioritization system, a task management flow, and activation tech to get you indexed faster, it really is an impressive piece of kit.
Why it's useful for SaaS SEO:
Great for a large website that needs a powerful crawler;
Prioritize and manage the tasks that the analysis tech identifies;
Remove bottlenecks, takes the development out of the page changes, and get your pager indexing faster;
And so much more…
Price:
It starts at $500 a month
Is there a free version?
If you are a fit for the product, you can probably get one after your demo of the platform.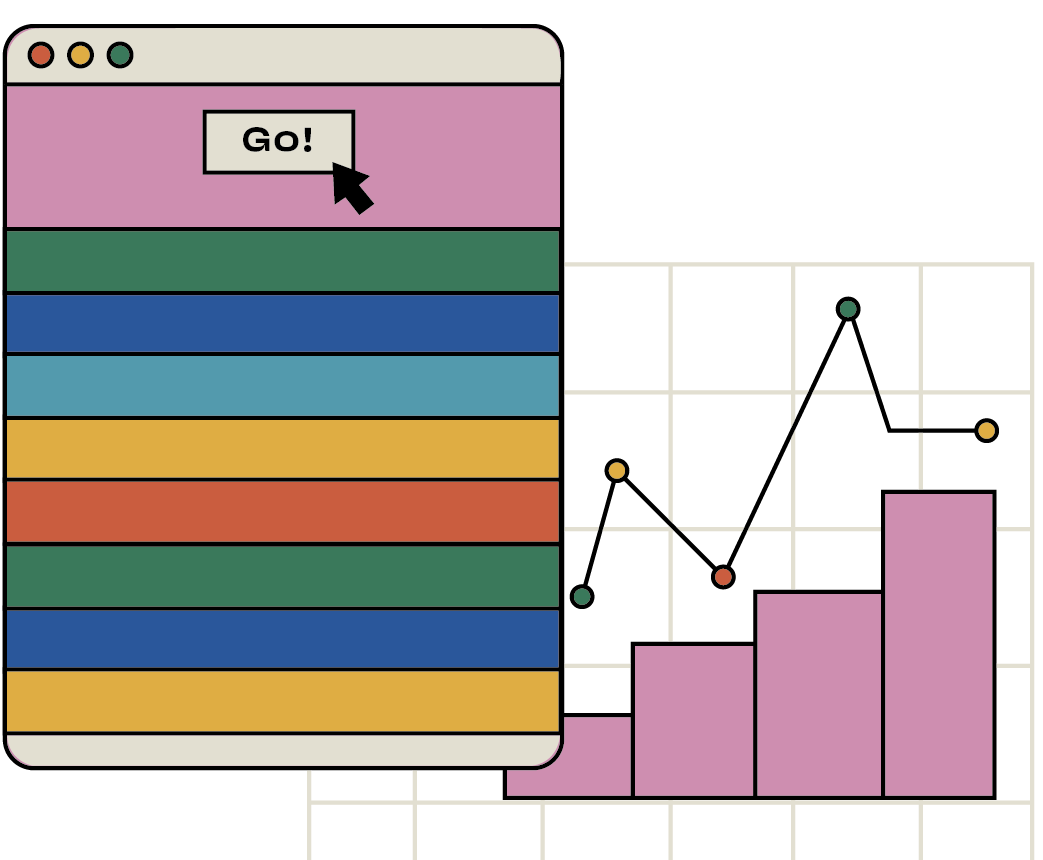 You don't need a tool to seriously scale your SEO
Check out our SEO success stories to learn why a dedicated SaaS SEO agency might be better than any tool we've mentioned above.
Read the stories
Pick the SEO tools that are right for you
Ever SaaS marketing team has a different budget and different goals to hit with that budget. The above SEO tools vary greatly in cost. Don't worry, pick what works best for you. If it pays off, you'll win a second round of funding. If it doesn't then explore another tool. Give each of them time, stay data-minded and start outranking your competition.

Bonus Read: How to Perform a Content Audit for SaaS Brands?