There's no silver bullet technique for B2B demand generation. But, at the same time, we're not out here hunting Werewolves, we're generating demand—at least, we're trying to.
In this article, we've collected eight demand generation best practices from the experts, so SaaS marketers like yourself can establish a starting point for DG, or build a comprehensive demand generation campaign that will drive results.
Before you get started with your demand gen efforts, identify some key parameters of your demand gen strategy with this article.
Where to begin with demand generation?
Start with a clear outline of your objectives and a budget for your demand gen efforts. Look at the resources you already have and analyze their current performance alongside benchmarking some greater success metrics. Identify resources that have brought in your highest-paying accounts.
Next, focus on 20% of the resources that bring 80% of the results rather than spreading your budget thin on low-impact resources. As our very own, Italo Vale, points out: "Don't get distracted by shiny objects, hyper-focus and resilience is the winning formula!"
Once you've identified your low-hanging fruit, you're ready to start strategizing to capitalize on it. However, remember your strategy is just one step in the right direction to generating demand. DG is an ongoing, ever-changing process, and you'll need to identify some recurring best practices that work well. (Spoiler alert: they're coming up!)
Looking at metrics like ROI and conversion rates is a great starting point for measuring your DG and identifying those best practices with quantitative data sets. This data, alongside what we're about to share, will help you to continue fine-tuning your strategy.
Right, that's enough building blocks, let's dive into these successful demand gen practices for other B2B SaaS companies.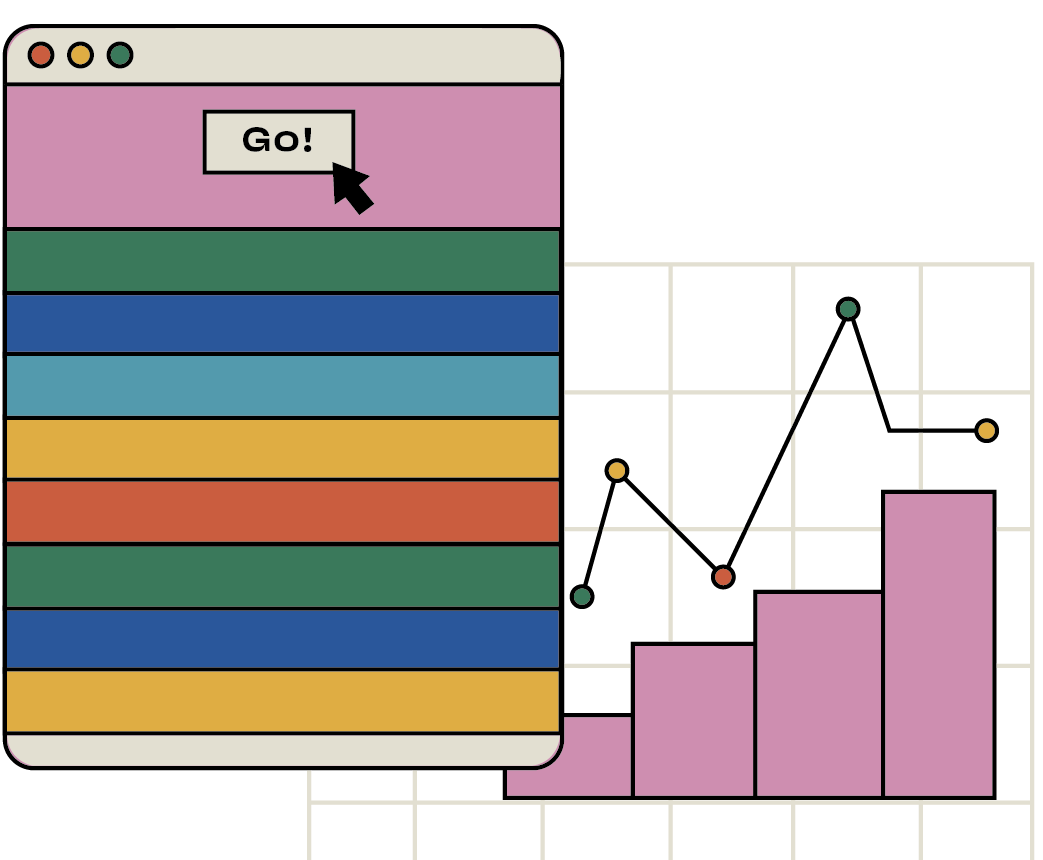 Level up your SEO strategy with Skale
See where Skale's SEO experts can take your MRR. Get in touch, today
Contact Us
8 Demand Generation Best Practices for SaaS Companies
The eight Demand Gen best practices we're about to cover are:
Focusing on organic search
Becoming an authority brand
Conversion rate and user experience optimization
Co-marketing opportunities
Creating sales funnel-specific content
Using AI chatbots and marketing automation
Introducing integrations to your product
Making the most of free trial users
1. Organic Search
43% of marketers say organic search brings a major share of website traffic, and that's why organic search tops this list of demand generation ideas. 
In the long run, organic search provides a relatively low-cost playing field where SaaS marketers have the opportunity to generate ample demand. The ROI on organic search, if done right, can be lightyears beyond paid alternatives like search engine CPC marketing.
The key to capitalizing on the potential of organic search is an impactful SaaS SEO strategy. The crux of a Search Engine Optimization (SEO) strategy is the goal to rank in search engines for a target keyword, phrase, or topic.
Keywords are the gateways that bring users with relevant search intent to your website, grow awareness of your product, and generating more demand and leads over time. This is why keyword research is the foundation of an SEO strategy.
However, it's more than that. A SaaS brand's SEO strategy should include other areas of content marketing, link building, or brand awareness methods like PR, social media marketing, and events.
Remember, Google's algorithm is ever-evolving. As a SaaS marketer, if your plate is full, consider outsourcing your SEO to an experienced content marketing consultant or SaaS SEO agency—Psst. We know a thing or two about it!
2. Become an authority figure
Cultivating trust is top of the list for SaaS brands. Becoming an authority in your niche makes your brand and its solutions more trustworthy for potential customers, and underpins your SEO efforts.
This is especially important if you're discovering a new niche or introducing an innovative solution to an age-old problem. In this case, you'll need to educate potential customers about how your brand mission is helpful and why they need your product for their pain point. The most effective way to do this is by creating educational and thought leadership content.
Creating this type of content comes with a mix of great SEO resources, talented writers, and providing unique insights that only your business is in a position to share.
Once you've become an authority brand, you should start to see a greater pull from target customers for your content as your product and brand become a seemingly obvious solution to user pain points. It should make your sales efforts, well, less of an effort.
SaaS marketers like yourself can use several paid and free tools to help become an authority. A few fan favorites are:
ZipMessage: for quality content development for personalized or gated videos
Canva: a great resource if you're lacking design experience in-house. The tool helps publishing real-time data or publishing data before anyone else by creating onbrand infographics in a few clicks.
Your own solution: free resources created by experts always go down well. For example, Panguin has helped Barracuda Digital become an authoritative figure in digital marketing.
SEMrush and Ahrefs are also great tools to help you fine-tune content. Both have an education center with tons of valuable insights which includes articles, tutorials, and video resources.
Plus, they're a great example of becoming an authority figure within their niche. Over the years, both brands have managed to connect with their users by providing them with free, valuable resources.
Looking for more demand generation tools? Check out our article on the 9 secret tools you need to try -> here.
3. Conversion Rate and User Experience Optimization
Make your value proposition clear as quickly and briefly as possible for website visitors. Your website is a potential new user's first handshake with your brand. Managing user experience through Conversion Rate Optimization (CRO) is key to capitalizing on users that are already interested in your solution. In fact, effective CRO can increase conversions by up to 300%.
CRO walks the prospect through your website in a contextually relevant manner. As a SaaS marketer, you'll also want to stay on top of marketing metrics along the way. Identify where there's room for improvement and continue to appropriately optimize call-to-actions, website design flow, and content to get someone to convert to a lead.
Even after a lead has converted, delivering a continued engaging user experience is a key challenge for SaaS brands. From a remarkable onboarding experience to paying attention to customer feedback, your user experience will become the essence of your brand. It will not only help you generate new leads but also sustain the demand for your software solution in the long run.
A few tools to help you identify website or app optimization opportunities are:
Chameleon
Hotjar
Typeform
Fullstory
Google Analytics
Crazy Egg
4. Collaborate to gain greater exposure to your target audience
Despite search engine marketing (SEO) being such a stellar demand generation best practice, it can take a while before you start seeing results. Meanwhile, leveraging current networks where you can reach your target audience can be a more instantaneous demand gen goldmine.
You can do this through collaborating with like-minded SaaS brands on social platforms, blog posts, forums, podcasts, local meets, or PR opportunities. These also often come with an ancillary benefit of providing good SEO value, like backlinks. Links from high authority sites, in particular, can push you up the SERPs, helping you build your website's authority, and bring in visitors.
Find unique ways to collaborate with brands that have a similar ICP as yours. Present your collaboration in a way that feels natural and provides value to these people. Here you're placing your brand as a thought leader, aligning with a similar one, and championing—not pushing—your product.
5. Create content for specific sales funnel stages
Demand generation campaigns are largely a team play where the sales and marketing teams coordinate to find the sweet spot between quality and quantity of leads. As a marketer, creating tailored content is your way of connecting your leads and the sales team.
"From building the right targeted messaging (make sure you use the same language/lingo as your users) and incentive for your prospects to engage in a conversation, to providing an unbeatable user experience which at least matches your "marketing" claim," says Manuel Jaffrin, GetApp Co-founder.
Your potential customers are looking to gain a deeper insight into your software and services across all stages of the funnel. This is your opportunity to rake in demand that's coming to you and capitalize on specific areas of interest. Create content for all stages of the funnel to get the right message through to your target audience at the stage they need it most.
At the top of the funnel, offer your prospects infographics, a short product video, or a blog post to communicate the benefits that your software and services offer to them. As Andy Davis, Director of Demand Generation at Attest, points out, "If you are running awareness and consideration campaigns in top of funnel channels and demo requests are increasing, you are successfully creating more demand in the market."
For prospects in the middle of the funnel, create case studies and white papers to give them an insight into how your solution aces all the competing solutions they will find in the market.
Bottom of the funnel prospects already find your solution to be a good fit. For them, create content that compares your software with the competitor's, offer them a demo, and share testimonials from current customers.
Laser-focused content targeted to each stage of the funnel can make its delivery so much more effective. It generates demand for your product at all stages of the funnel by giving the potential customer precisely what they need.
6. Consider AI Chatbots and Marketing Automation
AI chatbots and marketing automation enable zero-error processes delegation. A SaaS marketing team can harness granular data about a prospective customer's on-site activity and leverage this data for customizing marketing emails and remarketing ad messaging.
Automation can also keep track of revenues, send event-triggered marketing emails or promotional updates to customers, and broadcast activity-triggered notifications to apps.
Consider leveraging the power of an AI chatbot. A chatbot embodies a brand while 'chatting' with a prospect because it represents the brand to your customer, and helps emphasize your SaaS brand's image. They can help reduce support tickets, build brand relationships, and act as an internal wiki for getting your content in front of the customer.
Chatbots provide real-time assistance throughout the day and offer prospects a no-nonsense way to communicate. 90% of customers express that an immediate response is very important to them when they have a question. Using chatbots is an effective way to deliver real-time support and put a smile on your prospect's face.
7. Introduce integrations to your product
Fortunately, SaaS businesses generally have a unique opportunity where a brand can create integrations (or add-ons) to the brand's main product. Most SaaS companies typically have additional products that go alongside the main product, so integration shouldn't be that big a challenge anyway.
As a starting point, reach out to your customers for feedback on improvements they'd like to see in your product. Ask users what their current tech stack looks like, and what they'd like your product to be able to 'speak' to.
If your brand offers a single, standalone product, ask if other brands want to integrate their products with yours, provided there's a good fit, of course. Once you've got these integrations in place, capitalize on their release with co-marketing campaigns.
8. Don't abandon free trial users
Many SaaS products are available as a free trial. Once the free trial ends, customers may decide against buying the product. This could be for a heap of reasons. Failed onboarding, not reaching an Aha! Moment, no longer have a need for the product, the cost outweighs the benefits, the list long and beating customer churn is tough.
If you see this happening, don't abandon users just yet. Use lead nurturing strategies. Craft a personalized message telling them how your product may be helpful to them in a different way, use any data you have from their use of your product and translate that data into USPs.
Keep this messaging unobtrusive, don't push it, but also, don't let the opportunity slip by.
As Ian Marck, Head of Growth Marketing at EasyMovie, says:
Monitor and Improvise Your Demand Generation Strategy
SaaS companies tend to think of the demand generation funnel as an amalgamation of their overall marketing efforts.
However, leads often come from diverse sources, and each of these sources converts at a different pace. This effectively renders industry benchmarks as potentially misleading—at least to an extent—unless two funnels have identical sources of traffic, and use similar demand generation strategies for similar products.
A better way to monitor and measure success is to compare it with the company's own demand generation metrics over time. Make sure that you're allocating resources to the most productive leads by tracking channels and sources of traffic individually.
Success takes time, don't rush. Study your demand gen report and aim to optimize your demand generation strategy with tweaks or pivots—whatever it needs. Things may look slow at first, but over time, incremental improvements can contribute significantly to your revenue growth.
Leave your SEO to the experts
Up your game. Apply for full SEO Management with the Skale team
Contact Us
Benefits of Demand Generation for SaaS Companies
All SaaS companies implement some demand generation marketing tactics, whether proactively or without realizing. However, some do it more efficiently and effectively than others. All SaaS brands should realize how important demand gen is for the business, so here are a few important benefits of demand generation. 
1. Increases brand awareness
SaaS companies create awareness about their software and services through demand generation. Increased brand awareness helps SaaS companies maintain a fuller pipeline. It's really a case of "the chicken or the egg " situation because brand awareness and demand gen can collectively put your company's growth on an upward trajectory—if done right.
Increased awareness about your company's software means your target audience will already be familiar with your offerings, which puts them in a better position to decide if your product is a good fit for them and convert.
2. Attract more qualified leads
Demand generation marketing aims to attract high-quality leads that have a higher conversion probability when connected to your sales team. The greater the number of qualified leads you generate, the higher the chances of closing more deals and generating more revenue.
3. Revenue growth
The business's top-line is where all efforts ultimately show up. Demand generation's impact though is more direct. It focuses on bringing in prospective customers for sales teams to convert into actual customers. This conversion will subsequently contribute to your business's revenue.
It's not only the top-line that benefits from demand generation. A less direct benefit of demand generation shows up on your financials as reduced customer acquisition costs over time. SaaS companies save resources when they spend less time explaining their solution and convincing prospects that their solution is better than that of competitors.
Unless you're starting with a clean slate, you may already have a few demand gen tools and best practices in your overall strategy. If you're tracking your demand generation metrics, and a few of them aren't looking impressive, come back to these demand generation best practices to optimize your ROI.
Demand Gen FAQs
What is the difference between demand generation and lead generation?
Although they are similar in connotation, demand and lead generation are different. Demand generation aims to whet the interest of your target audience in your product (i.e., creating demand). Lead gen is the next step that involves converting the interested prospects into leads (i.e., getting their contact details) to send over to the sales team.
What metrics should be tracked in demand generation?
Demand generation can be measured using demand generation metrics. Marketers should focus on the most important demand generation metrics such as MQLs, SQLs, and CAC, among others. 
Demand generation metrics help you monitor the success of your demand generation efforts. Once you know what's working and what's not, you can optimize your strategies as needed and allocate resources to the most effective strategies.
How to build a successful demand generation strategy?
Start by establishing the parameters you'll need to operate within. This includes your budget, goals, and any other constraints you may have. 
Next, study the demand gen best practices and pick a few to create your strategy. Once you've implemented the strategy, monitor key demand gen metrics and continue to optimize. 
A successful demand generation strategy is a process that requires monitoring and optimizing, and not a one-off task.